HIV-1 Infection: You can keep your coat on
High-resolution imaging techniques reveal new insights into the actions of the retrovirus HIV-1 inside host cells.
Viruses are pathogens that rely on hosts to produce multiple copies of themselves. Retroviruses, such as HIV-1, have a unique way of integrating their genes into the DNA of a host cell. Since their genetic information is stored as RNA, a retrovirus must first undergo a process called reverse transcription. This process, which is catalyzed by an enzyme called reverse transcriptase, is followed by a second step called integration (catalyzed by integrase), which results in the viral DNA being inserted into the genome of the host cell. Although the mechanical functions of these two enzymes are well understood, relatively little is known about the transition between reverse transcription and integration during HIV-1 infection.
Much of the research into these processes has centered on the capsid protein, which self-associates to form a honeycomb-like container that surrounds the genetic material inside the retrovirus (Bedwell and Engelman, 2021). Once the retrovirus has entered a cell, the capsid container protects the RNA and the two enzymes from the antiviral molecular machinery in the cell cytoplasm, allowing reverse transcription to proceed without interruption (Yamashita and Engelman, 2017). At the same time, various cellular proteins bind to the outside of the capsid in order to facilitate it being trafficked to the nucleus, where the DNA of the host cell resides.
Once reverse transcription has been completed, the capsid is degraded to release the viral DNA from its protective container. Until recently, it was assumed that this process – which is called uncoating – might be a prerequisite for the viral DNA to enter the nucleus because it was thought that the HIV-1 capsid was too large to pass through the nuclear pore complex (which is the doorway through which biomolecules pass to enter the nucleus; Yamashita and Engelman, 2017; Arhel et al., 2007; Francis and Melikyan, 2018). However, recent studies have found evidence for capsid lattices or intact capsid-like structures inside the nucleus (Burdick et al., 2020; Dharan et al., 2020; Selyutina et al., 2020), with one study even suggesting that the intact capsid is able to pass through the nuclear pore complex (Zila et al., 2021; Figure 1). Now, in eLife, Hans-Georg Kräusslich and colleagues at the University Hospital Heidelberg and the German Center for Infection Research – including Thorsten Müller as first author – report new details on the timing, localization and mechanism of HIV-1 uncoating (Müller et al., 2021).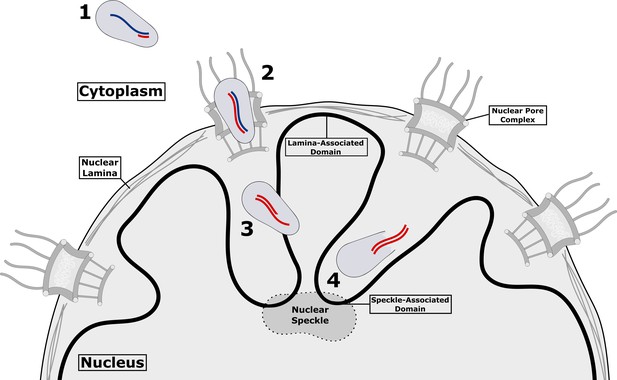 Müller et al. used different fluorescent labels to identify distinct events during HIV-1 replication. The ANCHOR labeling system – which employs a fluorescently labeled bacterial protein to bind a specific DNA sequence engineered into the HIV-1 genome – enabled them to distinguish between the initial reverse-transcription products made comparatively early during infection, and the more complete, double-stranded DNA that is accessible only after uncoating has happened. Müller et al. also tagged the incoming virus with a fluorescently labeled integrase protein in order to study the kinetics of uncoating. These experiments revealed that complete viral DNA was mostly tagged after nuclear import, suggesting that the capsid remained intact as it entered the nucleus, and that uncoating took place thereafter. Moreover, uncoating began in the nucleus as early as eight hours after infection with HIV-1 (Figure 1).
These observations suggest little – if any – loss of the capsid protein prior to nuclear import. Consistent with this interpretation, high-resolution imaging techniques revealed intact capsid-like structures at sites close to ANCHOR-labeled viral DNA. Tomographic reconstructions of these structures provided a unique snapshot of the HIV-1 uncoating process, showing what appeared to be holes in capsid-like structures that did not contain viral DNA. This quite striking finding is consistent with a previous model of uncoating in which reverse transcription leads to the generation of mechanical forces that compromise the structural integrity of the capsid (Figure 1; Rankovic et al., 2017). In many ways, the capsid is like an egg from which the integration-competent viral DNA is hatched!
The work of Müller et al. fills in some of the gaps in our understanding of the early stages of HIV-1 replication. We now have a clearer picture of how and when the final integration-competent complex can be released from the capsid shell. An important next step will be to unravel the link between uncoating and integration.
In recent years, it has become clear that integration tends to take place at chromatin regions that are close to structures called nuclear speckles and away from the nuclear lamina (Figure 1; Bedwell and Engelman, 2021). It is possible, perhaps even likely, that uncoating also occurs at or near these same chromatin regions. Alternatively, a post-uncoating trafficking event might help guide the integration complex to these regions. A theory that can link reverse transcription, uncoating and integration will clarify the paths taken during HIV-1 infection which, in turn, could inform the development of new antiviral strategies.
Article and author information
Author details
© 2021, Bedwell and Engelman
This article is distributed under the terms of the Creative Commons Attribution License, which permits unrestricted use and redistribution provided that the original author and source are credited.
742

Page views

62

Downloads

0

Citations
Article citation count generated by polling the highest count across the following sources: Crossref, PubMed Central, Scopus.
A two-part list of links to download the article, or parts of the article, in various formats.
Downloads
(link to download the article as PDF)
Open citations
(links to open the citations from this article in various online reference manager services)
Cite this article
(links to download the citations from this article in formats compatible with various reference manager tools)
Gregory J Bedwell
Alan N Engelman
HIV-1 Infection: You can keep your coat on
eLife 10:e69887.
https://doi.org/10.7554/eLife.69887
Further reading
Cell Biology
Microbiology and Infectious Disease

HIV-1 replication commences inside the cone-shaped viral capsid, but timing, localization, and mechanism of uncoating are under debate. We adapted a strategy to visualize individual reverse-transcribed HIV-1 cDNA molecules and their association with viral and cellular proteins using fluorescence and correlative-light-and-electron-microscopy (CLEM). We specifically detected HIV-1 cDNA inside nuclei, but not in the cytoplasm. Nuclear cDNA initially co-localized with a fluorescent integrase fusion (IN-FP) and the viral CA (capsid) protein, but cDNA-punctae separated from IN-FP/CA over time. This phenotype was conserved in primary HIV-1 target cells, with nuclear HIV-1 complexes exhibiting strong CA-signals in all cell types. CLEM revealed cone-shaped HIV-1 capsid-like structures and apparently broken capsid-remnants at the position of IN-FP signals and elongated chromatin-like structures in the position of viral cDNA punctae lacking IN-FP. Our data argue for nuclear uncoating by physical disruption rather than cooperative disassembly of the CA-lattice, followed by physical separation from the pre-integration complex.

Cell Biology
Genetics and Genomics

The heteroplasmic state of eukaryotic cells allows for cryptic accumulation of defective mitochondrial genomes (mtDNA). 'Purifying selection' mechanisms operate to remove such dysfunctional mtDNAs. We found that activators of programmed cell death (PCD), including the CED-3 and CSP-1 caspases, the BH3-only protein CED-13, and PCD corpse engulfment factors, are required in C. elegans to attenuate germline abundance of a 3.1-kb mtDNA deletion mutation, uaDf5, which is normally stably maintained in heteroplasmy with wildtype mtDNA. In contrast, removal of CED-4/Apaf1 or a mutation in the CED-4-interacting prodomain of CED-3, do not increase accumulation of the defective mtDNA, suggesting induction of a non-canonical germline PCD mechanism or non-apoptotic action of the CED-13/caspase axis. We also found that the abundance of germline mtDNAuaDf5 reproducibly increases with age of the mothers. This effect is transmitted to the offspring of mothers, with only partial intergenerational removal of the defective mtDNA. In mutants with elevated mtDNAuaDf5 levels, this removal is enhanced in older mothers, suggesting an age-dependent mechanism of mtDNA quality control. Indeed, we found that both steady-state and age-dependent accumulation rates of uaDf5 are markedly decreased in long-lived, and increased in short-lived, mutants. These findings reveal that regulators of both PCD and the aging program are required for germline mtDNA quality control and its intergenerational transmission.

Biochemistry and Chemical Biology
Cell Biology

Nitric oxide (NO), as a gaseous therapeutic agent, shows great potential for the treatment of many kinds of diseases. Although various NO delivery systems have emerged, the immunogenicity and long-term toxicity of artificial carriers hinder the potential clinical translation of these gas therapeutics. Mesenchymal stem cells (MSCs), with the capacities of self-renewal, differentiation, and low immunogenicity, have been used as living carriers. However, MSCs as gaseous signaling molecule (GSM) carriers have not been reported. In this study, human MSCs were genetically modified to produce mutant β-galactosidase (β-GALH363A). Furthermore, a new NO prodrug, 6-methyl-galactose-benzyl-oxy NONOate (MGP), was designed. MGP can enter cells and selectively trigger NO release from genetically engineered MSCs (eMSCs) in the presence of β-GALH363A. Moreover, our results revealed that eMSCs can release NO when MGP is systemically administered in a mouse model of acute kidney injury (AKI), which can achieve NO release in a precise spatiotemporal manner and augment the therapeutic efficiency of MSCs. This eMSC and NO prodrug system provides a unique and tunable platform for GSM delivery and holds promise for regenerative therapy by enhancing the therapeutic efficiency of stem cells.