Cancer Immunotherapy: A promising platform for predicting toxicity
Organ-on-chip approaches could help researchers to better predict the toxicity of cancer immunotherapy drugs.
Killing cancer cells can be done directly or by harnessing the immune system through an approach called cancer immunotherapy (Robert, 2020). Indeed, over the past decade, most of the advances in oncology have involved boosting immune cells to destroy tumor cells. Some of these treatments have resulted in impressive improvements in survival, bringing the possibility of a cure closer for some patients (Robert et al., 2018). This is a big milestone in oncology.
Despite these advances, immunotherapies can be associated with toxicity, which forces the treatment to be stopped: if immune cells become too activated, they can mistakenly recognize and destroy healthy tissues. This can lead, for example, to rashes, hepatitis or colitis depending on whether the skin, liver or gut are attacked (Marin-Acevedo et al., 2019).
A big challenge in oncology is therefore to predict which new immunotherapy drugs are going to be too harmful for patients. This is usually examined in animal models, but since their immune systems differ from the human immune system, it can be difficult to reliably predict toxicity (Zschaler et al., 2014). Now, in eLife, Nikolce Gjorevski (Roche), Lauriane Cabon (Roche) and colleagues – including Jordan Kerns and Chaitra Belgur of Emulate Inc in Boston as joint first authors – report how an in vitro model can help bypass this problem for T cell bispecific antibodies immunotherapy (Kerns et al., 2021).
T cell bispecific antibodies (or TCBs) can recognise and bind to 'antigen' proteins present on the surface of tumors, as well as receptors displayed by immune 'T cells': by bringing the two types of cells closer, this process helps to activate T cells and allows them to kill their targets. However, the antigens that TCBs bind to are not always exclusive to cancer cells. Recognition of non-cancer cells which share antigens with tumors – known as the on-target, off-tumor effect – can lead to normal cells being damaged (Labrijn et al., 2019; Figure 1). Predicting which TCBs under clinical development will cause such undesired toxicity represents an important challenge in oncology.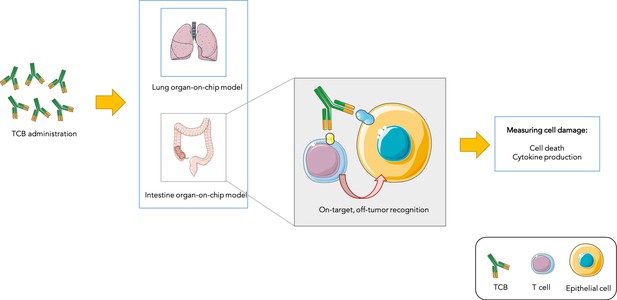 To address this issue, Kerns et al. first took advantage of a lung-on-chip model (Huh et al., 2010) – a system grown under conditions mimicking those found in the body – to predict toxicity to TCBs. This 'mini-organ' was exposed to a TCB that recognises an antigen present in ovarian, lung and breast cancer cells, but which can also be expressed, at lower levels, in healthy lung cells. This manipulation led to healthy cells being damaged in the lung-on-chip model, which was then used to determine which TCB dose could kill tumors while sparing normal lung cells. This dose was then administered to mouse models, whose lungs remained undamaged. This demonstrates that the lung-on-chip was able to efficiently predict toxicity in these animals.
Kerns et al. then used an intestine-on-chip model to test a TCB which targets an antigen present on both colon cancer and normal intestine cells. Healthy cells survived the treatment but signs of toxicity emerged that could mimick side-effects that commonly occur in patients, such as increased inflammation.
Using an organ-on-chip model to test TCBs therefore has two main advantages. First, it reproduces toxicity observed in vivo, and can help to determine which doses are effective while remaining safe for normal cells. Second, it serves to predict toxicity before patients are administered with newly-developed TCBs, filling the gap between animal and human studies for drugs that are yet to be clinically tested. Organ-on-chip models could therefore make drug development more efficient by helping to screen out toxic TCBs before they reach cancer patients.
Article and author information
Author details
© 2021, Ochoa de Olza
This article is distributed under the terms of the Creative Commons Attribution License, which permits unrestricted use and redistribution provided that the original author and source are credited.
835

Page views

62

Downloads

1

Citations
Article citation count generated by polling the highest count across the following sources: Crossref, PubMed Central, Scopus.
A two-part list of links to download the article, or parts of the article, in various formats.
Downloads
(link to download the article as PDF)
Open citations
(links to open the citations from this article in various online reference manager services)
Cite this article
(links to download the citations from this article in formats compatible with various reference manager tools)
Maria Ochoa de Olza
Cancer Immunotherapy: A promising platform for predicting toxicity
eLife 10:e73191.
https://doi.org/10.7554/eLife.73191
Further reading
Traditional drug safety assessment often fails to predict complications in humans, especially when the drug targets the immune system. Here, we show the unprecedented capability of two human Organs-on-Chips to evaluate the safety profile of T-cell bispecific antibodies (TCBs) targeting tumor antigens. Although promising for cancer immunotherapy, TCBs are associated with an on-target, off-tumor risk due to low levels of expression of tumor antigens in healthy tissues. We leveraged in vivo target expression and toxicity data of TCBs targeting folate receptor 1 (FOLR1) or carcinoembryonic antigen (CEA) to design and validate human immunocompetent Organs-on-Chips safety platforms. We discovered that the Lung-Chip and Intestine-Chip could reproduce and predict target-dependent TCB safety liabilities, based on sensitivity to key determinants thereof, such as target expression and antibody affinity. These novel tools broaden the research options available for mechanistic understandings of engineered therapeutic antibodies and assessing safety in tissues susceptible to adverse events.

Cancer Biology
Computational and Systems Biology

Pancreatic cancer is one of the deadliest cancer types with poor treatment options. Better detection of early symptoms and relevant disease correlations could improve pancreatic cancer prognosis. In this retrospective study, we used symptom and disease codes (ICD-10) from the Danish National Patient Registry (NPR) encompassing 6.9 million patients from 1994 to 2018,, of whom 23,592 were diagnosed with pancreatic cancer. The Danish cancer registry included 18,523 of these patients. To complement and compare the registry diagnosis codes with deeper clinical data, we used a text mining approach to extract symptoms from free text clinical notes in electronic health records (3078 pancreatic cancer patients and 30,780 controls). We used both data sources to generate and compare symptom disease trajectories to uncover temporal patterns of symptoms prior to pancreatic cancer diagnosis for the same patients. We show that the text mining of the clinical notes was able to complement the registry-based symptoms by capturing more symptoms prior to pancreatic cancer diagnosis. For example, 'Blood pressure reading without diagnosis', 'Abnormalities of heartbeat', and 'Intestinal obstruction' were not found for the registry-based analysis. Chaining symptoms together in trajectories identified two groups of patients with lower median survival (<90 days) following the trajectories 'Cough→Jaundice→Intestinal obstruction' and 'Pain→Jaundice→Abnormal results of function studies'. These results provide a comprehensive comparison of the two types of pancreatic cancer symptom trajectories, which in combination can leverage the full potential of the health data and ultimately provide a fuller picture for detection of early risk factors for pancreatic cancer.

Cancer stem cells (CSCs) undergo epithelial-mesenchymal transition (EMT) to drive metastatic dissemination in experimental cancer models. However, tumour cells undergoing EMT have not been observed disseminating into the tissue surrounding human tumour specimens, leaving the relevance to human cancer uncertain. We have previously identified both EpCAM and CD24 as CSC markers that, alongside the mesenchymal marker Vimentin, identify EMT CSCs in human oral cancer cell lines. This afforded the opportunity to investigate whether the combination of these three markers can identify disseminating EMT CSCs in actual human tumours. Examining disseminating tumour cells in over 12,000 imaging fields from 74 human oral tumours, we see a significant enrichment of EpCAM, CD24 and Vimentin co-stained cells disseminating beyond the tumour body in metastatic specimens. Through training an artificial neural network, these predict metastasis with high accuracy (cross-validated accuracy of 87-89%). In this study, we have observed single disseminating EMT CSCs in human oral cancer specimens, and these are highly predictive of metastatic disease.