Photosynthesis: Oxygen overload
A structure that helps algae photosynthesize when carbon dioxide levels are low may also play a role during hyperoxia conditions.
Bioreactors of algae are commonly used to generate biomass, a renewable source of energy. To do this, scientists exploit the algae's ability to efficiently convert carbon dioxide into organic compounds, such as sugar, using photosynthesis. This process is known as carbon fixation and requires high levels of inorganic carbon in order to be successful. If the primary enzyme involved in this reaction – called Rubisco (short for ribulose-1,5-bisphosphate carboxylase/oxygenase) – does not receive enough carbon dioxide, it mistakenly fixes oxygen instead. This results in unfavourable by-products that inhibit photosynthesis and require lots of energy to recycle (Peterhansel et al., 2010).
To overcome this problem, algae evolved a carbon dioxide concentrating mechanism (CCM) that allows the rate of photosynthesis to remain high despite low levels of inorganic carbon (Badger and Price, 1992; Raven et al., 2017). Much of what is known about the CCM has come from studying a single cell alga known as Chlamydomonas (Mackinder et al., 2017). These studies revealed two key components that allow the CCM to increase the concentration of carbon dioxide around Rubisco enzymes: transporter proteins that pump carbon dioxide into the chloroplast, and structures called pyrenoids which sequester Rubisco enzymes. Pyrenoids are condensed proteins which are often surrounded by a starch sheath that promotes the selective entry of carbon dioxide and shields Rubisco from oxygen. However, the mechanisms and signals underlying the formation of these pyrenoids have largely remained elusive.
Past and current research has mostly focused on pyrenoids that appear when CCMs are induced by low levels of inorganic carbon (Wang et al., 2015). Now, in eLife, David M Kramer (Michigan State University) and colleagues – including Peter Neofotis (also from Michigan State) as first author – report that pyrenoids may also be induced by high levels of oxygen, in the absence of other CCM components (Neofotis et al., 2021).
The team – which included researchers from Michigan State and ExxonMobil – found that a species of alga called Chlamydomonas reinhardtii contains pyrenoids when there are extremely high levels of oxygen in the air (also known as hyperoxia) despite carbon dioxide levels also being high (Figure 1). The structure of these oxygen-induced pyrenoids is strikingly similar to those formed in response to low levels of inorganic carbon. This led Neofotis et al. to hypothesize that the signal that induces pyrenoid formation may be produced when photosynthesis takes place either under hyperoxia conditions or when there are low levels of carbon dioxide.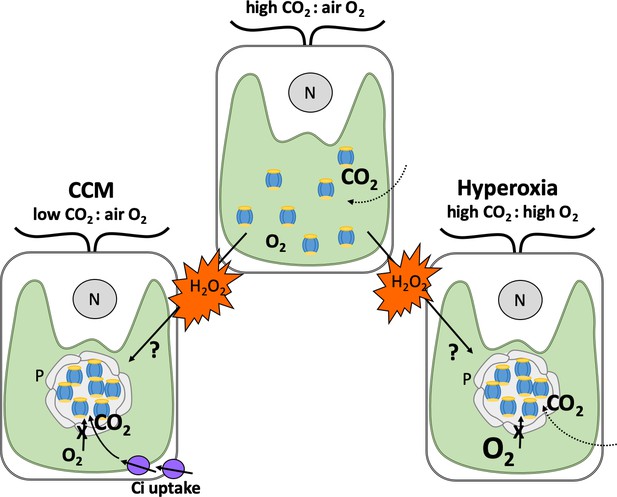 The signalling molecule hydrogen peroxide was considered to be the strongest candidate for the role as it is a by-product of oxygen fixation, a scenario that can occur when oxygen levels are high or when there are insufficient amounts of carbon dioxide (Figure 1). Further experiments showed that hydrogen peroxide levels and the formation of pyrenoids are highly correlated, providing strong evidence for this hypothesis.
To address the role pyrenoids play under high oxygen stress, Neofotis et al. studied and compared Chlamydomonas strains which have varying tolerance to hyperoxia. The experiments showed that the pyrenoids found in these genetic variants have different structures and sometimes fail to form a sheath. Algae that could endure high levels of oxygen and formed fully starch-sheathed pyrenoids had significant growth advantages over those that had more fragmented and poorly developed sheaths. This is consistent with the theory that pyrenoids also help to enhance photosynthesis under hyperoxia conditions, in addition to their role in the CCM.
Many questions remain to be answered to fully understand how hydrogen peroxide signalling leads to the formation of pyrenoids, regardless of whether low levels of inorganic carbon or hyperoxia are the eliciting cue. It is possible that other signals may affect the formation of pyrenoids, perhaps in response to other environmental stresses. Furthermore, how pyrenoids assemble and the specific roles of each of their different parts still remain to be explored. Nevertheless, the work of Neofotis et al. sets the scene for new, exciting avenues of research that may lead to the development of more efficient algae that can be used in bioreactors and other biotechnological applications.
Article and author information
Author details
© 2021, Foerster
This article is distributed under the terms of the Creative Commons Attribution License, which permits unrestricted use and redistribution provided that the original author and source are credited.
721

Page views

74

Downloads

0

Citations
Article citation count generated by polling the highest count across the following sources: Crossref, PubMed Central, Scopus.
A two-part list of links to download the article, or parts of the article, in various formats.
Downloads
(link to download the article as PDF)
Open citations
(links to open the citations from this article in various online reference manager services)
Cite this article
(links to download the citations from this article in formats compatible with various reference manager tools)
Britta Foerster
Photosynthesis: Oxygen overload
eLife 10:e75695.
https://doi.org/10.7554/eLife.75695
Further reading
Biochemistry and Chemical Biology

Plant Biology

In algae, it is well established that the pyrenoid, a component of the carbon-concentrating mechanism (CCM), is essential for efficient photosynthesis at low CO2. However, the signal that triggers the formation of the pyrenoid has remained elusive. Here, we show that, in Chlamydomonas reinhardtii, the pyrenoid is strongly induced by hyperoxia, even at high CO2 or bicarbonate levels. These results suggest that the pyrenoid can be induced by a common product of photosynthesis specific to low CO2 or hyperoxia. Consistent with this view, the photorespiratory by-product, H2O2, induced the pyrenoid, suggesting that it acts as a signal. Finally, we show evidence for linkages between genetic variations in hyperoxia tolerance, H2O2 signaling, and pyrenoid morphologies.

Biochemistry and Chemical Biology

Nearly all mitochondrial proteins need to be targeted for import from the cytosol. For the majority, the first port of call is the translocase of the outer membrane (TOM complex), followed by a procession of alternative molecular machines, conducting transport to their final destination. The pre-sequence translocase of the inner membrane (TIM23-complex) imports proteins with cleavable pre-sequences. Progress in understanding these transport mechanisms has been hampered by the poor sensitivity and time resolution of import assays. However, with the development of an assay based on split NanoLuc luciferase, we can now explore this process in greater detail. Here, we apply this new methodology to understand how ∆ψ and ATP hydrolysis, the two main driving forces for import into the matrix, contribute to the transport of pre-sequence-containing precursors (PCPs) with varying properties. Notably, we found that two major rate-limiting steps define PCP import time: passage of PCP across the outer membrane and initiation of inner membrane transport by the pre-sequence – the rates of which are influenced by PCP size and net charge. The apparent distinction between transport through the two membranes (passage through TOM is substantially complete before PCP-TIM engagement) is in contrast with the current view that import occurs through TOM and TIM in a single continuous step. Our results also indicate that PCPs spend very little time in the TIM23 channel – presumably rapid success or failure of import is critical for maintenance of mitochondrial fitness.

Biochemistry and Chemical Biology

Cell Biology

Profilin-1 (PFN1) is a cytoskeletal protein that regulates the dynamics of actin and microtubule assembly. Thus, PFN1 is essential for the normal division, motility, and morphology of cells. Unfortunately, conventional fusion and direct labeling strategies compromise different facets of PFN1 function. As a consequence, the only methods used to determine known PFN1 functions have been indirect and often deduced in cell-free biochemical assays. We engineered and characterized two genetically encoded versions of tagged PFN1 that behave identical to each other and the tag-free protein. In biochemical assays purified proteins bind to phosphoinositide lipids, catalyze nucleotide exchange on actin monomers, stimulate formin-mediated actin filament assembly, and bound tubulin dimers (kD = 1.89 µM) to impact microtubule dynamics. In PFN1-deficient mammalian cells, Halo-PFN1 or mApple-PFN1 (mAp-PEN1) restored morphological and cytoskeletal functions. Titrations of self-labeling Halo-ligands were used to visualize molecules of PFN1. This approach combined with specific function-disrupting point-mutants (Y6D and R88E) revealed PFN1 bound to microtubules in live cells. Cells expressing the ALS-associated G118V disease variant did not associate with actin filaments or microtubules. Thus, these tagged PFN1s are reliable tools for studying the dynamic interactions of PFN1 with actin or microtubules in vitro as well as in important cell processes or disease-states.