Tissue Organization: When cells get in the flow
New imaging approaches question a long-standing model for how the eyes of fruit flies acquire their geometric patterning.
Take a close look at the skin of a bird or a mammal, and you will observe an impressively regular pattern of hair follicles or feathers interspersed with epidermal skin cells (Ho et al., 2019; Sick et al., 2006; Stark et al., 2007). A strikingly similar organization exists in the eyes of the developing fruit fly Drosophila, with clusters of photoreceptor neurons regularly distributed amongst epithelial support cells. Each cluster will go on to form one facet in the compound adult eye (Heberlein and Treisman, 2000).
Several theoretical models have been proposed to explain how such intricate spacing patterns emerge. The 'reaction-diffusion model' suggested by Alan Turing, for example, postulates that cells developing as a feather bud secrete an inhibitor around themselves to stop equivalent structures from forming too closely (Turing, 1997; Figure 1A). Now, in eLife, Kevin Gallagher, Madhav Mani and Richard Carthew – who are all based at Northwestern University – report on new observations that challenge this view, proposing an alternative mechanism that relies on complex cell movements during development (Gallagher et al., 2022).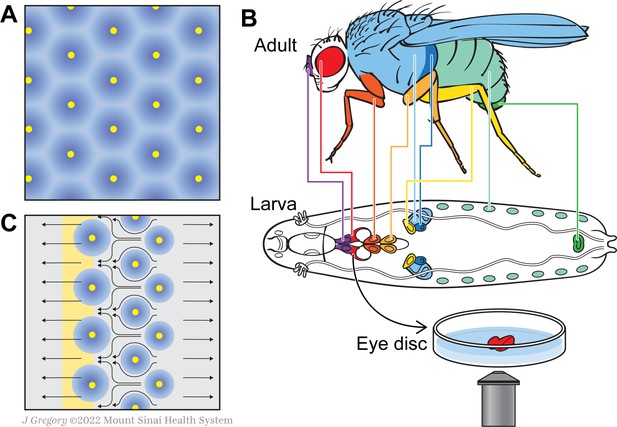 During the fruit fly's larval stages, the cells that will form adult structures develop in isolated sacs called imaginal discs. During metamorphosis, the larval tissue is degraded and the discs expand and fuse to create adult structures (Figure 1B). This process is difficult to visualize as it happens inside the developing insect. Traditional approaches involve dissecting and fixing the tissue, which can only provide 'snapshots' at specific time points. As a response, Gallagher et al. set up a new system that allowed them to image cellular behavior 'live' in developing larvae, achieving high spatial and temporal resolution. To do this, they isolated discs from genetically modified flies that express fluorescent cell adhesion proteins, and cultured these structures ex vivo; this allowed the team to track cell outlines in developing larvae, and to follow their movement over time.
Gallagher et al. applied their technique to the eye disc, whose development is controlled by a wave of signals – the morphogenetic furrow – spreading over the disc from one end to the other. The cells constrict as the furrow passes over them, but it was assumed that they remained stationary through this process. Specific cell fates, and therefore the final patterning of the eye, were thought to emerge from the signaling molecules and events associated with the furrow (Heberlein and Treisman, 2000).
Yet, the results from Gallagher et al. contradict that long-standing assumption, showing instead that cells in the eye disc are very dynamic. As individual cells rearrange themselves with respect to their neighbors, they move away from any potential diffusing signal they may have been exposed to initially; this means that the Turing's reaction-diffusion model cannot sufficiently explain how the final geometric pattern emerges in the eye. Instead, these individual motions create an overall, strikingly cohesive 'flow', which pushes cells towards the morphogenetic furrow.
Gallagher et al. then analyzed the cell flow mathematically and calculated how quickly cells moved depending on their position relative to the furrow. This revealed that cells undergo periodic phases of fast and slow movement, with these oscillations correlating with the precise spacing of photoreceptor clusters. Cells in defined areas behind and in front of the furrow respectively dilate or constrict, generating forces that create the periodic cell flow: the dilation pushes the cells to move away while the constriction serves as a 'sink' that draws the cells towards it. This means that cells flow into the spaces between photoreceptor clusters, ensuring that these are regularly spaced out (Figure 1C).
Next, Gallagher et al. examined the role of Scabrous, a protein secreted during development that affects the geometric spacing of photoreceptor clusters in unknown ways (Baker et al., 1990; Mlodzik et al., 1990). In mutant tissue lacking Scabrous, cell dilation decreases; cell flow becomes disrupted, leading to irregular spacing and tissue organization. How Scabrous regulates the dilation and flow of cells remains unclear, but the observation confirms how important organized cell flow is for tissue patterning to emerge.
As cell flow becomes one of the mechanisms known to regulate precise tissue organization, many exciting questions emerge: how is this process controlled genetically? Do signaling molecules from the morphogenetic furrow regulate cell dilation and constriction, as well as cell identity and inhibitor production? Or does cell flow regulate gene expression directly within the furrow? The new imaging approach by Gallagher et al. will help to address these questions, allowing researchers to track how signaling and cell flow cooperate to organize the eye tissue pattern.
A few recent studies focusing on the later stages of eye development in Drosophila, as well as other tissues, also highlight that cells need to move together and relative to each other (known as tissue fluidity) for an organism to develop (Founounou et al., 2021; Aigouy et al., 2010; Mongera et al., 2018). These findings are ushering in a new phase of research in organogenesis and developmental biology, allowing alternative models to emerge based on tissue fluidity, cell flow, and tissue organization.
Article and author information
Author details
The authors acknowledge funding from the NIH/NIGMS (R35 GM127103).
© 2022, Collu and Mlodzik
This article is distributed under the terms of the Creative Commons Attribution License, which permits unrestricted use and redistribution provided that the original author and source are credited.
826

Page views

53

Downloads

0

Citations
Article citation count generated by polling the highest count across the following sources: Crossref, PubMed Central, Scopus.
A two-part list of links to download the article, or parts of the article, in various formats.
Downloads
(link to download the article as PDF)
Open citations
(links to open the citations from this article in various online reference manager services)
Cite this article
(links to download the citations from this article in formats compatible with various reference manager tools)
Giovanna M Collu
Marek Mlodzik
Tissue Organization: When cells get in the flow
eLife 11:e77309.
https://doi.org/10.7554/eLife.77309
Further reading
Developmental Biology

Physics of Living Systems

Pattern formation of biological structures involves the arrangement of different types of cells in an ordered spatial configuration. In this study, we investigate the mechanism of patterning the Drosophila eye epithelium into a precise triangular grid of photoreceptor clusters called ommatidia. Previous studies had led to a long-standing biochemical model whereby a reaction-diffusion process is templated by recently formed ommatidia to propagate a molecular prepattern across the eye. Here, we find that the templating mechanism is instead, mechanochemical in origin; newly born columns of differentiating ommatidia serve as a template to spatially pattern flows that move epithelial cells into position to form each new column of ommatidia. Cell flow is generated by a source and sink, corresponding to narrow zones of cell dilation and contraction respectively, that straddle the growing wavefront of ommatidia. The newly formed lattice grid of ommatidia cells are immobile, deflecting, and focusing the flow of other cells. Thus, the self-organization of a regular pattern of cell fates in an epithelium is mechanically driven.

Mechanisms that control 'beige/brite' thermogenic adipose tissue development may be harnessed to improve human metabolic health. To define these mechanisms, we developed a species-hybrid model in which human mesenchymal progenitor cells were used to develop white or thermogenic/beige adipose tissue in mice. The hybrid adipose tissue developed distinctive features of human adipose tissue, such as larger adipocyte size, despite its neurovascular architecture being entirely of murine origin. Thermogenic adipose tissue recruited a denser, qualitatively distinct vascular network, differing in genes mapping to circadian rhythm pathways, and denser sympathetic innervation. The enhanced thermogenic neurovascular network was associated with human adipocyte expression of THBS4, TNC, NTRK3, and SPARCL1, which enhance neurogenesis, and decreased expression of MAOA and ACHE, which control neurotransmitter tone. Systemic inhibition of MAOA, which is present in human but absent in mouse adipocytes, induced browning of human but not mouse adipose tissue, revealing the physiological relevance of this pathway. Our results reveal species-specific cell type dependencies controlling the development of thermogenic adipose tissue and point to human adipocyte MAOA as a potential target for metabolic disease therapy.

In vitro fertilization (IVF) has resulted in the birth of over 8 million children. Although most IVF-conceived children are healthy, several studies suggest an increased risk of altered growth rate, cardiovascular dysfunction, and glucose intolerance in this population compared to naturally conceived children. However, a clear understanding of how embryonic metabolism is affected by culture condition and how embryos reprogram their metabolism is unknown. Here, we studied oxidative stress and metabolic alteration in blastocysts conceived by natural mating or by IVF and cultured in physiologic (5%) or atmospheric (20%) oxygen. We found that IVF-generated blastocysts manifest increased reactive oxygen species, oxidative damage to DNA/lipid/proteins, and reduction in glutathione. Metabolic analysis revealed IVF-generated blastocysts display decreased mitochondria respiration and increased glycolytic activity suggestive of enhanced Warburg metabolism. These findings were corroborated by altered intracellular and extracellular pH and increased intracellular lactate levels in IVF-generated embryos. Comprehensive proteomic analysis and targeted immunofluorescence showed reduction of lactate dehydrogenase-B and monocarboxylate transporter 1, enzymes involved in lactate metabolism. Importantly, these enzymes remained downregulated in the tissues of adult IVF-conceived mice, suggesting that metabolic alterations in IVF-generated embryos may result in alteration in lactate metabolism. These findings suggest that alterations in lactate metabolism are a likely mechanism involved in genomic reprogramming and could be involved in the developmental origin of health and disease.