Defense Proteins: Exposing the invader
A restriction factor induced by interferons blocks the replication of herpesviruses by disassembling the capsid proteins surrounding their genome.
The immune system is a large network of organs, cells and molecules that work together to protect the body from disease-causing pathogens. It consists of an innate immune response (which activates macrophages and dendritic cells) and an adaptive immune response (which activates T cells and B cells).
Most cells in the body also have an intrinsic response against viruses, in which they express proteins that can detect the invading virus and block its replication. From the initial entry into a cell, through to the budding and release of new virus particles, intrinsic anti-viral factors can detect a broad range of viral molecules, including the RNA or DNA of the virus. In response, cells produce signaling proteins, such as interferons, to stimulate anti-viral defenses in neighboring cells and to target viral infections at various stages of their lifecycle.
For example, the restriction factor myxovirus resistance protein B (MxB) is activated by interferons, and has been shown to inhibit the replication of a broad range of viruses, including HIV and herpesviruses (Liu et al., 2013; Matreyek et al., 2014; Crameri et al., 2018; Schilling et al., 2018). However, its mechanism of action is poorly understood (Wilbourne and Zhang, 2021; Xie et al., 2021). Now, in eLife, Beate Sodeik and colleagues – including Manutea Serrero from Hanover Medical School as first author – report new insights into the interactions between MxB and herpesviruses (Serrero et al., 2022).
All herpesviruses consist of a capsid protein that surrounds their DNA, and a layer called the tegument that links the capsid with the membrane envelope engulfing the virus particle (Figure 1A; Dai and Zhou, 2018; Huet et al., 2016). Upon infection, the viral envelope fuses with the membrane of the host cell and releases the capsid and most of the tegument layer into the cell. These are then transported to the nucleus, where they can hijack the replication machinery of the host cell (Figure 1B).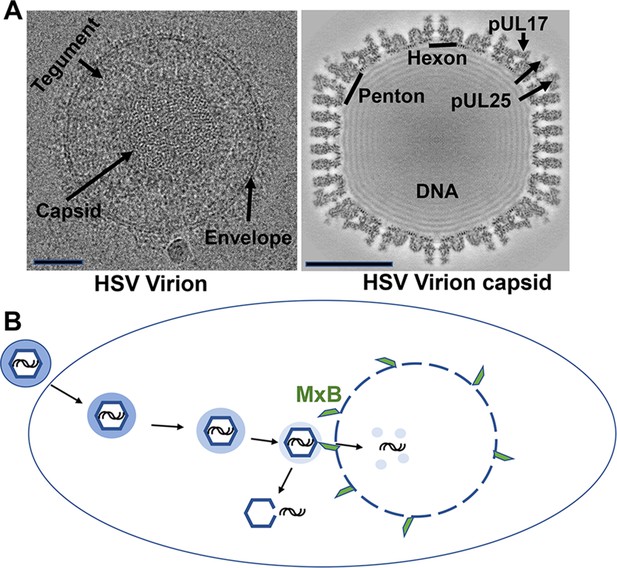 To find out how anti-viral proteins inhibit the replication of herpes simplex virus, Serrero et al. used cell-free methods to reconstitute the complexes typically formed by these proteins and viral particles. To do so, they prepared protein extracts from 'naïve' macrophages and macrophages that had been exposed to an interferon, as these cells are known to mount a robust interferon response. These were then mixed with either capsids from extracellular viral particles containing varying amounts of tegument proteins, or tegument-free capsids from the nuclei of infected cells. The resulting complexes were characterized using quantitative mass spectrometry. This revealed MxB as one of the molecules interacting with the capsid, with a particular affinity for capsids lacking the tegument layer.
To test if MxB could also affect the stability of the capsid, the team (who are based at various institutes in Germany, the United States and the United Kingdom) bound the virus capsids onto electron microscopy grids and incubated them with cellular fluids extracted from naïve macrophages or macrophages that had been exposed to interferons. Electron microscopy revealed that capsids treated with the interferon-stimulated cell extracts were significantly more damaged and impaired compared to the capsids exposed to untreated cell extracts.
Moreover, further experiments using host cells from genetically modified lung tissue lacking MxB showed that extracts from these cells did not damage the capsid, highlighting its importance in capsid breakdown. In particular, MxB may attach to connector proteins (pUL17, pUL25, pUL36) that normally link the tegument and the capsid (Figure 1A). Furthermore, Serrero et al. found that when MxB was added to extracts from naïve cells that had not been activated by interferons, this caused the capsids to breakdown.
Perhaps the most intriguing result is that MxB works most efficiently on capsids lacking the tegument layer. In fact, MxB was unable to bind to capsids and destroy them when tegument proteins remained associated with the capsid. This suggests that tegument proteins shield the capsids from immune factors such as MxB, potentially by blocking their interaction with the connector proteins pUL17, pUL25 and pUL36.
The study of Serrero et al. further suggests that there is a fine balance within cells where loss of tegument proteins determines when capsids can be targeted by anti-viral factors, such as MxB. The binding of MxB to the tegument-free capsid and its partial destruction may in turn affect how new virus particles target the host cell's nuclei. This could potentially disrupt the assembly of future capsids formed during viral replication, as MxB might engage with virions as they mature in the nucleus. In addition, the release of viral genomes from the damaged capsids may enhance the activation of defense proteins sensing the foreign particle, thereby amplifying the intrinsic immune responses of the host cell.
Since these experiments were done using cell-free assays, it remains to be seen whether MxB induces the breakdown of viral capsids in infected cells. A better understanding of how the tegument can shield the capsids from MxB could pave the way for new treatments against herpesviruses and other viral invaders.
Article and author information
Author details
© 2022, Bayer and Homa
This article is distributed under the terms of the Creative Commons Attribution License, which permits unrestricted use and redistribution provided that the original author and source are credited.
562

Page views

72

Downloads

0

Citations
Article citation count generated by polling the highest count across the following sources: Crossref, PubMed Central, Scopus.
A two-part list of links to download the article, or parts of the article, in various formats.
Downloads
(link to download the article as PDF)
Open citations
(links to open the citations from this article in various online reference manager services)
Cite this article
(links to download the citations from this article in formats compatible with various reference manager tools)
Avraham N Bayer
Fred L Homa
Defense Proteins: Exposing the invader
eLife 11:e79813.
https://doi.org/10.7554/eLife.79813
Further reading
Immunology and Inflammation
Microbiology and Infectious Disease

Host proteins sense viral products and induce defence mechanisms, particularly in immune cells. Using cell-free assays and quantitative mass spectrometry, we determined the interactome of capsid-host protein complexes of herpes simplex virus and identified the large dynamin-like GTPase myxovirus resistance protein B (MxB) as an interferon-inducible protein interacting with capsids. Electron microscopy analyses showed that cytosols containing MxB had the remarkable capability to disassemble the icosahedral capsids of herpes simplex viruses and varicella zoster virus into flat sheets of connected triangular faces. In contrast, capsids remained intact in cytosols with MxB mutants unable to hydrolyse GTP or to dimerize. Our data suggest that MxB senses herpesviral capsids, mediates their disassembly, and thereby restricts the efficiency of nuclear targeting of incoming capsids and/or the assembly of progeny capsids. The resulting premature release of viral genomes from capsids may enhance the activation of DNA sensors, and thereby amplify the innate immune responses.

Cell Biology
Immunology and Inflammation

The interplay among different cells in a tissue is essential for maintaining homeostasis. Although disease states have been traditionally attributed to individual cell types, increasing evidence and new therapeutic options have demonstrated the primary role of multicellular functions to understand health and disease, opening new avenues to understand pathogenesis and develop new treatment strategies. We recently described the cellular composition and dynamics of the human oral mucosa; however, the spatial arrangement of cells is needed to better understand a morphologically complex tissue. Here, we link single-cell RNA sequencing, spatial transcriptomics, and high-resolution multiplex fluorescence in situ hybridisation to characterise human oral mucosa in health and oral chronic inflammatory disease. We deconvolved expression for resolution enhancement of spatial transcriptomic data and defined highly specialised epithelial and stromal compartments describing location-specific immune programs. Furthermore, we spatially mapped a rare pathogenic fibroblast population localised in a highly immunogenic region, responsible for lymphocyte recruitment through CXCL8 and CXCL10 and with a possible role in pathological angiogenesis through ALOX5AP. Collectively, our study provides a comprehensive reference for the study of oral chronic disease pathogenesis.

Immunology and Inflammation

Newborns are unable to reach the adult-level humoral immune response partly due to the potent immunoregulatory role of IL-10. Increased IL-10 production by neonatal B cells has been attributed to the larger population of IL-10-producting CD43+ B-1 cells in neonates. Here, we show that neonatal mouse CD43- non-B-1 cells also produce substantial amounts of IL-10 following B cell antigen receptor (BCR) activation. In neonatal mouse CD43- non-B-1 cells, BCR engagement activated STAT5 under the control of phosphorylated forms of signaling molecules Syk, Btk, PKC, FAK and Rac1. Neonatal STAT5 activation led to IL-6 production, which in turn was responsible for IL-10 production in an autocrine/paracrine fashion through the activation of STAT3. In addition to the increased IL-6 production in response to BCR stimulation, elevated expression of IL-6Rα expression in neonatal B cells rendered them highly susceptible to IL-6 mediated STAT3 phosphorylation and IL-10 production. Finally, IL-10 secreted from neonatal mouse CD43- non-B-1 cells was sufficient to inhibit TNF-α secretion by macrophages. Our results unveil a distinct mechanism of IL-6-dependent IL-10 production in BCR-stimulated neonatal CD19+CD43- B cells.