Bacteria: To biofilm or not to biofilm
A new model helps to predict under which conditions a species of bacteria will switch to a static lifestyle.
A trip to the dentist is seldom fun, but it is often necessary to remove the sticky, slimy deposits (or biofilms) that adhere to our teeth and gums. These structures are formed by bacteria that have adopted a static lifestyle in the moist and warm environment of our mouths. In fact, biofilms are common in a range of natural, clinical, and industrial settings, where they can be dangerous for our health or contaminate equipments (Davey and O'Toole, 2000; Hall-Stoodley et al., 2004).
In general, bacteria can either exist in a mobile, 'planktonic' state where they freely disperse and explore their environment for nutrients, or stay statically as 'biofilms', a communal state where the cells share resources and are protected from harmful conditions (Adler, 1966). What triggers bacteria to transition from a mobile state to a biofilm lifestyle depends on how each species responds to certain environmental conditions. The factors include nutrient availability, production of certain chemical triggers as well as cellular parameters - such as bacterial concentration, proliferation rate, or diffusing behavior (Berg, 2018).
Overall, however, the switch to (immobile) biofilm formation is controlled by bacterial dispersion (which is dependent on nutrient levels), and it occurs when the concentration of bacterial molecules known as autoinducers goes above a certain threshold (Davies et al., 1998; Waters and Bassler, 2005). These signals, which are produced by bacteria, serve as a proxy for the level of other bacterial cells in the environment and trigger intracellular signals which impact the genes a cell expresses, and the lifestyle it will adopt. Once the biofilm is created, it is maintained by the autoinducer molecules produced by the immobilized bacteria (Figure 1).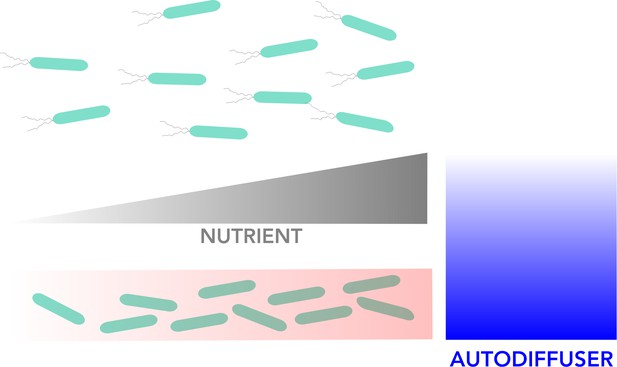 Yet, how biofilms emerge and the exact conditions that trigger their formation remain a topic of intense research. In general, motile and biofilm lifestyles are studied separately, making it difficult to predict with certainty whether a species of bacteria will form a biofilm under certain conditions. Now, in eLife, Sujit Datta and colleagues at Princeton University – including Jenna Moore-Ott as first author – report having developed a unified framework that can examine both states simultaneously (Moore-Ott et al., 2022).
The team developed a series of equations that describe the transition from planktonic state to biofilm under a range of parameters covering all possible conditions. The resulting model, which describes the behavior of the cells, is governed by two main factors: nutrient consumption and bacterial dispersion in the motile state. Both parameters focus on the competition between bacterial dispersion and the production of autoinducer molecules.
Based on the model, Moore-Ott et al. predict two conditions where the concentration of autoinducers remains under the threshold required for biofilm formation. In the first case, nutrients are consumed at such a high rate that the autoinducers are produced (by bacteria) in limited quantities; there is simply not enough autoinducer 'production' time. In the second case, bacteria diffuse and therefore disperse at increased levels (possibly because of environmental conditions), limiting the accumulation of the autoinducers in one location.
In addition, Moore-Ott et al. also pinpointed a third factor the ratio between the time it takes for nutrients to be consumed and for autoinducer to be produced, which affects how fast the biofilm forms and how large they become. For instance, a larger ratio between these two timescales results in the biofilm proliferating, while a smaller ratio slows down the formation of the biofilm. Overall, the combination of these three parameters – nutrient consumption, bacterial dispersion, and ratio of consumption to production time scale – determine which lifestyle a specific species adopts, and at what concentration.
While nutrient consumption and bacterial dispersion vary between different species of bacteria and across environments, they are quantifiable through experiments. This means that the model provides a unique general framework that can be used to predict which state a given bacterial species will adopt under specific circumstances.
Further work should aim to refine the model so it can become closer to real life conditions. For example, the framework assumes that biofilm formation and the production of autoinducers in a nutrient-dependent fashion are irreversible, two assumptions which can be relaxed for certain species of bacteria (Bridges and Bassler, 2019). In addition, more complex elements could be added to tailor the framework to a specific system, such as incorporating how the biofilm is spatially organized, inputting the role of secondary signaling molecules which fine-tune the impact of autoinducers, or acknowledging how individual cells may respond differently to signals (Bhattacharjee et al., 2022; Jenal et al., 2017; Nadezhdin et al., 2020). Nevertheless, this work represents an important step forward in our quantitative understanding of biofilm formation, which in turn will help us in both fighting and harnessing biofilms, which can be useful in wound healing, bioremediation, or functional materials production.
Article and author information
Author details
© 2022, Pradeep and Arratia
This article is distributed under the terms of the Creative Commons Attribution License, which permits unrestricted use and redistribution provided that the original author and source are credited.
1,392

Page views

253

Downloads

0

Citations
Article citation count generated by polling the highest count across the following sources: Crossref, PubMed Central, Scopus.
A two-part list of links to download the article, or parts of the article, in various formats.
Downloads
(link to download the article as PDF)
Open citations
(links to open the citations from this article in various online reference manager services)
Cite this article
(links to download the citations from this article in formats compatible with various reference manager tools)
Shravan Pradeep
Paulo E Arratia
Bacteria: To biofilm or not to biofilm
eLife 11:e80891.
https://doi.org/10.7554/eLife.80891
Further reading
Computational and Systems Biology
Physics of Living Systems

Bacteria are ubiquitous in our daily lives, either as motile planktonic cells or as immobilized surface-attached biofilms. These different phenotypic states play key roles in agriculture, environment, industry, and medicine; hence, it is critically important to be able to predict the conditions under which bacteria transition from one state to the other. Unfortunately, these transitions depend on a dizzyingly complex array of factors that are determined by the intrinsic properties of the individual cells as well as those of their surrounding environments, and are thus challenging to describe. To address this issue, here, we develop a generally-applicable biophysical model of the interplay between motility-mediated dispersal and biofilm formation under positive quorum sensing control. Using this model, we establish a universal rule predicting how the onset and extent of biofilm formation depend collectively on cell concentration and motility, nutrient diffusion and consumption, chemotactic sensing, and autoinducer production. Our work thus provides a key step toward quantitatively predicting and controlling biofilm formation in diverse and complex settings.

Computational and Systems Biology
Neuroscience

The cerebellar granule cell layer has inspired numerous theoretical models of neural representations that support learned behaviors, beginning with the work of Marr and Albus. In these models, granule cells form a sparse, combinatorial encoding of diverse sensorimotor inputs. Such sparse representations are optimal for learning to discriminate random stimuli. However, recent observations of dense, low-dimensional activity across granule cells have called into question the role of sparse coding in these neurons. Here, we generalize theories of cerebellar learning to determine the optimal granule cell representation for tasks beyond random stimulus discrimination, including continuous input-output transformations as required for smooth motor control. We show that for such tasks, the optimal granule cell representation is substantially denser than predicted by classical theories. Our results provide a general theory of learning in cerebellum-like systems and suggest that optimal cerebellar representations are task-dependent.

Computational and Systems Biology
Neuroscience

Previous research has highlighted the role of glutamate and gamma-aminobutyric acid (GABA) in perceptual, cognitive, and motor tasks. However, the exact involvement of these neurochemical mechanisms in the chain of information processing, and across human development, is unclear. In a cross-sectional longitudinal design, we used a computational approach to dissociate cognitive, decision, and visuomotor processing in 293 individuals spanning early childhood to adulthood. We found that glutamate and GABA within the intraparietal sulcus (IPS) explained unique variance in visuomotor processing, with higher glutamate predicting poorer visuomotor processing in younger participants but better visuomotor processing in mature participants, while GABA showed the opposite pattern. These findings, which were neurochemically, neuroanatomically and functionally specific, were replicated ~21 mo later and were generalized in two further different behavioral tasks. Using resting functional MRI, we revealed that the relationship between IPS neurochemicals and visuomotor processing is mediated by functional connectivity in the visuomotor network. We then extended our findings to high-level cognitive behavior by predicting fluid intelligence performance. We present evidence that fluid intelligence performance is explained by IPS GABA and glutamate and is mediated by visuomotor processing. However, this evidence was obtained using an uncorrected alpha and needs to be replicated in future studies. These results provide an integrative biological and psychological mechanistic explanation that links cognitive processes and neurotransmitters across human development and establishes their potential involvement in intelligent behavior.