Evolution: Tracing the history of cell types
A study of sea urchin and sea star larvae paves the way for understanding how cell types evolve and give rise to novel morphologies.
For decades scientists have been fascinated with how evolution gave rise to the wide range of shapes and sizes that exist in the animal kingdom today. At the heart of this morphological variation are the different cell types that make up an organism, some of which will be unique to certain species (Arendt et al., 2016). However, how new cell types emerged over the course of evolution is still hotly debated.
A group of animals known as echinoderms – which includes sea urchins, sea stars and brittle stars among others – offer a fascinating example of morphological novelty. Although their larvae share many morphological features, there are also some clear distinctions, making them a useful system for studying how specific cell types evolved. For instance, the two most well-studied echinoderms, sea stars and sea urchins, develop in a remarkably similar way. However, despite this, sea urchins have two cell types that are not found in sea stars (Figure 1A): skeletogenic mesenchyme cells, which make the mineral skeleton that gives sea urchin larvae their distinct shape, and pigmented cells that reside in the outer epithelium and are recruited to the immune system during an infection (Decker and Lennarz, 1988; Gustafson and Wolpert, 1967; Buckley and Rast, 2017). Now, in eLife, Veronica Hinman and colleagues from Carnegie Mellon University – including Anne Meyer as first author – report new insights in to how these two cell types emerged over the course of evolution (Meyer et al., 2023).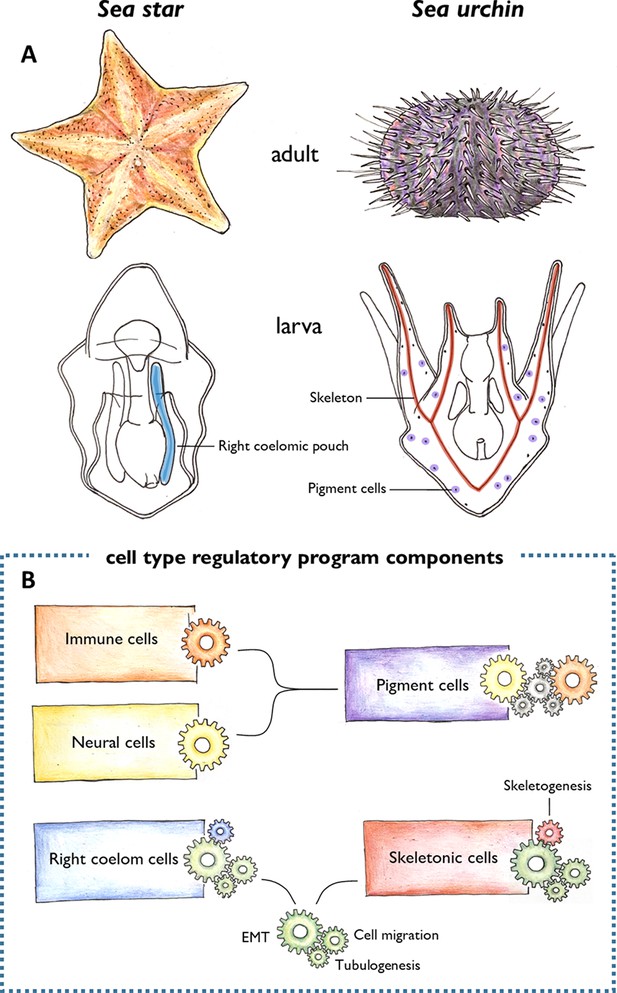 Cell types are typically defined based on their morphology, function, and where and when in the embryo they originated. But Meyer et al. propose that analysing these attributes alone is not sufficient for tracing how a cell type evolved. Instead, the team focused on the inner machinery that regulates all attributes of every cell. They did this by employing a technique called single-nuclei RNA sequencing, which reveals the genes expressed in every cell of an organism. This information can then be used to determine which cells activate similar regulatory mechanisms and therefore might be evolutionary related (Marioni and Arendt, 2017; Tanay and Sebé-Pedrós, 2021).
Meyer et al. used this powerful method to see how cells in the larva of a sea star compare to previously published sequencing data from the larva of a sea urchin (Foster et al., 2020). This revealed a very different picture than expected: both cell types that were thought to be unique to sea urchins appeared to have counterparts in the sea star larva (Figure 1A and B).
The skeletogenic mesenchyme cells of the developing sea urchin were similar to cells of the right coelomic pouch in the sea star which buds off the top of the embryonic structure that gives rise to the gut (Child, 1941). Many of the genes they shared are known to regulate the developmental processes required to generate mesenchymal cells, including epithelial to mesenchymal transition (EMT), cell migration and tubulogenesis. This suggests that skeletogenic mesenchyme cells and cells in the right coelomic pouch evolved from a common ancestor, which also possessed these regulatory mechanisms (Figure 1B). It is likely that these cells then evolutionarily diverged to activate the sets of genes responsible for building the skeleton in sea urchins (Gao and Davidson, 2008).
The pigment cells of the sea urchin were also found to be similar to immune and neural cell types in the sea star. Based on the genes shared between them, Meyer et al. propose that pigment cells have a dual role (immune and neural) in sea urchin larvae, while these functions are exerted by two separate cell types in sea stars (Figure 1B). Although a specific evolutionary history for these cell types is not provided in this study, these results support previous findings suggesting that immune and neural cells are evolutionarily related (Klimovich and Bosch, 2018).
A number of questions still remain about the evolutionary history of skeletogenic mesenchyme and pigment cells. For example, while the pigment cells seem to be unique to sea urchins, a larval skeleton is also present in other echinoderms, such as brittle stars. Extending the approach used by Meyer et al. to more echinoderms will provide a deeper understanding of how the cell types that give rise to the larval skeleton emerged. In addition, unravelling the networks of genes that control the development of skeletogenic mesenchyme and pigment cells in various echinoderms will help reveal the precise events that led to these evolutionary novelties. The findings of Meyer et al. provide a very fertile ground from which to address these questions, and more broadly how the enormous diversity of animal forms arose during evolution.
Article and author information
Author details
© 2023, Grausgruber and Revilla-i-Domingo
This article is distributed under the terms of the Creative Commons Attribution License, which permits unrestricted use and redistribution provided that the original author and source are credited.
1,027

Page views

68

Downloads

0

Citations
Article citation count generated by polling the highest count across the following sources: Crossref, PubMed Central, Scopus.
A two-part list of links to download the article, or parts of the article, in various formats.
Downloads
(link to download the article as PDF)
Open citations
(links to open the citations from this article in various online reference manager services)
Cite this article
(links to download the citations from this article in formats compatible with various reference manager tools)
Antonia Grausgruber
Roger Revilla-i-Domingo
Evolution: Tracing the history of cell types
eLife 12:e90447.
https://doi.org/10.7554/eLife.90447
Further reading
Developmental Biology
Evolutionary Biology

Cell types are the building blocks of metazoan biodiversity and offer a powerful perspective for inferring evolutionary phenomena. With the development of single-cell transcriptomic techniques, new definitions of cell types are emerging. This allows a conceptual reassessment of traditional definitions of novel cell types and their evolution. Research in echinoderms, particularly sea star and sea urchin embryos has contributed significantly to understanding the evolution of novel cell types, through the examination of skeletogenic mesenchyme and pigment cells, which are found in sea urchin larvae, but not sea star larvae. This paper outlines the development of a gene expression atlas for the bat sea star, Patiria miniata, using single nuclear RNA sequencing (snRNA-seq) of embryonic stages. The atlas revealed 23 cell clusters covering all expected cell types from the endoderm, mesoderm, and ectoderm germ layers. In particular, four distinct neural clusters, an immune-like cluster, and distinct right and left coelom clusters were revealed as distinct cell states. A comparison with Strongylocentrotus purpuratus embryo single-cell transcriptomes was performed using 1:1 orthologs to anchor and then compare gene expression patterns. The equivalent of S. purpuratus piwil3+ Cells were not detected in P. miniata, while the Left Coelom of P. miniata has no equivalent cell cluster in S. purpuratus. These differences may reflect changes in developmental timing between these species. While considered novel morphologically, the Pigment Cells of S. purpuratus map to clusters containing Immune-like Mesenchyme and Neural cells of P. miniata, while the Skeletogenic Mesenchyme of S. purpuratus are revealed as orthologous to the Right Coelom cluster of P. miniata. These results suggest a new interpretation of the evolution of these well-studied cell types and a reflection on the definition of novel cell types.

Developmental Biology
Stem Cells and Regenerative Medicine

The attachment site of the rotator cuff (RC) is a classic fibrocartilaginous enthesis, which is the junction between bone and tendon with typical characteristics of a fibrocartilage transition zone. Enthesis development has historically been studied with lineage tracing of individual genes selected a priori, which does not allow for the determination of single-cell landscapes yielding mature cell types and tissues. Here, in together with open-source GSE182997 datasets (three samples) provided by Fang et al., we applied Single-cell RNA sequencing (scRNA-seq) to delineate the comprehensive postnatal RC enthesis growth and the temporal atlas from as early as postnatal day 1 up to postnatal week 8. And, we furtherly performed single-cell spatial transcriptomic sequencing on postnatal day 1 mouse enthesis, in order to deconvolute bone-tendon junction (BTJ) chondrocytes onto spatial spots. In summary, we deciphered the cellular heterogeneity and the molecular dynamics during fibrocartilage differentiation. Combined with current spatial transcriptomic data, our results provide a transcriptional resource that will support future investigations of enthesis development at the mechanistic level and may shed light on the strategies for enhanced RC healing outcomes.

Developmental Biology
Neuroscience

Development of the nervous system depends on signaling centers – specialized cellular populations that produce secreted molecules to regulate neurogenesis in the neighboring neuroepithelium. In some cases, signaling center cells also differentiate to produce key types of neurons. The formation of a signaling center involves its induction, the maintenance of expression of its secreted molecules, and cell differentiation and migration events. How these distinct processes are coordinated during signaling center development remains unknown. By performing studies in mice, we show that Lmx1a acts as a master regulator to orchestrate the formation and function of the cortical hem (CH), a critical signaling center that controls hippocampus development. Lmx1a co-regulates CH induction, its Wnt signaling, and the differentiation and migration of CH-derived Cajal–Retzius neurons. Combining RNAseq, genetic, and rescue experiments, we identified major downstream genes that mediate distinct Lmx1a-dependent processes. Our work revealed that signaling centers in the mammalian brain employ master regulatory genes and established a framework for analyzing signaling center development.