Chromatin and gene expression changes during female Drosophila germline stem cell development illuminate the biology of highly potent stem cells
Highly potent animal stem cells either self renew or launch complex differentiation programs, using mechanisms that are only partly understood. Drosophila female germline stem cells (GSCs) perpetuate without change over evolutionary time and generate cystoblast daughters that develop into nurse cells and oocytes. Cystoblasts initiate differentiation by generating a transient syncytial state, the germline cyst, and by increasing pericentromeric H3K9me3 modification, actions likely to suppress transposable element activity. Relatively open GSC chromatin is further restricted by Polycomb repression of testis or somatic cell-expressed genes briefly active in early female germ cells. Subsequently, Neijre/CBP and Myc help upregulate growth and reprogram GSC metabolism by altering mitochondrial transmembrane transport, gluconeogenesis, and other processes. In all these respects GSC differentiation resembles development of the totipotent zygote. We propose that the totipotent stem cell state was shaped by the need to resist transposon activity over evolutionary timescales.
This important work significantly advances our comprehension of the molecular events occurring during germline stem cell differentiation in the Drosophila melanogaster ovary. The conclusions are strongly supported by compelling evidence, including rigorous data sets and complementary whole-genome analyses. As a result, this research holds substantial interest for developmental and stem cell biologists alike.
https://doi.org/10.7554/eLife.90509.2.sa0
Most animals are made up of two cell types: germline stem cells, which give rise to reproductive cells (egg and sperm) and pass their DNA to the next generation, and somatic cells, which make up the rest of the body.
Transposable elements – fragments of DNA that can copy themselves and integrate into different parts of the genome – can greatly disrupt the integrity of the germ cell genome. Systems involving small RNAs and DNA methylation, which respectively modify the sequence and structure of the genome, can protect germ cells from the activity of transposable elements. While these systems have been studied extensively in late germ cells, less is known about how they work in germ cells generated early on in development.
To investigate, Pang et al. studied the germline stem cells that give rise to eggs in female fruit flies. Techniques that measure DNA modifications showed that these germline stem cells and the cells they give rise to early on are better protected against transposable elements. This is likely due to the unusual cell cycle of early germ cells, which display a very short initial growth phase and special DNA replication timing during the synthesis phase. Until now, the purpose of these long-known cell cycle differences between early and late germ cells was not understood.
Experiments also showed known transposable element defences are upregulated before the cell division that produces reproductive cells. DNA becomes more densely packed and germ cells connect with one another, forming germline 'cysts' that allow them to share small RNAs that can suppress transposable elements. Pang et al. propose that these changes compensate for the loss of enhanced repression that occurs in the earlier stem cell stage. Very similar changes also take place in the cells generated from fertilized eggs and in mammalian reproductive cells.
Further experiments investigated how these changes impact the transition from stem cell to egg cell, revealing that germline stem cells express a wide diversity of genes, including most genes whose transcripts will be stored in the mature egg later on. Another type of cell produced by germline stem cells known as nurse cells, which synthesize most of the contents of the egg, dramatically upregulate genes supporting growth. Meanwhile, 25% of genes initially expressed in germline stem cells are switched off during the transition, partly due to a mechanism called Polycomb-mediated repression.
The findings advance fundamental knowledge of how germline stem cells become egg cells, and could lead to important findings in developmental biology. Furthermore, understanding that for practical applications germline stem cells do not need to retain transposable element controls designed for evolutionary time scales means that removing them may make it easier to obtain and manipulate new stem cell lines and to develop new medical therapies.
The animal zygote launches embryonic development from a totipotent chromatin state in a process that has been intensively studied using model invertebrate and vertebrate organisms (reviewed in Macrae et al., 2023; Zhou and Cho, 2022; Ahmad and Henikoff, 2022; Gleason and Chen, 2023). Pluripotent cell lines derived from embryos (Thomson et al., 1998) or reprogramed somatic cells (Takahashi and Yamanaka, 2006) provide technically favorable material for analyzing the gene expression, chromatin, and metabolic states that drive stem cells to diverse differentiated derivatives (Rafalski et al., 2012; Kinoshita and Smith, 2018; Omole and Fakoya, 2018; Soldner and Jaenisch, 2018). Highly potent stem cells in vivo and in cell lines cycle in an unusual manner with very short G1 phases, express genes in a variable manner, and show 'bivalent' chromatin marks (Hsu et al., 2008; Pauklin and Vallier, 2013; Ter Huurne and Stunnenberg, 2021). During subsequent development, daughter cells drastically alter their chromatin, gene expression, organelles, and metabolism. These changes parallel reduced developmental potency but the evolutionary forces that gave rise to animal stem cells remain little understood.
Drosophila female germline stem cells provide an attractive system for studying totipotency maintenance and differentiation (reviews: Fuller and Spradling, 2007; Drummond-Barbosa, 2019; Hinnant et al., 2020). New female germ cells continuously arise downstream from germline stem cells (GSCs) located within the adult germarium, and develop into ovarian follicles ordered by age within ovarioles (Figure 1A). GSC daughters initially divide synchronously to build 16-cell cysts that specify an oocyte and 15 nurse cells (NCs), traverse meiotic prophase, become associated with somatic follicle cells (FCs) and leave the germarium as stage 2 (S2) follicles. Over the next 3 days, follicle development increases the oocyte volume to more than 10,000 times that of a GSC (Figure 1—figure supplement 1, Figure 1—figure supplement 2). Following fertilization of the mature S14 oocyte, the resulting totipotent zygote develops as a syncytial embryo before germ cells bud from the posterior pole, migrate to the gonad and complete the generational cycle by forming new GSCs (Figure 1—figure supplement 1). Previous studies (reviewed in Matova and Cooley, 2001; Lu et al., 2017; Hinnant et al., 2020; Spradling et al., 2022) show that aspects of oocyte development have been conserved between Drosophila, mouse and other animals, including germline cyst and NC formation (Lei and Spradling, 2016; Niu and Spradling, 2022), NC turnover (Lebo and McCall, 2021; Niu and Spradling, 2022), and Balbiani body production (Mahowald and Strassheim, 1970; Pepling et al., 2007).
Figure 1
with 2 supplements
see all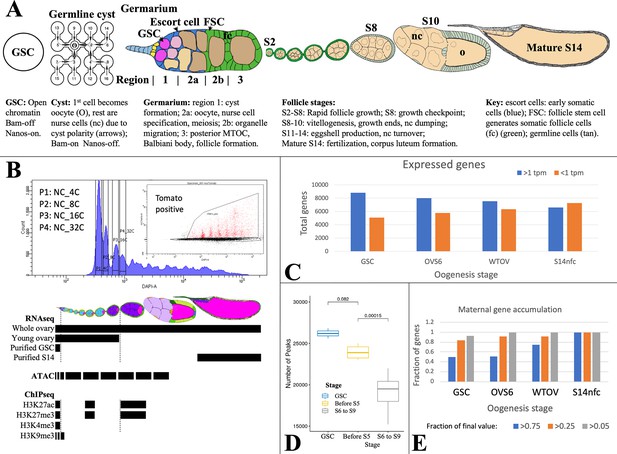 Gene expression during oogenesis has been previously characterized in purified GSCs (Kai et al., 2005; DeLuca et al., 2020), downstream follicles (Sieber et al., 2016; Greenblatt et al., 2019; DeLuca et al., 2020), and also in single ovarian cells (Rust et al., 2020; Jevitt et al., 2020; Slaidina et al., 2020; Slaidina et al., 2021) or nuclei (Li et al., 2022). Early germ cells express conserved germline genes (CGGs) (Fierro-Constaín et al., 2017) encoding essential Piwi-piRNA pathway components that repress transposon transcription and promote transposon mRNA slicing and piRNA amplification in nuage (reviews: Huang et al., 2017; Czech et al., 2018; Wang and Lin, 2021). Many important steps in germ cell differentiation are controlled at the translational level (Slaidina and Lehmann, 2014; Ma et al., 2017; Kong et al., 2019; Blatt et al., 2020; Mercer et al., 2021). For example, the GSC differentiation factor Bam stimulates exit from the stem cell state by repressing high-level ribosome production in the nucleolus (Zhang et al., 2014; Sanchez et al., 2016; review: Breznak et al., 2023) and by lifting the Nanos-controlled translation block of differentiation genes (review: Mercer et al., 2021).
GSCs and developing follicles sense environmental nutrients using insulin/IGS and steroid signaling to maximize oocyte output (LaFever and Drummond-Barbosa, 2005; review: Drummond-Barbosa, 2019). An important regulator of resource adaptation is Myc, whose translation becomes derepressed as early as the four-cell cyst (Harris et al., 2011) and increases further under favorable conditions starting in region 2b (Wang et al., 2019). As in other rapidly growing systems, Myc plays an essential role (Maines et al., 2004) by controlling hundreds of target genes (Wang et al., 2019) that regulate both ribosome production and metabolism.
Here, we extend our knowledge of GSC chromatin modifications and gene expression. Upon leaving the GSC state, daughters form germline cysts and upregulate H3K9me3-rich heterochromatin on transposon sequences in centric chromosome regions. A cyst or syncytium likely protects against transposable element (TE) activity by sharing piRNAs, whereas heterochromatin formation blocks TE transcription. Polycomb complexes dependent on the H3K27 methylase enhancer of zeste (E(z)) repress male germ cell and somatic cell genes that are transiently active in GSCs and early daughters. Metabolism is reprogrammed downstream from GSCs to enhance the production in mitochondria of biosynthetic precursors for follicle growth. Our results argue that GSCs and many other highly potent stem cells modulate the mechanisms they use to control TEs as the initial steps in their differentiation program.
High throughput sequencing data and processed data is available under accession GSE145282 and GSE229943. Software code is available on GitHub (DeLuca et al., 2020; copy archived here).
NCBI Gene Expression Omnibus

ID GSE145282. Differentiating Drosophila female germ cells initiate Polycomb silencing by regulating PRC2-interacting proteins.
NIST/SEMATECH e-Handbook of Statistical Methods

Chapter 4: Process modeling, NIST/SEMATECH e-Handbook of Statistical Methods, National Institute of Standards and Technology, 10.18434/M32189.

Distribution patterns of HP1, a heterochromatin-associated nonhistone chromosomal protein of Drosophila

European Journal of Cell Biology 50:170–180.

Fast gapped-read alignment with Bowtie 2

Nat Methods 9:357–359.

Integrative genomics viewer

Nat. Biotechnol 29:24–26.

Book

The Origin and Function of Germline Cysts

Results and Problems in Cell Differentiation.
Reviewer #1 (Public Review):
Summary:
The authors use a combination of ChIP-seq, RNA-seq and ATAC-seq on FACS-purified germ cells to understand the changes in transcription and chromatin landscape of germline stem cells (GSCs) and their progeny during adult oogenesis.
Strengths:
The major strengths of the paper include high quality -omics data, robust analyses of the data, and a well-written manuscript. The data strongly support the conclusions (1) that GSCs have more open chromatin than its differentiating daughter cells, (2) that H3K9me3 heterochromatin forms in 16-cell cyst stage and silences GSC-enriched genes, transposons, and testis-biased and somatic genes; (3) that GSC-enriched genes encoding cell cycle control, protein synthesis and signal transduction reside in clusters in autosomal pericentric regions; and (4) that there is a transcriptionally-driven metabolic reprogramming of nurse (germline) cells to aerobic glycolysis.
These data sets and analyses will have a high impact of the field of germline lifecycle (from GSC to primordial germ cells to GSCs again). The authors will make these data sets available through NCBI GEO and on Github. However, these are not incredibly user friendly and these data sets are extremely useful. I wonder if it is possible to incorporate these valuable data set into existing websites?
Weaknesses:
There are no obvious weaknesses.
https://doi.org/10.7554/eLife.90509.2.sa1
Reviewer #2 (Public Review):
Summary:
The preprint by Pang, Deluca, et al. investigates the molecular events occurring during germline stem cell (GSC) differentiation into an oocyte. The study highlights several critical observations:
1. Gene Expression and Chromatin State: GSCs exhibit an open chromatin state and express a large number of genes. However, during differentiation, the number of genes expressed decreases.
2. Gene Clustering and Chromatin Domains: Genes promoting GSC fate are found in clusters close to centric heterochromatin domains.
3. Epigenetic Marks: The transition from GSC fate to oocyte/nurse cell fate is marked by an increase in H3K27me3 and H3K9me3 on regions, including centric heterochromatin.
4. Metabolic Rewiring: Genes related to metabolism undergo changes during this fate transition, indicating metabolic rewiring.
Strengths:
The conclusions are strongly supported by a substantial amount of data. Multiple complementary methods are employed, such as increased H3K9me3 heterochromatin and reporter assays, to validate the increase of H3K9me3 during meiosis.
The wealth of data presented will be valuable to the scientific community, providing further insights into critical molecular events during GSC differentiation.
The study uncovers new biology, notably the proximity of stem cell genes to centric heterochromatin and its regulation.
Key observations include the low H3K9me3 levels on transposons in GSCs, which warrant further investigation.
Weaknesses:
To make the paper more accessible to a broader audience, the authors can use fewer jargon terms. In particular, the abbreviations used for staging can be confusing.
Some sections in the results contain extensive discussion that may be better suited for the discussion section. For example, see page 9.
https://doi.org/10.7554/eLife.90509.2.sa2
Article and author information
Author details
Howard Hughes Medical Institute
Helen Hay Whitney Foundation
Johns Hopkins University (CMDB graduate program)
Liang-Yu Pang
Haolong Zhu
The funders had no role in study design, data collection and interpretation, or the decision to submit the work for publication.
We thank Dr. Fredrick Tan and Allison Pinder for assistance with sequencing and genomic analysis. Mahmud Siddiqi provided valuable assistance with microscopy. We thank Drs. Rebecca Frederick and Lucy Morris for assistance in analyzing Janelia lines. We thank Gerry Rubin, Todd Laverty, and the Janelia Farm external investigator program for supporting the Spradling lab analysis of ovary expression using a sample of the Rubin enhancer collection. We thank current Spradling lab members for comments on the manuscript. Funding: Steve Z DeLuca was a postdoctoral fellow of the Helen Hay Whitney Foundation. Haolong Zhu and Liang-Yu Pang are/were graduate students in the Cell, Molecular and Developmental Biology Program at Johns Hopkins University, Department of Biology. Allan Spradling is an Investigator and John Urban is an Associate of the Howard Hughes Medical Institute.
Utpal Banerjee, University of California, Los Angeles, United States
Erika A Bach, New York University School of Medicine, United States
© 2023, Pang et al.
This article is distributed under the terms of the Creative Commons Attribution License, which permits unrestricted use and redistribution provided that the original author and source are credited.
376

Page views

72

Downloads

0

Citations
Article citation count generated by polling the highest count across the following sources: Crossref, PubMed Central, Scopus.
A two-part list of links to download the article, or parts of the article, in various formats.
Downloads
(link to download the article as PDF)
Open citations
(links to open the citations from this article in various online reference manager services)
Cite this article
(links to download the citations from this article in formats compatible with various reference manager tools)
Liang-Yu Pang
Steven DeLuca
Haolong Zhu
John M Urban
Allan C Spradling
Chromatin and gene expression changes during female Drosophila germline stem cell development illuminate the biology of highly potent stem cells
eLife 12:RP90509.
https://doi.org/10.7554/eLife.90509.2
Further reading
Stem Cells and Regenerative Medicine

Experiments on female fruit flies reveal more about the molecular mechanisms involved as germline stem cells transition to become egg cells.

A growing body of evidence suggests that cell division and basement membrane invasion are mutually exclusive cellular behaviors. How cells switch between proliferative and invasive states is not well understood. Here, we investigated this dichotomy in vivo by examining two cell types in the developing Caenorhabditis elegans somatic gonad that derive from equipotent progenitors, but exhibit distinct cell behaviors: the post-mitotic, invasive anchor cell and the neighboring proliferative, non-invasive ventral uterine (VU) cells. We show that the fates of these cells post-specification are more plastic than previously appreciated and that levels of NHR-67 are important for discriminating between invasive and proliferative behavior. Transcription of NHR-67 is downregulated following post-translational degradation of its direct upstream regulator, HLH-2 (E/Daughterless) in VU cells. In the nuclei of VU cells, residual NHR-67 protein is compartmentalized into discrete punctae that are dynamic over the cell cycle and exhibit liquid-like properties. By screening for proteins that colocalize with NHR-67 punctae, we identified new regulators of uterine cell fate maintenance: homologs of the transcriptional co-repressor Groucho (UNC-37 and LSY-22), as well as the TCF/LEF homolog POP-1. We propose a model in which the association of NHR-67 with the Groucho/TCF complex suppresses the default invasive state in non-invasive cells, which complements transcriptional regulation to add robustness to the proliferative-invasive cellular switch in vivo.

Chromosomes and Gene Expression
Developmental Biology

Imaging experiments reveal the complex and dynamic nature of the transcriptional hubs associated with Notch signaling.