Germ Granules: All about the RNA after all
RNA molecules cause the proteins involved in the formation of germ granules to coalesce into liquid droplets.
The embryo of any organism that reproduces sexually must develop germ cells, such as those that go on to become egg and sperm cells in animals. This is because these are the only cells that are destined to transfer genetic material to the next generation. One characteristic of developing germ cells is the presence of particles termed "germ granules" (Voronina et al., 2011). Made from various RNA and protein molecules, these granules are believed to regulate the translation of messenger RNA (mRNA) molecules inside the germ cells during development (Seydoux and Braun, 2006).
Many of the components that are found in germ granules are conserved between distantly related species. Studies in this area have commonly involved the roundworm Caenorhabditis elegans, which, like other animals, starts life as a single fertilized egg or zygote. At first, germ granules are spread uniformly throughout this cell. However, as the zygote starts to develop a distinct front and back, the germ granules are only found in the back of the zygote: this is why the germ granules in C. elegans are called P granules (with "P" being short for the P lineage of cells that forms at the posterior). This process is repeated during further cell divisions, such that the P granules continue to segregate into those cells that will eventually give rise to the germ cells. Now, in eLife, Geraldine Seydoux and colleagues at the Johns Hopkins University School of Medicine – including Jarrett Smith as first author – report how two RNA-binding proteins with opposing effects control where P granules form (Smith et al., 2016).
Early explanations as to why P granules segregated asymmetrically were based on the idea that they were actively transported to the posterior half. However, a few years ago, it was noted that proteins found in germ granules could spontaneously de-mix from the cytoplasm and coalesce to form germ granules (Brangwynne et al., 2009). This phenomenon, called a phase transition, resembles how oil droplets form when oil is mixed with water. However, only the granules that formed in the posterior of the zygote were stable in C. elegans, and any granules that started to form in the front half disappeared instead.
P granules only grow in the posterior, in part, because a gradient of RNA-binding proteins somehow restricts where they can form (Griffin et al., 2011; Schubert et al., 2000). This raises some questions: how is a protein gradient transformed into an on-off switch for P granule formation? And what triggers the phase transition so that P granules are only stable in the posterior?
Some proteins in germ granules contain "intrinsically disordered regions" that lack a well-defined three-dimensional structure (Kato et al., 2012; Courchaine et al., 2016; Hyman et al., 2014). Smith et al. now demonstrate that two intrinsically disordered, RNA-binding proteins – namely MEG-3 and its homolog MEG-4 – lie at the heart of P granule formation, and that MEG-3 is essential for germ granules to nucleate. In vitro, MEG-3 will spontaneously assemble into aggregates, but only at concentrations higher than those found in the zygote (Figure 1). However, Smith et al. discovered that this phase transition was enhanced when RNA is present. As such, simply varying the RNA levels in a test tube or in the zygote can change when and where P granules form. Smith et al. also showed that another RNA-binding protein called MEX-5 (which is not a component of P granules) competes with MEG-3 for access to the RNA, and that the high concentrations of MEX-5 at the front end of the zygote prevent P granules being formed there (Figure 1).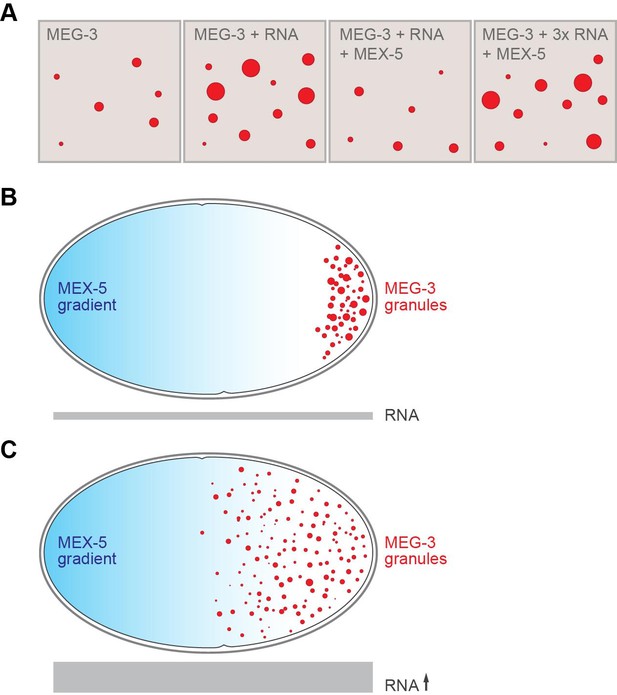 A recent theoretical study in C. elegans proposed a similar mechanism, with MEX-5 and a P granule protein called PGL-3 competing to bind to mRNA molecules (Saha et al., 2016). However, Smith et al. show that PGL-3 is not essential for the nucleation of P granules, and that it is not needed to establish the asymmetric distribution of granules either. It is therefore more likely that MEG-3 forms a critical scaffold for the P granule and then recruits other P granule proteins, including PGL-3 (Hanazawa et al., 2011; Wang et al., 2014).
MEX-5 and MEG-3 bind to RNA with little specificity (Pagano et al., 2007; Smith et al., 2016), but the adaptor proteins found in germ cells might make it possible for these proteins to bind to different sets of mRNAs (Weidmann et al., 2016). This selective binding could establish a gradient of specific mRNAs that runs from the front to the back of the zygote, with critical mRNAs being captured at the end of the cell that goes on to become the germ cells (Gallo et al., 2010; Lehmann, 2016; Seydoux and Braun, 2006).
RNA-protein granules are widespread in nature. They are, in fact, found in every cell in the human body, and likely regulate RNAs in many different ways (Couchrane, et al., 2016). Phase transitions might drive the formation of these other granules too, similar to P granule formation in C. elegans. These granules often contain RNA-binding proteins with intrinsically disordered regions and are also enriched with RNAs (Han et al., 2012; Lin et al., 2015; Schwartz et al., 2013; Teixeira et al., 2005; Zhang et al., 2015). As such, many of them may likewise rely on RNAs to form. The new mechanism reported by Smith et al. could explain how a variety of RNA-protein granules end up sorted into different areas of the cell, even though they share multiple components.
Article and author information
Author details
© 2017, Trcek et al.
This article is distributed under the terms of the Creative Commons Attribution License, which permits unrestricted use and redistribution provided that the original author and source are credited.
4,752

Page views

519

Downloads

5

Citations
Article citation count generated by polling the highest count across the following sources: Crossref, PubMed Central, Scopus.
A two-part list of links to download the article, or parts of the article, in various formats.
Downloads
(link to download the article as PDF)
Open citations
(links to open the citations from this article in various online reference manager services)
Cite this article
(links to download the citations from this article in formats compatible with various reference manager tools)
Tatjana Trcek
Ruth Lehmann
Germ Granules: All about the RNA after all
eLife 6:e24106.
https://doi.org/10.7554/eLife.24106
Further reading
Cell Biology
Developmental Biology

RNA granules are non-membrane bound cellular compartments that contain RNA and RNA binding proteins. The molecular mechanisms that regulate the spatial distribution of RNA granules in cells are poorly understood. During polarization of the C. elegans zygote, germline RNA granules, called P granules, assemble preferentially in the posterior cytoplasm. We present evidence that P granule asymmetry depends on RNA-induced phase separation of the granule scaffold MEG-3. MEG-3 is an intrinsically disordered protein that binds and phase separates with RNA in vitro. In vivo, MEG-3 forms a posterior-rich concentration gradient that is anti-correlated with a gradient in the RNA-binding protein MEX-5. MEX-5 is necessary and sufficient to suppress MEG-3 granule formation in vivo, and suppresses RNA-induced MEG-3 phase separation in vitro. Our findings suggest that MEX-5 interferes with MEG-3's access to RNA, thus locally suppressing MEG-3 phase separation to drive P granule asymmetry. Regulated access to RNA, combined with RNA-induced phase separation of key scaffolding proteins, may be a general mechanism for controlling the formation of RNA granules in space and time.

Cell Biology
Microbiology and Infectious Disease

Communication is crucial for organismic interactions, from bacteria, to fungi, to humans. Humans may use the visual sense to monitor the environment before starting acoustic interactions. In comparison, fungi, lacking a visual system, rely on a cell-to-cell dialogue based on secreted signaling molecules to coordinate cell fusion and establish hyphal networks. Within this dialogue, hyphae alternate between sending and receiving signals. This pattern can be visualized via the putative signaling protein Soft (SofT), and the mitogen-activated protein kinase MAK-2 (MakB) which are recruited in an alternating oscillatory manner to the respective cytoplasmic membrane or nuclei of interacting hyphae. Here, we show that signal oscillations already occur in single hyphae of Arthrobotrys flagrans in the absence of potential fusion partners (cell monologue). They were in the same phase as growth oscillations. In contrast to the anti-phasic oscillations observed during the cell dialogue, SofT and MakB displayed synchronized oscillations in phase during the monologue. Once two fusion partners came into each other's vicinity, their oscillation frequencies slowed down (entrainment phase) and transit into anti-phasic synchronization of the two cells' oscillations with frequencies of 104±28 s and 117±19 s, respectively. Single-cell oscillations, transient entrainment, and anti-phasic oscillations were reproduced by a mathematical model where nearby hyphae can absorb and secrete a limited molecular signaling component into a shared extracellular space. We show that intracellular Ca2+ concentrations oscillate in two approaching hyphae, and depletion of Ca2+ from the medium affected vesicle-driven extension of the hyphal tip, abolished the cell monologue and the anti-phasic synchronization of two hyphae. Our results suggest that single hyphae engage in a 'monologue' that may be used for exploration of the environment and can dynamically shift their extracellular signaling systems into a 'dialogue' to initiate hyphal fusion.

Cell Biology
Microbiology and Infectious Disease

The relative positions of viral DNA genomes to the host intranuclear environment play critical roles in determining virus fate. Recent advances in the application of chromosome conformation capture-based sequencing analysis (3 C technologies) have revealed valuable aspects of the spatiotemporal interplay of viral genomes with host chromosomes. However, to elucidate the causal relationship between the subnuclear localization of viral genomes and the pathogenic outcome of an infection, manipulative tools are needed. Rapid repositioning of viral DNAs to specific subnuclear compartments amid infection is a powerful approach to synchronize and interrogate this dynamically changing process in space and time. Herein, we report an inducible CRISPR-based two-component platform that relocates extrachromosomal DNA pieces (5 kb to 170 kb) to the nuclear periphery in minutes (CRISPR-nuPin). Based on this strategy, investigations of herpes simplex virus 1 (HSV-1), a prototypical member of the human herpesvirus family, revealed unprecedently reported insights into the early intranuclear life of the pathogen: (I) Viral genomes tethered to the nuclear periphery upon entry, compared with those freely infecting the nucleus, were wrapped around histones with increased suppressive modifications and subjected to stronger transcriptional silencing and prominent growth inhibition. (II) Relocating HSV-1 genomes at 1 hr post infection significantly promoted the transcription of viral genes, termed an 'Escaping' effect. (III) Early accumulation of ICP0 was a sufficient but not necessary condition for 'Escaping'. (IV) Subnuclear localization was only critical during early infection. Importantly, the CRISPR-nuPin tactic, in principle, is applicable to many other DNA viruses.