Gene Expression: Transposons take remote control
A family of retroviral-like elements in the human genome has a pervasive influence on gene expression.
Transcriptional enhancers are regions of DNA to which regulatory proteins can bind in order to increase the transcription – and hence expression – of a particular gene. The enhancers form a dense network that acts at many genomic locations. As a result, even subtle changes to the cocktail of regulatory proteins can produce massive changes in transcription.
But where do enhancers come from? How do sequences that respond to the same regulatory proteins become associated with genes scattered across different chromosomes? A typical mammalian genome contains hundreds of thousands of potential enhancers, but the majority are unique to the species they are found in (Long et al., 2016). So what mechanisms drive their repeated emergence?
Barbara McClintock provided evidence of a potent mechanism in her seminal discovery of what she presciently dubbed 'controlling elements' – sequences of DNA that can move across the genome. Building on this, in the late 1960s Roy Britten and Eric Davidson proposed a model in which these elements – subsequently renamed transposons – could provide the raw material for complex regulatory networks (Britten and Davidson, 1969).
Evidence in support of the Britten–Davidson model has grown steadily over the last decade (reviewed in Chuong et al., 2017). First, numerous examples of regulatory sequences derived from individual transposons have been documented in a variety of organisms. Furthermore, genomics has made it apparent that distinct suites of regulatory proteins bind to different transposon families. This binding allows groups of transposons to be activated en masse in certain cell types and during certain developmental stages. Now, in eLife, Daniel Fuentes, Tomek Swigut and Joanna Wysocka of Stanford University report that simultaneous perturbation of a family of retroviral-like transposons called LTR5HS produces profound transcriptional changes in human embryonic-like cells (Fuentes et al., 2018). These findings provide the strongest evidence thus far in support of the Britten–Davidson model as a genome-wide paradigm.
While CRISPR/Cas9 is often used for genome editing, the inactive Cas9 enzyme can also work with specific guide RNAs to tether protein domains to a precise location in the genome. The Wysocka lab recently developed a method called CARGO (chimeric array of guide RNA oligonucleotides) that can deliver tens of guide RNAs to a cell, allowing multiple locations to be targeted (Gu et al., 2018). Fuentes et al. have now exploited the CARGO system to activate or repress LTR5HS elements en masse in cultured cells that behave like human embryonic stem cells.
About 15 million years ago the family of retroviruses that gave rise to LTR5HS spread in the germline of ancestral hominids. Because this family has expanded recently in the genome, all LTR5HS elements are very similar in sequence. As a result, Fuentes et al. were able to target around 90% of all the elements with only 12 guide RNAs.
Fuentes et al. coupled this CARGO array with Cas9 fused to protein domains that either activate or inhibit transcription. In response, 275 human genes were reciprocally up- or down-regulated (Figure 1). These genes were often located relatively far from the nearest LTR5HS element, suggesting that the elements acted as transcriptional enhancers. Further support came from looking at chromatin – the structure formed by DNA and proteins to package the DNA into cells. Fuentes et al. show that activating LTR5HS elements causes both the elements and their target genes to acquire marks that open up chromatin – meaning that they can be transcribed more easily. This is despite there being no detectable binding of Cas9 to the target genes. Furthermore, repression of LTR5HS elements leads to repressive chromatin at the elements themselves, but not at the genes they appear to regulate.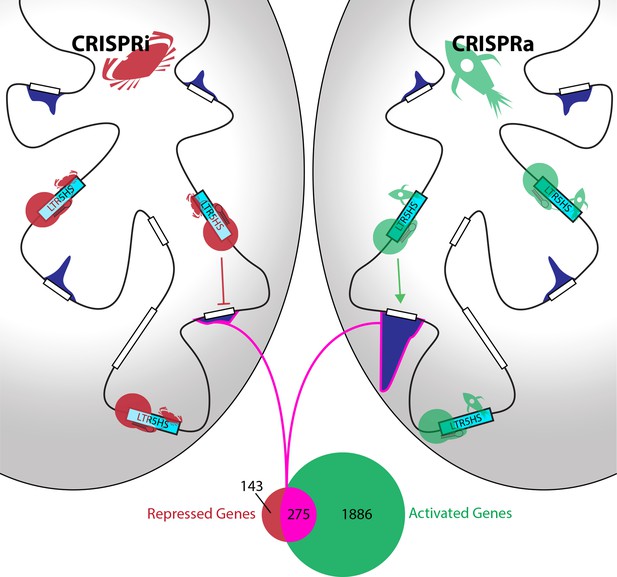 Fuentes et al. also validate their observations for six separate genes by using CRISPR/Cas9 to delete individual LTR5HS elements. In each case, the deletions led to a significant decrease in the expression of a nearby gene. This is particularly striking because multiple enhancers often act redundantly on the same gene (Osterwalder et al., 2018).
Together, the results of Fuentes et al. suggest that in human embryonic-like cells, a potentially large subset of LTR5HS elements work as enhancers to control the activity of remote genes. However, it remains to be seen whether any of these regulatory activities have provided adaptive benefits during primate evolution. Intriguingly, many of the LTR5HS elements with enhancer activity are human-specific and some are not even fixed in the human population (Wildschutte et al., 2016). This raises the possibility that they contributed to recent adaptations. With CARGO in hand, the answers to these and other outstanding questions shall be delivered.
Article and author information
Author details
© 2018, Judd et al.
This article is distributed under the terms of the Creative Commons Attribution License, which permits unrestricted use and redistribution provided that the original author and source are credited.
2,480

Page views

375

Downloads

4

Citations
Article citation count generated by polling the highest count across the following sources: Crossref, PubMed Central, Scopus.
A two-part list of links to download the article, or parts of the article, in various formats.
Downloads
(link to download the article as PDF)
Open citations
(links to open the citations from this article in various online reference manager services)
Cite this article
(links to download the citations from this article in formats compatible with various reference manager tools)
Julius Judd
Cédric Feschotte
Gene Expression: Transposons take remote control
eLife 7:e40921.
https://doi.org/10.7554/eLife.40921
Further reading
Chromosomes and Gene Expression

Genetics and Genomics

Recent work suggests extensive adaptation of transposable elements (TEs) for host gene regulation. However, high numbers of integrations typical of TEs, coupled with sequence divergence within families, have made systematic interrogation of the regulatory contributions of TEs challenging. Here, we employ CARGO, our recent method for CRISPR gRNA multiplexing, to facilitate targeting of LTR5HS, an ape-specific class of HERVK (HML-2) LTRs that is active during early development and present in ~700 copies throughout the human genome. We combine CARGO with CRISPR activation or interference to, respectively, induce or silence LTR5HS en masse, and demonstrate that this system robustly targets the vast majority of LTR5HS insertions. Remarkably, activation/silencing of LTR5HS is associated with reciprocal up- and down-regulation of hundreds of human genes. These effects require the presence of retroviral sequences, but occur over long genomic distances, consistent with a pervasive function of LTR5HS elements as early embryonic enhancers in apes.

Chromosomes and Gene Expression

Developmental Biology

Auxin-inducible degrons are a chemical genetic tool for targeted protein degradation and are widely used to study protein function in cultured mammalian cells. Here we develop CRISPR-engineered mouse lines that enable rapid and highly specific degradation of tagged endogenous proteins in vivo. Most but not all cell types are competent for degradation. By combining ligand titrations with genetic crosses to generate animals with different allelic combinations, we show that degradation kinetics depend upon the dose of the tagged protein, ligand, and the E3 ligase substrate receptor TIR1. Rapid degradation of condensin I and condensin II - two essential regulators of mitotic chromosome structure - revealed that both complexes are individually required for cell division in precursor lymphocytes, but not in their differentiated peripheral lymphocyte derivatives. This generalisable approach provides unprecedented temporal control over the dose of endogenous proteins in mouse models, with implications for studying essential biological pathways and modelling drug activity in mammalian tissues.

Cell Biology

Chromosomes and Gene Expression

CRISPR technology has made generation of gene knock-outs widely achievable in cells. However, once inactivated, their re-activation remains difficult, especially in diploid cells. Here, we present DExCon (Doxycycline-mediated endogenous gene Expression Control), DExogron (DExCon combined with auxin-mediated targeted protein degradation), and LUXon (light responsive DExCon) approaches which combine one-step CRISPR-Cas9-mediated targeted knockin of fluorescent proteins with an advanced Tet-inducible TRE3GS promoter. These approaches combine blockade of active gene expression with the ability to re-activate expression on demand, including activation of silenced genes. Systematic control can be exerted using doxycycline or spatiotemporally by light, and we demonstrate functional knock-out/rescue in the closely related Rab11 family of vesicle trafficking regulators. Fluorescent protein knock-in results in bright signals compatible with low-light live microscopy from monoallelic modification, the potential to simultaneously image different alleles of the same gene, and bypasses the need to work with clones. Protein levels are easily tunable to correspond with endogenous expression through cell sorting (DExCon), timing of light illumination (LUXon), or by exposing cells to different levels of auxin (DExogron). Furthermore, our approach allowed us to quantify previously unforeseen differences in vesicle dynamics, transferrin receptor recycling, expression kinetics, and protein stability among highly similar endogenous Rab11 family members and their colocalization in triple knock-in ovarian cancer cell lines.