Gene Expression: Transposons take remote control
A family of retroviral-like elements in the human genome has a pervasive influence on gene expression.
Transcriptional enhancers are regions of DNA to which regulatory proteins can bind in order to increase the transcription – and hence expression – of a particular gene. The enhancers form a dense network that acts at many genomic locations. As a result, even subtle changes to the cocktail of regulatory proteins can produce massive changes in transcription.
But where do enhancers come from? How do sequences that respond to the same regulatory proteins become associated with genes scattered across different chromosomes? A typical mammalian genome contains hundreds of thousands of potential enhancers, but the majority are unique to the species they are found in (Long et al., 2016). So what mechanisms drive their repeated emergence?
Barbara McClintock provided evidence of a potent mechanism in her seminal discovery of what she presciently dubbed 'controlling elements' – sequences of DNA that can move across the genome. Building on this, in the late 1960s Roy Britten and Eric Davidson proposed a model in which these elements – subsequently renamed transposons – could provide the raw material for complex regulatory networks (Britten and Davidson, 1969).
Evidence in support of the Britten–Davidson model has grown steadily over the last decade (reviewed in Chuong et al., 2017). First, numerous examples of regulatory sequences derived from individual transposons have been documented in a variety of organisms. Furthermore, genomics has made it apparent that distinct suites of regulatory proteins bind to different transposon families. This binding allows groups of transposons to be activated en masse in certain cell types and during certain developmental stages. Now, in eLife, Daniel Fuentes, Tomek Swigut and Joanna Wysocka of Stanford University report that simultaneous perturbation of a family of retroviral-like transposons called LTR5HS produces profound transcriptional changes in human embryonic-like cells (Fuentes et al., 2018). These findings provide the strongest evidence thus far in support of the Britten–Davidson model as a genome-wide paradigm.
While CRISPR/Cas9 is often used for genome editing, the inactive Cas9 enzyme can also work with specific guide RNAs to tether protein domains to a precise location in the genome. The Wysocka lab recently developed a method called CARGO (chimeric array of guide RNA oligonucleotides) that can deliver tens of guide RNAs to a cell, allowing multiple locations to be targeted (Gu et al., 2018). Fuentes et al. have now exploited the CARGO system to activate or repress LTR5HS elements en masse in cultured cells that behave like human embryonic stem cells.
About 15 million years ago the family of retroviruses that gave rise to LTR5HS spread in the germline of ancestral hominids. Because this family has expanded recently in the genome, all LTR5HS elements are very similar in sequence. As a result, Fuentes et al. were able to target around 90% of all the elements with only 12 guide RNAs.
Fuentes et al. coupled this CARGO array with Cas9 fused to protein domains that either activate or inhibit transcription. In response, 275 human genes were reciprocally up- or down-regulated (Figure 1). These genes were often located relatively far from the nearest LTR5HS element, suggesting that the elements acted as transcriptional enhancers. Further support came from looking at chromatin – the structure formed by DNA and proteins to package the DNA into cells. Fuentes et al. show that activating LTR5HS elements causes both the elements and their target genes to acquire marks that open up chromatin – meaning that they can be transcribed more easily. This is despite there being no detectable binding of Cas9 to the target genes. Furthermore, repression of LTR5HS elements leads to repressive chromatin at the elements themselves, but not at the genes they appear to regulate.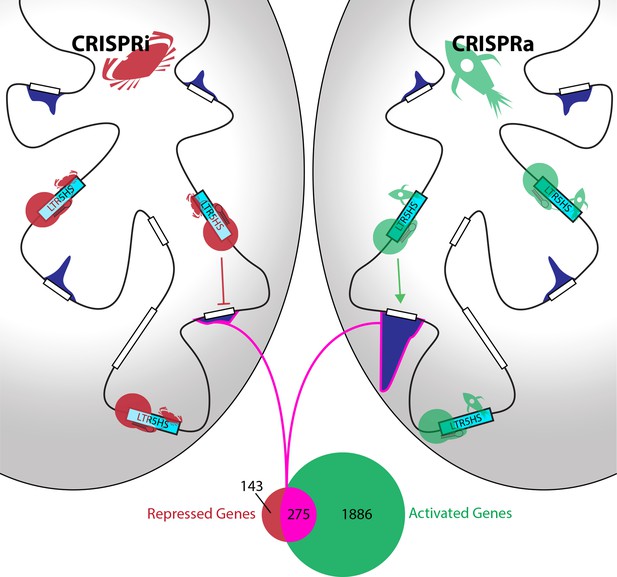 Fuentes et al. also validate their observations for six separate genes by using CRISPR/Cas9 to delete individual LTR5HS elements. In each case, the deletions led to a significant decrease in the expression of a nearby gene. This is particularly striking because multiple enhancers often act redundantly on the same gene (Osterwalder et al., 2018).
Together, the results of Fuentes et al. suggest that in human embryonic-like cells, a potentially large subset of LTR5HS elements work as enhancers to control the activity of remote genes. However, it remains to be seen whether any of these regulatory activities have provided adaptive benefits during primate evolution. Intriguingly, many of the LTR5HS elements with enhancer activity are human-specific and some are not even fixed in the human population (Wildschutte et al., 2016). This raises the possibility that they contributed to recent adaptations. With CARGO in hand, the answers to these and other outstanding questions shall be delivered.
Article and author information
Author details
© 2018, Judd et al.
This article is distributed under the terms of the Creative Commons Attribution License, which permits unrestricted use and redistribution provided that the original author and source are credited.
2,498

Page views

380

Downloads

4

Citations
Article citation count generated by polling the highest count across the following sources: Crossref, PubMed Central, Scopus.
A two-part list of links to download the article, or parts of the article, in various formats.
Downloads
(link to download the article as PDF)
Open citations
(links to open the citations from this article in various online reference manager services)
Cite this article
(links to download the citations from this article in formats compatible with various reference manager tools)
Julius Judd
Cédric Feschotte
Gene Expression: Transposons take remote control
eLife 7:e40921.
https://doi.org/10.7554/eLife.40921
Further reading
Chromosomes and Gene Expression
Genetics and Genomics

Recent work suggests extensive adaptation of transposable elements (TEs) for host gene regulation. However, high numbers of integrations typical of TEs, coupled with sequence divergence within families, have made systematic interrogation of the regulatory contributions of TEs challenging. Here, we employ CARGO, our recent method for CRISPR gRNA multiplexing, to facilitate targeting of LTR5HS, an ape-specific class of HERVK (HML-2) LTRs that is active during early development and present in ~700 copies throughout the human genome. We combine CARGO with CRISPR activation or interference to, respectively, induce or silence LTR5HS en masse, and demonstrate that this system robustly targets the vast majority of LTR5HS insertions. Remarkably, activation/silencing of LTR5HS is associated with reciprocal up- and down-regulation of hundreds of human genes. These effects require the presence of retroviral sequences, but occur over long genomic distances, consistent with a pervasive function of LTR5HS elements as early embryonic enhancers in apes.

Chromosomes and Gene Expression
Genetics and Genomics

Alternative polyadenylation yields many mRNA isoforms whose 3' termini occur disproportionately in clusters within 3' UTRs. Previously, we showed that profiles of poly(A) site usage are regulated by the rate of transcriptional elongation by RNA polymerase (Pol) II (Geisberg et., 2020). Pol II derivatives with slow elongation rates confer an upstream-shifted poly(A) profile, whereas fast Pol II strains confer a downstream-shifted poly(A) profile. Within yeast isoform clusters, these shifts occur steadily from one isoform to the next across nucleotide distances. In contrast, the shift between clusters from the last isoform of one cluster to the first isoform of the next - is much less pronounced, even over large distances. GC content in a region 13-30 nt downstream from isoform clusters correlates with their sensitivity to Pol II elongation rate. In human cells, the upstream shift caused by a slow Pol II mutant also occurs continuously at the nucleotide level within clusters, but not between them. Pol II occupancy increases just downstream of the most speed-sensitive poly(A) sites, suggesting a linkage between reduced elongation rate and cluster formation. These observations suggest that 1) Pol II elongation speed affects the nucleotide-level dwell time allowing polyadenylation to occur, 2) poly(A) site clusters are linked to the local elongation rate and hence do not arise simply by intrinsically imprecise cleavage and polyadenylation of the RNA substrate, 3) DNA sequence elements can affect Pol II elongation and poly(A) profiles, and 4) the cleavage/polyadenylation and Pol II elongation complexes are spatially, and perhaps physically, coupled so that polyadenylation occurs rapidly upon emergence of the nascent RNA from the Pol II elongation complex.

Biochemistry and Chemical Biology
Chromosomes and Gene Expression

N6-methyladenosine (m6A) RNA modification impacts mRNA fate primarily via reader proteins, which dictate processes in development, stress, and disease. Yet little is known about m6A function in Saccharomyces cerevisiae, which occurs solely during early meiosis. Here we perform a multifaceted analysis of the m6A reader protein Pho92/Mrb1. Cross-linking immunoprecipitation analysis reveals that Pho92 associates with the 3'end of meiotic mRNAs in both an m6A-dependent and independent manner. Within cells, Pho92 transitions from the nucleus to the cytoplasm, and associates with translating ribosomes. In the nucleus Pho92 associates with target loci through its interaction with transcriptional elongator Paf1C. Functionally, we show that Pho92 promotes and links protein synthesis to mRNA decay. As such, the Pho92-mediated m6A-mRNA decay is contingent on active translation and the CCR4-NOT complex. We propose that the m6A reader Pho92 is loaded co-transcriptionally to facilitate protein synthesis and subsequent decay of m6A modified transcripts, and thereby promotes meiosis.