Reproducibility in Cancer Biology: Rethinking research into metastasis
The partial success of an attempt to repeat findings in cancer biology highlights the need to improve study designs for preclinical research into metastasis and the targeting of cancer cells.
Cancer metastasis results from the escape of cancer cells from the primary tumor, followed by circulation in the blood or lymph system, and then seeding in distant organs. In 2011 researchers at the CNIC in Madrid and other institutions in Spain and the United States reported the results of in vitro experiments and experiments in mice that highlighted how the mechanical properties of the stromal cells around a tumor can influence cancer progression and metastasis (Goetz et al., 2011). In particular they reported that the expression of an intracellular protein called caveolin-1 in tumor-associated fibroblasts resulted in remodeling of the stroma in breast cancer xenografts, which led to increased metastasis.
In 2015, as part of the Reproducibility Project: Cancer Biology, Fiering et al. published a Registered Report which explained in detail how they would seek to replicate some of these experiments (Fiering et al., 2015). The results of these experiment have now been published as a Replication Study (Sheen et al., 2019). Sheen et al. confirmed that fibroblasts expressing caveolin-1 display increased extracellular matrix (ECM) remodeling in vitro, and a higher capacity for intra-tumoral stroma remodeling in vivo. Moreover, by co-implanting caveolin-1-expressing or caveolin-1-deficient fibroblasts with breast cancer cells in nude mice, they confirmed that the expression of caveolin-1 does not affect the tumor growth at the implantation site. However, in contrast to the original study, metastasis formation was not enhanced by caveolin-1 expression, though it should be noted that there were important differences between the original work and the replication. This means that we cannot draw about conclusions about the reproducibility or otherwise of the original findings about metastasis. It is worth looking at these differences to see what we can learn for future studies.
Experiments with mice and other animals are stopped at a 'humane endpoint' to prevent unnecessary suffering. The original experiments to monitor metastasis were stopped 75 days after the breast cancer cells had been implanted in the mice. However, the tumors grew much faster in the replication, which meant that the humane endpoint was reached after just 45 days. Tumor growth and metastasis are both nonlinear processes, with long periods of relatively slow growth being followed by periods of rapid growth. It is possible, therefore, that the low levels of metastasis seen in the replication are due to the duration of the experiments being significantly shorter than the original experiments.
So what lessons might we take away from this Replication Study? First, the differences between the two studies with respect to the link between ECM remodeling in the primary tumor site and metastasis might indicate that factors other than ECM alignment have an influence on the outcome. In particular, the orientation of the ECM relative to the tumor may be important: it is known that the invasion of neighboring tissue by cancer cells, metastasis and poor prognosis are all supported when the ECM is perpendicular to the tumor surface, whereas a capsule-like orientation of the ECM parallel to the tumor surface can limit tumor cell evasion (Figure 1A; Conklin et al., 2011; Park et al., 2019).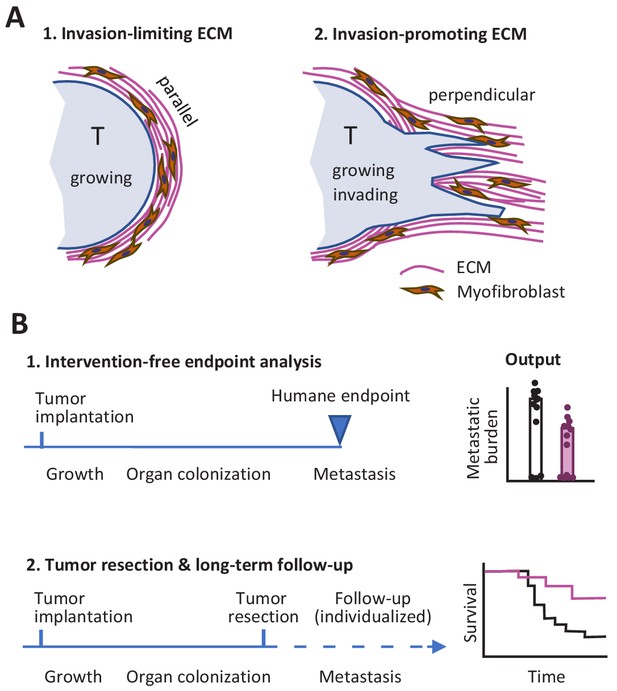 Second, it is possible to design experiments where faster-than-expected growth of the primary tumor does not limit our ability to study metastasis. This can be done by monitoring each mouse individually and resecting the primary tumor during exponential growth, before the humane endpoint is reached, while also continuing to measure metastasis and other outcomes (Figure 1B). Preclinical studies using this refined procedure have allowed researchers to measure the response of primary tumors to experimental molecular-targeted therapy and to monitor whether metastasis is affected or not for endpoints after 100 days and later (Gómez-Cuadrado et al., 2017; Miller et al., 2019). It should be noted that resection might not be required if the experimental treatment causes reliable regression of the primary tumor: the present author and co-workers recently used this approach to monitor incidence of metastasis and overall survival in tumor-bearing mice over a period of 180 days (Haeger et al., 2020).
Third, multiple experimental details that are difficult to control may affect tumor growth and metastasis. For example, tumor cells may change their growth characteristics, and grow more or less efficiently, as a result of continued culture. Other factors that influence tumor growth rates in mouse experiments include: the use of fetal calf serum to cultivate cells before implantation (van der Valk et al., 2018); the conditions under which the mice are housed (Kilkenny et al., 2010); and variation in the microbiomes of the mice (Sethi et al., 2018). It is vital, therefore, that the Methods sections of papers fully describe how the mice used in experiments were housed (including information about diet, environmental enrichment and housing temperature; see Kilkenny et al., 2010 for a full list). And in the future, molecular fingerprinting of the microbiome of animals might also be required.
In conclusion, we do not know for sure in which tumors and to what extent the expression of caveolin-1 and the subsequent remodeling of the ECM in the tumor stroma has an influence on metastasis. However, the efforts to replicate previous work in this field provide an opportunity for self-reflection, and make clear that there are strong reasons to refine workflows in preclinical metastasis research and to improve the way we carry out research into anti-cancer pathways and drug discovery.
Article and author information
Author details
© 2019, Friedl
This article is distributed under the terms of the Creative Commons Attribution License, which permits unrestricted use and redistribution provided that the original author and source are credited.
1,958

Page views

177

Downloads

4

Citations
Article citation count generated by polling the highest count across the following sources: Crossref, PubMed Central, Scopus.
A two-part list of links to download the article, or parts of the article, in various formats.
Downloads
(link to download the article as PDF)
Open citations
(links to open the citations from this article in various online reference manager services)
Cite this article
(links to download the citations from this article in formats compatible with various reference manager tools)
Peter Friedl
Reproducibility in Cancer Biology: Rethinking research into metastasis
eLife 8:e53511.
https://doi.org/10.7554/eLife.53511
Further reading
As part of the Reproducibility Project: Cancer Biology we published a Registered Report (Fiering et al., 2015) that described how we intended to replicate selected experiments from the paper 'Biomechanical remodeling of the microenvironment by stromal caveolin-1 favors tumor invasion and metastasis' (Goetz et al., 2011). Here we report the results. Primary mouse embryonic fibroblasts (pMEFs) expressing caveolin 1 (Cav1WT) demonstrated increased extracellular matrix remodeling in vitro compared to Cav1 deficient (Cav1KO) pMEFs, similar to the original study (Goetz et al., 2011). In vivo, we found higher levels of intratumoral stroma remodeling, determined by fibronectin fiber orientation, in tumors from cancer cells co-injected with Cav1WT pMEFs compared to cancer cells only or cancer cells plus Cav1KO pMEFs, which were in the same direction as the original study (Supplemental Figure S7C; Goetz et al., 2011), but not statistically significant. Primary tumor growth was similar between conditions, like the original study (Supplemental Figure S7Ca; Goetz et al., 2011). We found metastatic burden was similar between Cav1WT and Cav1KO pMEFs, while the original study found increased metastases with Cav1WT (Figure 7C; Goetz et al., 2011); however, the duration of our in vivo experiments (45 days) were much shorter than in the study by Goetz et al. (2011) (75 days). This makes it difficult to interpret the difference between the studies as it is possible that the cells required more time to manifest the difference between treatments observed by Goetz et al. We also found a statistically significant negative correlation of intratumoral remodeling with metastatic burden, while the original study found a statistically significant positive correlation (Figure 7Cd; Goetz et al., 2011), but again there were differences between the studies in terms of the duration of the metastasis studies and the imaging approaches that could have impacted the outcomes. Finally, we report meta-analyses for each result.

Cancer Biology

Computational and Systems Biology

Late advances in genome sequencing expanded the space of known cancer driver genes several-fold. However, most of this surge was based on computational analysis of somatic mutation frequencies and/or their impact on the protein function. On the contrary, experimental research necessarily accounted for functional context of mutations interacting with other genes and conferring cancer phenotypes. Eventually, just such results become 'hard currency' of cancer biology. The new method, NEAdriver employs knowledge accumulated thus far in the form of global interaction network and functionally annotated pathways in order to recover known and predict novel driver genes. The driver discovery was individualized by accounting for mutations' co-occurrence in each tumour genome - as an alternative to summarizing information over the whole cancer patient cohorts. For each somatic genome change, probabilistic estimates from two lanes of network analysis were combined into joint likelihoods of being a driver. Thus, ability to detect previously unnoticed candidate driver events emerged from combining individual genomic context with network perspective. The procedure was applied to ten largest cancer cohorts followed by evaluating error rates against previous cancer gene sets. The discovered driver combinations were shown to be informative on cancer outcome. This revealed driver genes with individually sparse mutation patterns that would not be detectable by other computational methods and related to cancer biology domains poorly covered by previous analyses. In particular, recurrent mutations of collagen, laminin, and integrin genes were observed in the adenocarcinoma and glioblastoma cancers. Considering constellation patterns of candidate drivers in individual cancer genomes opens a novel avenue for personalized cancer medicine.

Cancer Biology

Developmental Biology

Gain-of-function mutations in the protein-tyrosine phosphatase SHP2 are the most frequently occurring mutations in sporadic juvenile myelomonocytic leukemia (JMML) and JMML-like myeloproliferative neoplasm (MPN) associated with Noonan syndrome (NS). Hematopoietic stem and progenitor cells (HSPCs) are the disease propagating cells of JMML. Here, we explored transcriptomes of HSPCs with SHP2 mutations derived from JMML patients and a novel NS zebrafish model. In addition to major NS traits, CRISPR/Cas9 knock-in Shp2D61G mutant zebrafish recapitulated a JMML-like MPN phenotype, including myeloid lineage hyperproliferation, ex vivo growth of myeloid colonies, and in vivo transplantability of HSPCs. Single-cell mRNA sequencing of HSPCs from Shp2D61G zebrafish embryos and bulk sequencing of HSPCs from JMML patients revealed an overlapping inflammatory gene expression pattern. Strikingly, an anti-inflammatory agent rescued JMML-like MPN in Shp2D61G zebrafish embryos. Our results indicate that a common inflammatory response was triggered in the HSPCs from sporadic JMML patients and syndromic NS zebrafish, which potentiated MPN and may represent a future target for JMML therapies.