Autism: Balancing excitation and inhibition in the autistic brain
A metric called the Hurst exponent could be a useful biomarker for studies exploring brain differences between men and women with autism spectrum disorder.
Balance and stability are important for the human body. This is clearly true for some physical tasks, such as walking or running without falling over, but it is also true inside the brain. Neurons receive both excitatory and inhibitory inputs, and maintaining a balance between the two – that is, maintaining what is known as the excitation-inhibition or E:I balance – is crucial for the brain to work properly (Yizhar et al., 2011).
Disruptions to the E:I balance, such as increased levels of excitatory inputs, have been linked to autism and a number of other neurological conditions, and can affect brain function and social behavior (Rubenstein and Merzenich, 2003). It has also been shown that the E:I balance can depend on sex, especially in regions of the brain that support social behavior, such as the ventromedial prefrontal cortex (Lai et al., 2019). However, research into the relationships between autism, sex and social behavior have been hampered by a lack of non-invasive tools. Now, in eLife, Michael Lombardo (Istituto Italiano di Tecnologia and University of Cambridge) and colleagues – including Stavros Trakoshis and Pablo Martínez-Cañada as joint first authors – report how it may be possible to measure the E:I balance without causing damage to the brain (Trakoshis et al., 2020).
The researchers – who are based in Italy, Cyprus, South Korea, the United Kingdom, Switzerland, and Canada – first created a computational model of the brain and used data from this model to calculate a metric called the Hurst exponent. This metric is a measure of the long-term memory of a time series of data. The model was then tweaked to simulate the effect of a ligand called CNO (which is short for clozapine-N-oxide) on two receptors hM3Dq and hM4Di, which are synthetic proteins designed to bind synthetic drugs. When CNO binds to hM3Dq it increases excitation, and when it binds to hM4Di it reduces both excitation and inhibition. Trakoshis et al. found that the change in the E:I balance caused by CNO also changed the Hurst exponent: specifically, an increase in excitation decreased the Hurst exponent (Figure 1).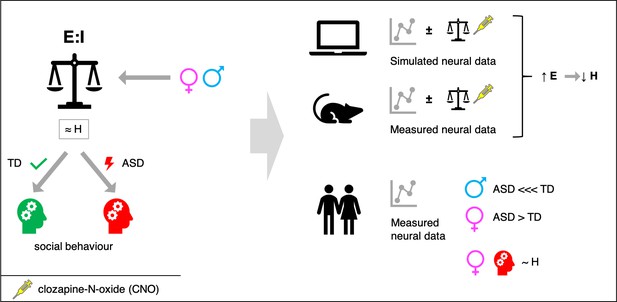 Second, the researchers tested if they could replicate these computational results in mice that had undergone chemogenetic manipulation to express hM3Dq and hM4Di. This involved measuring electrical activity in the prefrontal cortex of the mice before, during and after the administration of CNO, and then computing the Hurst exponent. They found that the in vivo results in mice confirmed the predictions of their computational model. Specifically, a drug-induced increase in excitation led to a decrease in the Hurst exponent.
Third, Trakoshis et al. wanted to find out why E:I processes may differ between males and females. They found that genes associated with autism that also affect the E:I balance (especially excitation) overlapped with genes that are sensitive to male-specific hormones. A comparison of these results with a gene expression map called the Allan Human Brain Atlas (Hawrylycz et al., 2012) further revealed that these genes are expressed in many regions of the brain, including the ventromedial prefrontal cortex.
To investigate how the E:I balance may differ between autistic men and women, and how those differences may relate to social behavior, Trakoshis et al. collected neural time series data and computed the Hurst exponent in individuals with and without autism (who were similar in age and IQ). In the ventromedial prefrontal cortex, the Hurst exponent of individuals with autism was lower than that of typically developing individuals, with the difference between the two being larger in males than in females. Moreover, in women with autism, the Hurst exponent was linked with social behavior: a higher (i.e., more typical) value was accompanied by a better ability to 'socially camouflage' – that is, the ability to compensate for social-communicative difficulties.
Taken together, these results suggest that the Hurst exponent may be a useful biomarker to examine the E:I balance and its relationship with sex and social behavior across the autism spectrum. More research is needed to investigate if shifting the E:I balance in the ventromedial prefrontal cortex could alter social behavior in people with autism. In the future, this approach could be extended into other conditions linked to E:I balance and sex-differences, such as attention deficit hyperactivity disorder.
Article and author information
Author details
© 2020, Pretzsch and Floris
This article is distributed under the terms of the Creative Commons Attribution License, which permits unrestricted use and redistribution provided that the original author and source are credited.
3,017

Page views

261

Downloads

3

Citations
Article citation count generated by polling the highest count across the following sources: Crossref, PubMed Central, Scopus.
A two-part list of links to download the article, or parts of the article, in various formats.
Downloads
(link to download the article as PDF)
Open citations
(links to open the citations from this article in various online reference manager services)
Cite this article
(links to download the citations from this article in formats compatible with various reference manager tools)
Charlotte M Pretzsch
Dorothea L Floris
Autism: Balancing excitation and inhibition in the autistic brain
eLife 9:e60584.
https://doi.org/10.7554/eLife.60584
Further reading
Excitation-inhibition (E:I) imbalance is theorized as an important pathophysiological mechanism in autism. Autism affects males more frequently than females and sex-related mechanisms (e.g., X-linked genes, androgen hormones) can influence E:I balance. This suggests that E:I imbalance may affect autism differently in males versus females. With a combination of in-silico modeling and in-vivo chemogenetic manipulations in mice, we first show that a time-series metric estimated from fMRI BOLD signal, the Hurst exponent (H), can be an index for underlying change in the synaptic E:I ratio. In autism we find that H is reduced, indicating increased excitation, in the medial prefrontal cortex (MPFC) of autistic males but not females. Increasingly intact MPFC H is also associated with heightened ability to behaviorally camouflage social-communicative difficulties, but only in autistic females. This work suggests that H in BOLD can index synaptic E:I ratio and that E:I imbalance affects autistic males and females differently.

Low-protein (LP) diets extend the lifespan of diverse species and are associated with improved metabolic health in both rodents and humans. Paradoxically, many athletes and bodybuilders consume high-protein (HP) diets and protein supplements, yet are both fit and metabolically healthy. Here, we examine this paradox using weight pulling, a validated progressive resistance exercise training regimen, in mice fed either an LP diet or an isocaloric HP diet. We find that despite having lower food consumption than the LP group, HP-fed mice gain significantly more fat mass than LP-fed mice when not exercising, while weight pulling protected HP-fed mice from this excess fat accretion. The HP diet augmented exercise-induced hypertrophy of the forearm flexor complex, and weight pulling ability increased more rapidly in the exercised HP-fed mice. Surprisingly, exercise did not protect from HP-induced changes in glycemic control. Our results confirm that HP diets can augment muscle hypertrophy and accelerate strength gain induced by resistance exercise without negative effects on fat mass, and also demonstrate that LP diets may be advantageous in the sedentary. Our results highlight the need to consider both dietary composition and activity, not simply calories, when taking a precision nutrition approach to health.

Background: Compelling evidence has accumulated on the role of oxidative stress on the endothelial cell (EC) dysfunction underlying acute coronary syndrome. However, unveiling the underlying metabolic determinants has been hampered by the scarcity of appropriate cell models to address cell-autonomous mechanisms of ED dysfunction.

Methods: We have generated endothelial cells derived from thrombectomy specimens from patients affected with acute myocardial infarction (AMI) and conducted phenotypical and metabolic characterization, focused on central carbon metabolism.

Results: AMI-derived endothelial cells (AMIECs), but not control healthy coronary endothelial cells, display impaired growth, migration and tubulogenesis. Metabolically, AMIECs displayed augmented reactive oxygen species (ROS) and glutathione intracellular content, along with a diminished glucose consumption coupled to high lactate production. Consistent with diminished glycolysis in AMIECs, the protein levels of 6-phosphofructo-2-kinase/fructose-2,6-bisphosphatase type 3, PFKFB3, were downregulated. In contrast, PFKFB4 levels were upregulated, suggesting a shunting of glycolysis towards the pentose phosphate pathway (PPP), supported by upregulation in AMIECs of G6PD, the key enzyme in the oxidative branch of the PPP. Further, the glutaminolytic enzyme GLS was upregulated in AMIECs, providing a mechanistic explanation for the observed increase in glutathione content. Finally, AMIECs displayed a significantly higher mitochondrial membrane potential than control ECs, which, together with high ROS levels, suggest a highly coupled mitochondrial activity in patient ECs.

Conclusions: We suggest high mitochondrial proton coupling underlies the abnormally high production of ROS, balanced by PPP- and glutaminolysis-driven synthesis of glutathione, as a primary, cell-autonomous abnormality driving EC dysfunction in AMI.

Funding: European Commission Horizon 2020; CIBER- Carlos III National Institute of Health, Spain; Ministerio de Economia y Competitividad (MINECO) and Ministerio de Ciencia e Innovación, Spain; Generalitat de Catalunya-AGAUR, Catalonia; Plataforma Temática Interdisciplinar Salud Global (PTI-SG), Spain; British Heart Foundation, UK.