Autism: Balancing excitation and inhibition in the autistic brain
A metric called the Hurst exponent could be a useful biomarker for studies exploring brain differences between men and women with autism spectrum disorder.
Balance and stability are important for the human body. This is clearly true for some physical tasks, such as walking or running without falling over, but it is also true inside the brain. Neurons receive both excitatory and inhibitory inputs, and maintaining a balance between the two – that is, maintaining what is known as the excitation-inhibition or E:I balance – is crucial for the brain to work properly (Yizhar et al., 2011).
Disruptions to the E:I balance, such as increased levels of excitatory inputs, have been linked to autism and a number of other neurological conditions, and can affect brain function and social behavior (Rubenstein and Merzenich, 2003). It has also been shown that the E:I balance can depend on sex, especially in regions of the brain that support social behavior, such as the ventromedial prefrontal cortex (Lai et al., 2019). However, research into the relationships between autism, sex and social behavior have been hampered by a lack of non-invasive tools. Now, in eLife, Michael Lombardo (Istituto Italiano di Tecnologia and University of Cambridge) and colleagues – including Stavros Trakoshis and Pablo Martínez-Cañada as joint first authors – report how it may be possible to measure the E:I balance without causing damage to the brain (Trakoshis et al., 2020).
The researchers – who are based in Italy, Cyprus, South Korea, the United Kingdom, Switzerland, and Canada – first created a computational model of the brain and used data from this model to calculate a metric called the Hurst exponent. This metric is a measure of the long-term memory of a time series of data. The model was then tweaked to simulate the effect of a ligand called CNO (which is short for clozapine-N-oxide) on two receptors hM3Dq and hM4Di, which are synthetic proteins designed to bind synthetic drugs. When CNO binds to hM3Dq it increases excitation, and when it binds to hM4Di it reduces both excitation and inhibition. Trakoshis et al. found that the change in the E:I balance caused by CNO also changed the Hurst exponent: specifically, an increase in excitation decreased the Hurst exponent (Figure 1).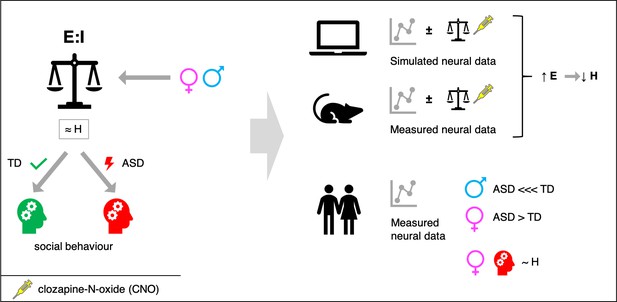 Second, the researchers tested if they could replicate these computational results in mice that had undergone chemogenetic manipulation to express hM3Dq and hM4Di. This involved measuring electrical activity in the prefrontal cortex of the mice before, during and after the administration of CNO, and then computing the Hurst exponent. They found that the in vivo results in mice confirmed the predictions of their computational model. Specifically, a drug-induced increase in excitation led to a decrease in the Hurst exponent.
Third, Trakoshis et al. wanted to find out why E:I processes may differ between males and females. They found that genes associated with autism that also affect the E:I balance (especially excitation) overlapped with genes that are sensitive to male-specific hormones. A comparison of these results with a gene expression map called the Allan Human Brain Atlas (Hawrylycz et al., 2012) further revealed that these genes are expressed in many regions of the brain, including the ventromedial prefrontal cortex.
To investigate how the E:I balance may differ between autistic men and women, and how those differences may relate to social behavior, Trakoshis et al. collected neural time series data and computed the Hurst exponent in individuals with and without autism (who were similar in age and IQ). In the ventromedial prefrontal cortex, the Hurst exponent of individuals with autism was lower than that of typically developing individuals, with the difference between the two being larger in males than in females. Moreover, in women with autism, the Hurst exponent was linked with social behavior: a higher (i.e., more typical) value was accompanied by a better ability to 'socially camouflage' – that is, the ability to compensate for social-communicative difficulties.
Taken together, these results suggest that the Hurst exponent may be a useful biomarker to examine the E:I balance and its relationship with sex and social behavior across the autism spectrum. More research is needed to investigate if shifting the E:I balance in the ventromedial prefrontal cortex could alter social behavior in people with autism. In the future, this approach could be extended into other conditions linked to E:I balance and sex-differences, such as attention deficit hyperactivity disorder.
Article and author information
Author details
© 2020, Pretzsch and Floris
This article is distributed under the terms of the Creative Commons Attribution License, which permits unrestricted use and redistribution provided that the original author and source are credited.
2,413

Page views

219

Downloads

0

Citations
Article citation count generated by polling the highest count across the following sources: Crossref, PubMed Central, Scopus.
A two-part list of links to download the article, or parts of the article, in various formats.
Downloads
(link to download the article as PDF)
Open citations
(links to open the citations from this article in various online reference manager services)
Cite this article
(links to download the citations from this article in formats compatible with various reference manager tools)
Charlotte M Pretzsch
Dorothea L Floris
Autism: Balancing excitation and inhibition in the autistic brain
eLife 9:e60584.
https://doi.org/10.7554/eLife.60584
Further reading
Excitation-inhibition (E:I) imbalance is theorized as an important pathophysiological mechanism in autism. Autism affects males more frequently than females and sex-related mechanisms (e.g., X-linked genes, androgen hormones) can influence E:I balance. This suggests that E:I imbalance may affect autism differently in males versus females. With a combination of in-silico modeling and in-vivo chemogenetic manipulations in mice, we first show that a time-series metric estimated from fMRI BOLD signal, the Hurst exponent (H), can be an index for underlying change in the synaptic E:I ratio. In autism we find that H is reduced, indicating increased excitation, in the medial prefrontal cortex (MPFC) of autistic males but not females. Increasingly intact MPFC H is also associated with heightened ability to behaviorally camouflage social-communicative difficulties, but only in autistic females. This work suggests that H in BOLD can index synaptic E:I ratio and that E:I imbalance affects autistic males and females differently.

Evolutionary Biology

Medicine

Abiraterone acetate is an effective treatment for metastatic castrate-resistant prostate cancer (mCRPC), but evolution of resistance inevitably leads to progression. We present a pilot study in which abiraterone dosing is guided by evolution-informed mathematical models to delay onset of resistance.

In the study cohort, abiraterone was stopped when PSA was <50% of pretreatment value and resumed when PSA returned to baseline. Results are compared to a contemporaneous cohort who had >50% PSA decline after initial abiraterone administration and met trial eligibility requirements but chose standard of care (SOC) dosing.

17 subjects were enrolled in the adaptive therapy group and 16 in the SOC group. All SOC subjects have progressed, but four patients in the study cohort remain stably cycling (range 53–70 months). The study cohort had significantly improved median time to progression (TTP; 33.5 months; p<0.001) and median overall survival (OS; 58.5 months; hazard ratio, 0.41, 95% confidence interval (CI), 0.20–0.83, p<0.001) compared to 14.3 and 31.3 months in the SOC cohort. On average, study subjects received no abiraterone during 46% of time on trial. Longitudinal trial data demonstrated the competition coefficient ratio (αRS/αSR) of sensitive and resistant populations, a critical factor in intratumoral evolution, was two- to threefold higher than pre-trial estimates. Computer simulations of intratumoral evolutionary dynamics in the four long-term survivors found that, due to the larger value for αRS/αSR, cycled therapy significantly decreased the resistant population. Simulations in subjects who progressed predicted further increases in OS could be achieved with prompt abiraterone withdrawal after achieving 50% PSA reduction.

Incorporation of evolution-based mathematical models into abiraterone monotherapy for mCRPC significantly increases TTP and OS. Computer simulations with updated parameters from longitudinal trial data can estimate intratumoral evolutionary dynamics in each subject and identify strategies to improve outcomes.

Moffitt internal grants and NIH/NCI U54CA143970-05 (Physical Science Oncology Network).

Patients with cardiomyopathy of Duchenne Muscular Dystrophy (DMD) are at risk of developing life-threatening arrhythmias, but the mechanisms are unknown. We aimed to determine the role of ion channels controlling cardiac excitability in the mechanisms of arrhythmias in DMD patients.

To test whether dystrophin mutations lead to defective cardiac NaV1.5–Kir2.1 channelosomes and arrhythmias, we generated iPSC-CMs from two hemizygous DMD males, a heterozygous female, and two unrelated control males. We conducted studies including confocal microscopy, protein expression analysis, patch-clamping, non-viral piggy-bac gene expression, optical mapping and contractility assays.

Two patients had abnormal ECGs with frequent runs of ventricular tachycardia. iPSC-CMs from all DMD patients showed abnormal action potential profiles, slowed conduction velocities, and reduced sodium (INa) and inward rectifier potassium (IK1) currents. Membrane NaV1.5 and Kir2.1 protein levels were reduced in hemizygous DMD iPSC-CMs but not in heterozygous iPSC-CMs. Remarkably, transfecting just one component of the dystrophin protein complex (α1-syntrophin) in hemizygous iPSC-CMs from one patient restored channelosome function, INa and IK1 densities, and action potential profile in single cells. In addition, α1-syntrophin expression restored impulse conduction and contractility and prevented reentrant arrhythmias in hiPSC-CM monolayers.

We provide the first demonstration that iPSC-CMs reprogrammed from skin fibroblasts of DMD patients with cardiomyopathy have a dysfunction of the NaV1.5–Kir2.1 channelosome, with consequent reduction of cardiac excitability and conduction. Altogether, iPSC-CMs from patients with DMD cardiomyopathy have a NaV1.5–Kir2.1 channelosome dysfunction, which can be rescued by the scaffolding protein α1-syntrophin to restore excitability and prevent arrhythmias.

Supported by National Institutes of Health R01 HL122352 grant; 'la Caixa' Banking Foundation (HR18-00304); Fundación La Marató TV3: Ayudas a la investigación en enfermedades raras 2020 (LA MARATO-2020); Instituto de Salud Carlos III/FEDER/FSE; Horizon 2020 - Research and Innovation Framework Programme GA-965286 to JJ; the CNIC is supported by the Instituto de Salud Carlos III (ISCIII), the Ministerio de Ciencia e Innovación (MCIN) and the Pro CNIC Foundation), and is a Severo Ochoa Center of Excellence (grant CEX2020-001041-S funded by MICIN/AEI/10.13039/501100011033). American Heart Association postdoctoral fellowship 19POST34380706s to JVEN. Israel Science Foundation to OB and MA [824/19]. Rappaport grant [01012020RI]; and Niedersachsen Foundation [ZN3452] to OB; US-Israel Binational Science Foundation (BSF) to OB and TH [2019039]; Dr. Bernard Lublin Donation to OB; and The Duchenne Parent Project Netherlands (DPPNL 2029771) to OB. National Institutes of Health R01 AR068428 to DM and US-Israel Binational Science Foundation Grant [2013032] to DM and OB.