Evolution: Shining a light on the origin of fly species
Natural light gradients within a habitat may have helped form new fly species that have differing preferences for light.
New species arise when populations of the same species become so different that they no longer or rarely interbreed. Physical barriers, such as an ocean, may facilitate this process, as is the case for the different varieties of Darwin's finches. But how do new species emerge if they coexist in the same habitat? One explanation could be a process called niche partitioning, whereby competing species use the surrounding environment in different ways, for example by feeding on different resources.
Last year, a study of 62 species of fly belonging to the Drosophila family, led by researchers at the Max Planck Institute of Chemical Ecology, found that the size of a fly's antenna (the main olfactory organ) is inversely correlated to the size of its eye. i.e. species with larger eyes had smaller antennae and vice versa (Keesey et al., 2019). Both organs develop from the same structure suggesting that this inverse correlation arises through a developmental constraint. Now, in eLife, Ian Keesey, Veit Grabe, Markus Knaden and Bill Hansson – who were involved in the 2019 study – report that light variation within a forest habitat could have contributed to niche partitioning and the speciation of flies belonging to this family (Keesey et al., 2020). The team focused their study on two fly species: Drosophila subobscura and Drosophila pseudoobscura. These species are closely related and known to have large differences in the relative size of their eyes and antennae, but do not usually share the same habitat and are commonly found in Europe and North America respectively (Figure 1).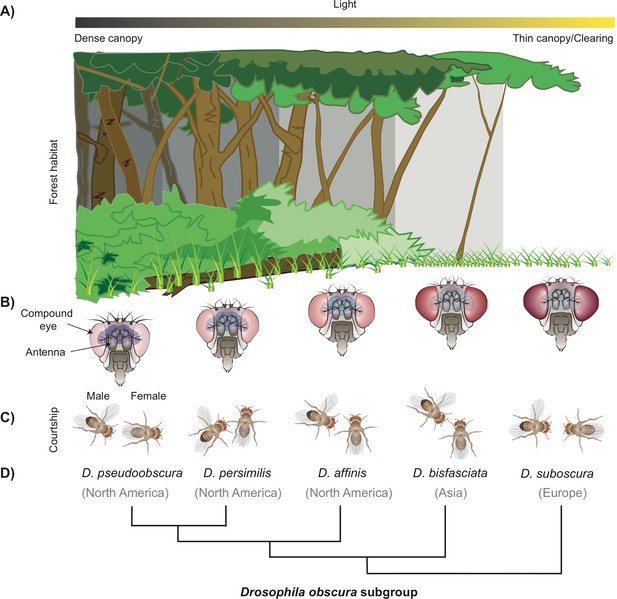 First, Keesey et al. measured the eye size and other morphological parameters of these two species, including the number of ommatidia – repetitive units that make up the eyes of insects. Ommatidia are a bit like the pixels of a camera, in that the more flies have, the better the spatial resolution of their eyes (Gonzalez-Bellido et al., 2011; Ramaekers et al., 2019). They found that the larger eyes of D. subobscura reflect an increase in the number of ommatidia, rather than an increase in the size of each ommatidium, which suggests this species might have enhanced visual acuity (Figure 1B).
Keesey et al. propose that the 'flirting' strategy of males (i.e. their courtship rituals) may have evolved in response to these two species investing differently in the size of their eyes and antennae. D. suboscura males seem to rely on visual displays to attract females, for example by 'showing-off' their wings, whereas D. pseudoobscura males only approach females from the back, while singing by vibrating their wings (Figure 1C). This is consistent with previous work which showed that while D. pseudoobscura can mate successfully in the dark, D. suboscura requires light (Wallace and Dobzhansky, 1946). It is possible that the increased visual acuity of D. suboscura facilitated the evolution of visual courtship rituals, causing them to become sexually isolated and diverge from other species. But what other ecological factors could have driven the increased investment in the visual system?
The canopy of trees that covers the natural habitats of these two species varies greatly in density, creating distinct micro-habitats that are either dark and cool, or warm and light (Figure 1A). Further experiments showed that D. suboscura prefer well-lit conditions, while D. pseudoobscura are more likely to prefer darkness. A population of D. suboscura has recently colonised North America, and now share a forest habitat with D. pseudoobscura in some regions (Noor, 1998). It is possible that niche partitioning reduces competition between these two species, if they separate into different canopy regions.
Taken together, these findings show that visual vs. olfactory investment, dependence on vision for mating rituals, and preference for light, all vary in a correlated fashion between these two species. Yet, the order in which these features emerged is difficult to determine. One possibility is that slight differences in light preference would initially segregate flies into two micro-habitats. Flies living in better lit environments would become increasingly more visual, while flies living in the shadows might have evolved a finer sense of smell at the expense of their eyes.
Another possibility is that genetic variation within members of the same species could generate individual flies with larger eyes or antennae: these differences could lead to niche partitioning, as flies with larger eyes would be at an advantage in well-lit forest clearings, and vice versa. This would be followed by the evolution of different light preferences and mating rituals. This hypothesis is partially supported by a previous study showing that small mutations in the regulatory region of a gene called eyeless can change the relative size of these sensory organs within and across species (Ramaekers et al., 2019). Such simple genetic bases potentially makes the size of the eye and the antennae so easily evolvable across species.
To address the evolutionary order of these traits, Keesey et al. expanded their work to include three additional species. The results showed that D. suboobscura and D. pseudoobscura are at the two extremes in a graded variation of these three traits. One of the species examined, called D. persimilis, is the closest relative of D. pseudoobscura and shares the same habitat (Figure 1D). D. persimilis displayed the largest difference to its sibling species in terms of their preference for light, with smaller increases in their eye investment and visual courtship behaviour (Figure 1D). This suggests stronger evolutionary pressures for niche partitioning on light preference behaviour, with visual investment and courtship rituals further increasing this separation.
The idea that the emergence of new fly species might be due to changes in the preference for light is intriguing and inspires many more questions. For example, does this niche partitioning really occur in nature? And if so, what were the initial selection pressures favouring the differential preference for light? Could other factors correlated with canopy thickness – such as reduced risk of desiccation and irradiation – also have contributed towards this variation?
It is also unclear what neurobiological mechanism led to this initial switch in light preference. Although there is no evidence that larger eyes would make animals more attracted to light, these two traits could be linked. For example, changes in the regulatory region of eyeless could simultaneously affect the number of ommatidia and neuronal circuits in the eye. Given these species can be genetically manipulated (Tanaka et al., 2017), future experiments swapping their regulatory region of eyeless could provide some answers.
This study illustrates how studying little known fly species and their ecology can shed light on how brains evolve, and how behavioural changes can shape the evolution of new species.
Article and author information
Author details
© 2020, Gong and Prieto-Godino
This article is distributed under the terms of the Creative Commons Attribution License, which permits unrestricted use and redistribution provided that the original author and source are credited.
1,792

Page views

150

Downloads

0

Citations
Article citation count generated by polling the highest count across the following sources: Crossref, PubMed Central, Scopus.
A two-part list of links to download the article, or parts of the article, in various formats.
Downloads
(link to download the article as PDF)
Open citations
(links to open the citations from this article in various online reference manager services)
Cite this article
(links to download the citations from this article in formats compatible with various reference manager tools)
Hui Gong
Lucia Prieto-Godino
Evolution: Shining a light on the origin of fly species
eLife 9:e60600.
https://doi.org/10.7554/eLife.60600
Further reading
Evolutionary Biology
Neuroscience

The examination of phylogenetic and phenotypic characteristics of the nervous system, such as behavior and neuroanatomy, can be utilized as a means to assess speciation. Recent studies have proposed a fundamental tradeoff between two sensory organs, the eye and the antenna. However, the identification of ecological mechanisms for this observed tradeoff have not been firmly established. Our current study examines several monophyletic species within the obscura group, and asserts that despite their close relatedness and overlapping ecology, they deviate strongly in both visual and olfactory investment. We contend that both courtship and microhabitat preferences support the observed inverse variation in these sensory traits. Here, this variation in visual and olfactory investment seems to provide relaxed competition, a process by which similar species can use a shared environment differently and in ways that help them coexist. Moreover, that behavioral separation according to light gradients occurs first, and subsequently, courtship deviations arise.

Biochemistry and Chemical Biology
Evolutionary Biology

Evolution can tinker with multi-protein machines and replace them with simpler single-protein systems performing equivalent functions in an equally efficient manner. It is unclear how, on a molecular level, such simplification can arise. With ancestral reconstruction and biochemical analysis, we have traced the evolution of bacterial small heat shock proteins (sHsp), which help to refold proteins from aggregates using either two proteins with different functions (IbpA and IbpB) or a secondarily single sHsp that performs both functions in an equally efficient way. Secondarily single sHsp evolved from IbpA, an ancestor specialized in strong substrate binding. Evolution of an intermolecular binding site drove the alteration of substrate binding properties, as well as the formation of higher-order oligomers. Upon two mutations in the α-crystallin domain, secondarily single sHsp interacts with aggregated substrates less tightly. Paradoxically, less efficient binding positively influences the ability of sHsp to stimulate substrate refolding, since the dissociation of sHps from aggregates is required to initiate Hsp70-Hsp100-dependent substrate refolding. After the loss of a partner, IbpA took over its role in facilitating the sHsp dissociation from an aggregate by weakening the interaction with the substrate, which became beneficial for the refolding process. We show that the same two amino acids introduced in modern-day systems define whether the IbpA acts as a single sHsp or obligatorily cooperates with an IbpB partner. Our discoveries illuminate how one sequence has evolved to encode functions previously performed by two distinct proteins.

Evolutionary Biology
Genetics and Genomics

Microbial plankton play a central role in marine biogeochemical cycles, but the timing in which abundant lineages diversified into ocean environments remains unclear. Here, we reconstructed the timeline in which major clades of bacteria and archaea colonized the ocean using a high-resolution benchmarked phylogenetic tree that allows for simultaneous and direct comparison of the ages of multiple divergent lineages. Our findings show that the diversification of the most prevalent marine clades spans throughout a period of 2.2 Ga, with most clades colonizing the ocean during the last 800 million years. The oldest clades – SAR202, SAR324, Ca. Marinimicrobia, and Marine Group II – diversified around the time of the Great Oxidation Event, during which oxygen concentration increased but remained at microaerophilic levels throughout the Mid-Proterozoic, consistent with the prevalence of some clades within these groups in oxygen minimum zones today. We found the diversification of the prevalent heterotrophic marine clades SAR11, SAR116, SAR92, SAR86, and Roseobacter as well as the Marine Group I to occur near to the Neoproterozoic Oxygenation Event (0.8–0.4 Ga). The diversification of these clades is concomitant with an overall increase of oxygen and nutrients in the ocean at this time, as well as the diversification of eukaryotic algae, consistent with the previous hypothesis that the diversification of heterotrophic bacteria is linked to the emergence of large eukaryotic phytoplankton. The youngest clades correspond to the widespread phototrophic clades Prochlorococcus, Synechococcus, and Crocosphaera, whose diversification happened after the Phanerozoic Oxidation Event (0.45–0.4 Ga), in which oxygen concentrations had already reached their modern levels in the atmosphere and the ocean. Our work clarifies the timing at which abundant lineages of bacteria and archaea colonized the ocean, thereby providing key insights into the evolutionary history of lineages that comprise the majority of prokaryotic biomass in the modern ocean.