Parkinson's Disease: Debunking an old theory
Recording the neural activity of cells in the brain of patients with Parkinson's disease challenges long-standing assumptions about how this disease manifests at the cellular level.
A group of structures deep inside the brain are thought to be responsible for the progression of Parkinson's disease. These structures, known as the basal ganglia, play an important role in coordinating movement via two opposing motor pathways: the 'indirect pathway' which suppresses movement, and the 'direct pathway' which promotes movement. It has been reported that overactivation of the indirect pathway and underactivation of the direct pathway lead to the motor impairments associated with Parkinson's disease (Albin et al., 1989; Bergman et al., 1990; Gerfen et al., 1990).
Previous studies investigating the cellular mechanisms that cause these abnormalities have largely focused on spiny projection neurons (SPNs for short), a group of cells found in a basal ganglia structure known as the striatum. These cells express one of two types of dopamine receptors called D1 and D2. SPNs expressing D1 are frequently referred to as the origin of the direct pathway, whereas SPNs expressing D2 are referred to as the origin of the indirect pathway. These pathways then pass this signal between multiple structures of the basal ganglia until they reach a group of cells known as the output nuclei.
The striatum receives most of its dopamine from an area in the brain that degenerates in Parkinson's disease. This loss in dopamine is thought to reduce the activity of D1-SPNs and increase the activity of D2-SPNs, causing neurons in the striatum to fire at different rates: this is predicted to drive the excessive activity of the indirect pathway and reduced activity of the direct pathway, which leads to pathological activity throughout the basal ganglia (Gerfen and Surmeier, 2011; Figure 1A). This hypothesis is known as the 'rate model' and has had a huge influence on the field of Parkinson's disease. Yet, there has been limited in vivo evidence showing the firing rates of SPNs changing, particularly from human patients.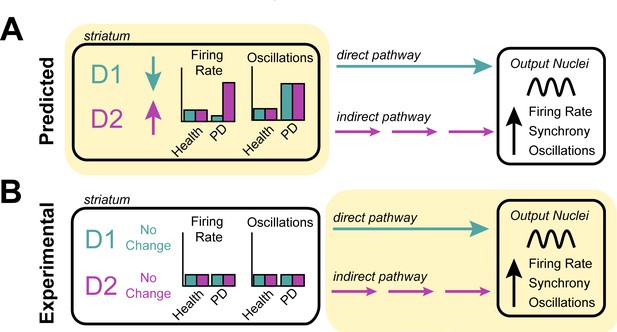 Now, in eLife, Marc Deffains (University of Bordeaux) and colleagues – including Dan Valsky (Hebrew University of Jerusalem) as first author – report experiments investigating the firing rates of SPNs in patients with Parkinson's disease (Valsky et al., 2020). The team were able to gather data from human patients who were undergoing a surgical procedure that implants electrodes into deep regions of the brain. Valsky et al. found that the firing rates of SPNs in patients with Parkinson's disease were no different than expected values found in healthy non-human primates. Further computational analysis, clustering the different firing rates detected, was unable to identify two distinct populations of neurons that could represent overactive D2-SPNs and underactive D1-SPNs.
These results were in contrast to the only other human study which supports the predictions made by the rate model (Singh et al., 2016). However, both studies used a different method to isolate and analyze the activity of neurons. Valsky et al. applied strict criteria to ensure that the firing rates recorded only came from well-isolated, stationary single units. This minimizes the chance of other factors, such as noise from movement or signals from damaged cells, interfering with the firing rates being measured. Valsky et al. showed that when these criteria were not in place, they were able to replicate the changes in activity reported in the previous study, but argued that this is a spurious conclusion.
The fact that Valsky et al. were not able to find evidence for the rate model within the striatum was not entirely unexpected, as the exceptions and limitations of this model have become increasingly documented (Obeso and Lanciego, 2011). Other models have proposed that the abnormalities observed in the basal ganglia arise from neurons changing their patterns of activity to fire more irregularly or with increased oscillations (Nelson and Kreitzer, 2014). But when Valsky et al. searched their data for these other patterns of activity, they could not detect any of these features in the striatal neurons of patients with Parkinson's disease (Figure 1B).
These findings raise a lot of questions about the role the striatum plays in the motor impairments associated with Parkinson's disease. However, two critical variables that were not addressed in this study are synchrony (non-oscillatory), and total neuron recruitment within the striatum. When multiple SPNs fire simultaneously, this relays a more powerful signal to downstream areas of the brain than if SPNs are activated independently. Therefore, if dopamine depletion enabled more D2-SPNs to activate simultaneously, or in greater numbers, this could lead to increase indirect pathway output from the striatum. However, the techniques used to record neuronal activity in this study means it is not possible to determine whether this change occurred.
These findings highlight the need for a critical reassessment of long-standing assumptions about the cellular mechanisms involved in the onset of Parkinson's disease. Even if this study does not completely rule out the striatum as a source of basal ganglia abnormalities in this condition, it narrows down the types of changes that might be responsible. It also emphasizes the roles of brain structures that are traditionally considered to be 'downstream' of the striatum in generating the neuronal defects associated with Parkinson's disease (Figure 1B). Furthermore, this work provides a valuable, rigorously curated data set which will be beneficial to the field.
Article and author information
Author details
© 2020, Spix and Gittis
This article is distributed under the terms of the Creative Commons Attribution License, which permits unrestricted use and redistribution provided that the original author and source are credited.
1,825

Page views

142

Downloads

1

Citations
Article citation count generated by polling the highest count across the following sources: Crossref, PubMed Central, Scopus.
A two-part list of links to download the article, or parts of the article, in various formats.
Downloads
(link to download the article as PDF)
Open citations
(links to open the citations from this article in various online reference manager services)
Cite this article
(links to download the citations from this article in formats compatible with various reference manager tools)
Teresa Spix
Aryn Gittis
Parkinson's Disease: Debunking an old theory
eLife 9:e62694.
https://doi.org/10.7554/eLife.62694
Further reading
Dopamine and striatal dysfunctions play a key role in the pathophysiology of Parkinson's disease (PD) and Dystonia, but our understanding of the changes in the discharge rate and pattern of striatal projection neurons (SPNs) remains limited. Here, we recorded and examined multi-unit signals from the striatum of PD and dystonic patients undergoing deep brain stimulation surgeries. Contrary to earlier human findings, we found no drastic changes in the spontaneous discharge of the well-isolated and stationary SPNs of the PD patients compared to the dystonic patients or to the normal levels of striatal activity reported in healthy animals. Moreover, cluster analysis using SPN discharge properties did not characterize two well-separated SPN subpopulations, indicating no SPN subpopulation-specific (D1 or D2 SPNs) discharge alterations in the pathological state. Our results imply that small to moderate changes in spontaneous SPN discharge related to PD and Dystonia are likely amplified by basal ganglia downstream structures.

Repressor element 1-silencing transcription factor (REST) is a transcriptional repressor that recognizes neuron-restrictive silencer elements in the mammalian genomes in a tissue- and cell-specific manner. The identity of REST target genes and molecular details of how REST regulates them are emerging. We performed conditional null deletion of Rest (cKO), mainly restricted to murine hair cells (HCs) and auditory neurons (aka spiral ganglion neurons (SGNs)). Null-inactivation of full-length REST did not affect the development of normal HCs and SGNs but manifested as progressive hearing loss in adult mice. We found that the inactivation of REST resulted in an increased abundance of Kv7.4 channels at the transcript, protein, and functional levels. Specifically, we found that SGNs and HCs from Rest cKO mice displayed increased Kv7.4 expression and augmented Kv7 currents; SGN's excitability was also significantly reduced. Administration of a compound with Kv7.4 channel activator activity, fasudil, recapitulated progressive hearing loss in mice. In contrast, inhibition of the Kv7 channels by XE991 rescued the auditory phenotype of Rest cKO mice. Previous studies identified some loss-of-function mutations within the Kv7.4-coding gene, Kcnq4, as a causative factor for progressive hearing loss in mice and humans. Thus, the findings reveal that a critical homeostatic Kv7.4 channel level is required for proper auditory functions.

Pharmacological and genetic studies over the past decade have established the follicle-stimulating hormone (FSH) as an actionable target for diseases affecting millions, namely osteoporosis, obesity, and Alzheimer's disease. Blocking FSH action prevents bone loss, fat gain and neurodegeneration in mice. We recently developed a first-in-class, humanized, epitope-specific FSH-blocking antibody, MS-Hu6, with a KD of 7.52 nM. Using a GLP-compliant platform, we now report the efficacy of MS-Hu6 in preventing and treating osteoporosis in mice and parameters of acute safety in monkeys. Biodistribution studies using 89Zr-labelled, biotinylated or unconjugated MS-Hu6 in mice and monkeys showed localization to bone and bone marrow. MS-Hu6 displayed a β phase t½ of 7.5 days (180 hours) in humanized Tg32 mice. We tested 217 variations of excipients using the protein thermal shift assay to generate a final formulation that rendered MS-Hu6 stable in solution upon freeze-thaw and at different temperatures, with minimal aggregation, and without self-, cross-, or hydrophobic interactions or appreciable binding to relevant human antigens. MS-Hu6 showed the same level of 'humanness' as human IgG1 in silico and was non-immunogenic in ELISPOT assays for IL-2 and IFNg in human peripheral blood mononuclear cell cultures. We conclude that MS-Hu6 is efficacious, durable, and manufacturable, and is therefore poised for future human testing.