Vascular Biology: Severing umbilical ties
High levels of proteins called proteoglycans in the walls of umbilical arteries enable these arteries to close rapidly after birth and thus prevent blood loss in newborns.
Omphaloskepsis, or navel gazing, is a metaphor for contemplating life. Yet, how many of us ever consider the origins of this scar that is universal not only to human beings but to all placental mammals?
The belly button is a remnant of the umbilical cord that served as the baby's anchor to life during pregnancy by creating a vascular bridge between fetal and maternal circulations. In humans, it is made up of one large vein that carries oxygen-filled blood to the baby, and two arteries that return the oxygen-depleted blood, as well as waste products, to the placenta (Figure 1A). This is the opposite of what happens in the adult body, where arteries carry blood rich in oxygen, and veins return blood depleted of oxygen to the heart, and is due to the dependence of the fetus on the placenta. This reversed scenario is the result of fetal vascular shunts, which provide an alternative path for blood flow at strategic points within the fetus.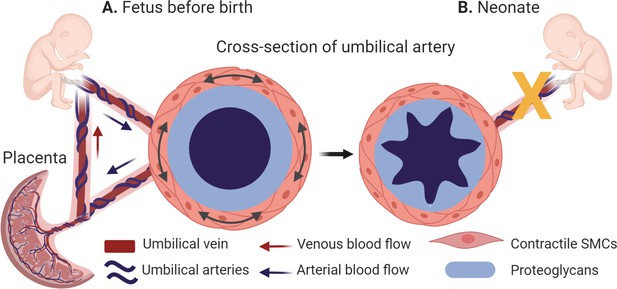 Once the baby is born and takes its first breath, a change in oxygen levels in the umbilical arteries prompts the umbilical blood vessels to cease their rhythmic pulsing and the arteries to shut off, a process known as rapid umbilical artery closure (Figure 1B). This is followed by closure of the fetal shunts, thereby establishing the adult circulation. The umbilical vein, on the other hand, remains open for longer. Rapid umbilical artery closure prevents blood loss in the newborn as it detaches from its placenta, and is thought to occur naturally in all placental mammals. However, the mechanism is unclear.
Now, in eLife, Suneel Apte (Cleveland Clinic Lerner Research Institute), Jay Humphrey (Yale University) and colleagues – including Sumeda Nandadasa as first author – report new insights into how the anatomy and physiology of the umbilical vessels facilitate rapid umbilical closure (Nandadasa et al., 2020). The researchers – who are based at institutes in the US, UK and Sweden – used a multi-disciplinary approach to examine the morphological and molecular properties of umbilical blood vessels.
Nandadasa et al. first studied the morphology of the umbilical vessels in humans and mice, and then validated their findings across other placental mammals. In all species, the artery had a thicker middle layer (known as the tunica media) than the vein, and exhibited clear distinctions: the outer layer contained a higher number of smooth muscle cells; and the inner layer contained high levels of two proteins – aggrecan and versican – and low levels of ADAMTS1, an enzyme that cleaves these proteins. Moreover, the lumen of the artery was highly ruffled and partially occluded (Figure 1B). In the vein, the reverse was true: levels of ADAMTS1 were high, and levels of aggrecan and versican were low, and the lumen was much larger.
Aggregan and versican are both proteoglycans located outside of cells that help control the water content in the extracellular environment and provide compressive stiffness to tissues. Aggregan also plays a significant role in the biomechanics of cartilage, but its function in vascular biomechanics has been unclear. However, recent evidence suggests that too much aggregan may contribute to the progression of aneurysms, atherosclerosis and other vascular diseases (Koch et al., 2020). Based on the morphological and molecular properties of the umbilical artery, Nandadasa et al. postulated that prior to rapid umbilical artery closure, high local concentrations of proteoglycans cause the inner layer of the umbilical artery to swell, keeping it open during gestation. Then, at birth, the outer layers of smooth muscle cells contract, causing buckling of the underlying proteoglycan-rich layer and closure of the lumen.
Testing this hypothesis in the mouse model revealed that the smooth muscle cells in the outer wall of the artery were more contractile than those in the vein. Biomechanical tests confirmed that this was caused by the differentiation of the smooth muscle cells (to become more contractile) and by the high levels of proteoglycans, which decreased the distensibility of the arteries. A computational model was used to compare the relative contributions of the morphology of the tunica media, the contractions of smooth muscle cells, and the differential swelling of the umbilical artery, confirming that all three must be present for the artery to close.
Experiments on mice genetically engineered to be deficient in aggrecan and ADAMTS1 revealed that both proteins were needed for the growth of a normal umbilical cord. The results further confirmed that high levels of aggrecan were present when ADAMTS1 was absent, and vice versa. In both cases, the fetuses survived in the womb but died during birth. It could be possible that aggrecan and ADAMTS1 play a role in stillborn births, which are often linked to problems with the placenta and the umbilical cord (Stillbirth Collaborative Research Network Writing Group, 2011).
Mice that lacked ADAMTS1 also suffered from heart problems, furthering the evidence that many cardiovascular defects might be associated with abnormalities of the umbilical vasculature (Kwee et al., 1995; Yang et al., 1995; Oller et al., 2017). Rather than discarding the cord at birth, it may make sense to use it as a sentinel tissue for identifying potential cardiovascular risks later in life.
In summary, the work of Nandadasa et al. highlights the interactions between proteoglycans and smooth muscle cell differentiation, and the resulting biomechanics that facilitate rapid umbilical artery closure. It would be interesting to see if these principles also extend to the fetal shunts (e.g., Hung et al., 2018), or if they could be manipulated to treat diseases affected by blocked arteries. Moreover, they could be used to engineer vessels with a specific composition of proteoglycans to drive the desired differentiation of smooth muscle cells.
Defective development of the embryonic and extraembryonic circulatory systems in vascular cell adhesion molecule (VCAM-1) deficient mice

Development 121:489–503.
Article and author information
Author details
© 2020, Wagenseil and Downs
This article is distributed under the terms of the Creative Commons Attribution License, which permits unrestricted use and redistribution provided that the original author and source are credited.
591

Page views

38

Downloads

0

Citations
Article citation count generated by polling the highest count across the following sources: Crossref, PubMed Central, Scopus.
A two-part list of links to download the article, or parts of the article, in various formats.
Downloads
(link to download the article as PDF)
Open citations
(links to open the citations from this article in various online reference manager services)
Cite this article
(links to download the citations from this article in formats compatible with various reference manager tools)
Jessica E Wagenseil
Karen M Downs
Vascular Biology: Severing umbilical ties
eLife 9:e63128.
https://doi.org/10.7554/eLife.63128
Further reading
Computational and Systems Biology

Developmental Biology

The umbilical artery lumen closes rapidly at birth, preventing neonatal blood loss, whereas the umbilical vein remains patent longer. Here, analysis of umbilical cords from humans and other mammals identified differential arterial-venous proteoglycan dynamics as a determinant of these contrasting vascular responses. The umbilical artery, but not the vein, has an inner layer enriched in the hydrated proteoglycan aggrecan, external to which lie contraction-primed smooth muscle cells (SMC). At birth, SMC contraction drives inner layer buckling and centripetal displacement to occlude the arterial lumen, a mechanism revealed by biomechanical observations and confirmed by computational analyses. This vascular dimorphism arises from spatially regulated proteoglycan expression and breakdown. Mice lacking aggrecan or the metalloprotease ADAMTS1, which degrades proteoglycans, demonstrate their opposing roles in umbilical vascular dimorphism, including effects on SMC differentiation. Umbilical vessel dimorphism is conserved in mammals, suggesting that differential proteoglycan dynamics and inner layer buckling were positively selected during evolution.

Computational and Systems Biology

Predicting the dynamics and functions of microbiomes constructed from the bottom-up is a key challenge in exploiting them to our benefit. Current models based on ecological theory fail to capture complex community behaviors due to higher order interactions, do not scale well with increasing complexity and in considering multiple functions. We develop and apply a long short-term memory (LSTM) framework to advance our understanding of community assembly and health-relevant metabolite production using a synthetic human gut community. A mainstay of recurrent neural networks, the LSTM learns a high dimensional data-driven non-linear dynamical system model. We show that the LSTM model can outperform the widely used generalized Lotka-Volterra model based on ecological theory. We build methods to decipher microbe-microbe and microbe-metabolite interactions from an otherwise black-box model. These methods highlight that Actinobacteria, Firmicutes and Proteobacteria are significant drivers of metabolite production whereas Bacteroides shape community dynamics. We use the LSTM model to navigate a large multidimensional functional landscape to design communities with unique health-relevant metabolite profiles and temporal behaviors. In sum, the accuracy of the LSTM model can be exploited for experimental planning and to guide the design of synthetic microbiomes with target dynamic functions.

Biochemistry and Chemical Biology

Computational and Systems Biology

Deubiquitinating enzymes (DUBs), ~100 of which are found in human cells, are proteases that remove ubiquitin conjugates from proteins, thereby regulating protein turnover. They are involved in a wide range of cellular activities and are emerging therapeutic targets for cancer and other diseases. Drugs targeting USP1 and USP30 are in clinical development for cancer and kidney disease respectively. However, the majority of substrates and pathways regulated by DUBs remain unknown, impeding efforts to prioritize specific enzymes for research and drug development. To assemble a knowledgebase of DUB activities, co-dependent genes, and substrates, we combined targeted experiments using CRISPR libraries and inhibitors with systematic mining of functional genomic databases. Analysis of the Dependency Map, Connectivity Map, Cancer Cell Line Encyclopedia, and multiple protein-protein interaction databases yielded specific hypotheses about DUB function, a subset of which were confirmed in follow-on experiments. The data in this paper are browsable online in a newly developed DUB Portal and promise to improve understanding of DUBs as a family as well as the activities of incompletely characterized DUBs (e.g. USPL1 and USP32) and those already targeted with investigational cancer therapeutics (e.g. USP14, UCHL5, and USP7).