Alzheimer's Disease: Exploring the origins of nucleation
An approach called deep mutational scanning is improving our understanding of amyloid beta aggregation.
Alzheimer's disease is a progressive neurodegenerative disease that initially compromises memory and ultimately stops people from being able to perform everyday tasks. The exact causes of the disease are still unknown, but genetic, lifestyle and environmental factors could all play a role, with age being the strongest risk factor for developing the condition. The lack of treatment to halt or slow down the progression Alzheimer's disease makes it one of the greatest challenges of our times.
Alzheimer's disease begins decades before the appearance of clinical symptoms. It is thought that changes in the metabolism of a peptide called amyloid beta (Aβ) lead to its misfolding. Although the details are not fully understood, scientists propose that the accumulation of these misfolded molecules in the brain triggers a series of molecular events which, in turn, lead to neuroinflammation, the aggregation of tau proteins in neurons, and eventually, neuronal death (Selkoe and Hardy, 2016).
Preventing the build-up of Aβ has been explored as a potential therapeutic approach. However, designing strategies that specifically target the formation of neurotoxic Aβ, rather than the aggregation of Aβ in general, requires a detailed understanding (in terms of both mechanisms and kinetics) of how the protein misfolds and how this is connected to the disease (Yang et al., 2017; Brinkmalm et al., 2019). Now, in eLife, Benedetta Bolognesi (IBEC in Barcelona), Ben Lehner (the Center for Genomic Regulation, also in Barcelona) and colleagues – including Mireia Seuma as first author, Andre Faure and Marta Badia – report new insights into how mutations affect the initial nucleation of Aβ aggregates (Seuma et al., 2021).
The researchers used an approach called deep mutational scanning (Gray et al., 2019) to generate a library of 468 single and 14,015 double mutant Aβ variants to see how the mutations affect the ability of Aβ to form new aggregates. They focused on the first step of this process, known as nucleation, and then determined the relationship between amino acid sequence and the nucleation rate of Aβ42 (a form of Aβ that contains 42 amino acids) (Figure 1).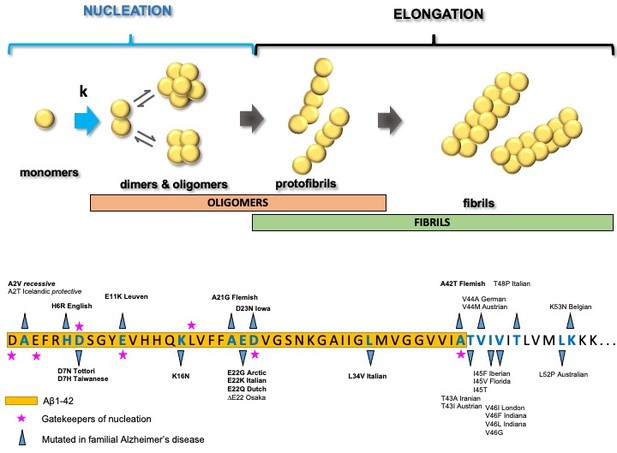 Seuma et al. found that mutations that reduce nucleation are clustered in the hydrophobic part of Aβ42 (the C-terminal), while those that increase this process are located in the N-terminal part, which is hydrophilic. This suggests that Aβ is organized in a modular manner, with the N- and C-terminal parts having different roles in nucleation and aggregation. Intriguingly, such a modularity is also reflected in the distribution of pathogenic mutations in the Aβ precursor called APP (Figure 1). These mutations have been linked to familial Alzheimer's disease, a rare genetic form presenting a much earlier onset (people usually develop symptoms in their thirties, forties and fifties).
Seuma et al. further identified five negatively charged residues in Aβ42, which acted as 'gatekeepers', preventing the peptides from sticking to each other (Rousseau et al., 2006). Mutations at these sites frequently resulted in increased nucleation. This raises several questions: could the gatekeepers of nucleation prevent neurodegeneration; and do mutations that promote nucleation prime the system for the onset of Alzheimer's disease?
To investigate this further, Seuma et al. studied the nucleation rates for 12 mutations in Aβ42, which have been linked to familial Alzheimer's disease. The mutations all resulted in increased nucleation rates, although the rates did not correlate with the severity of the disease (as reflected by the age at disease onset). These results suggest that Aβ nucleation plays a key role in the formation of neurotoxic aggregates, but other factors are also involved.
It is worth noting that the reservoir of Aβ in the brain contains a heterogeneous mixture of peptides of varying lengths, generated by the sequential cleavage of APP. Pathogenic mutations in both APP and the enzymes responsible for its cleavage favor the production of longer Aβ peptides (Szaruga et al., 2017). Importantly a large number of mutations linked to familial Alzheimer's disease do not change the amino acid sequence of Aβ42, but affect the composition of Aβ profiles by shifting them towards longer peptides (Szaruga et al., 2015). Whether these pathogenic changes in peptide length (and hydrophobicity) lead to an increase in nucleation, and how this is related to the clinical phenotypes of Alzheimer's disease, warrant further investigation.
Disentangling the complex pathogenesis of Alzheimer's disease will likely require the interrogation of various pathogenic variants under controlled conditions and the plotting of biochemical and cellular data against clinical severity of the condition. The study by Seuma et al. certainly shows that the nucleation assay is a valuable tool for such investigations.
Article and author information
Author details
© 2021, Zoltowska and Chávez-Gutiérrez
This article is distributed under the terms of the Creative Commons Attribution License, which permits unrestricted use and redistribution provided that the original author and source are credited.
1,083

Page views

106

Downloads

0

Citations
Article citation count generated by polling the highest count across the following sources: Crossref, PubMed Central, Scopus.
A two-part list of links to download the article, or parts of the article, in various formats.
Downloads
(link to download the article as PDF)
Open citations
(links to open the citations from this article in various online reference manager services)
Cite this article
(links to download the citations from this article in formats compatible with various reference manager tools)
Katarzyna Marta Zoltowska
Lucía Chávez-Gutiérrez
Alzheimer's Disease: Exploring the origins of nucleation
eLife 10:e67269.
https://doi.org/10.7554/eLife.67269
Further reading
Computational and Systems Biology

Genetics and Genomics

Plaques of the amyloid beta (Aß) peptide are a pathological hallmark of Alzheimer's disease (AD), the most common form of dementia. Mutations in Aß also cause familial forms of AD (fAD). Here, we use deep mutational scanning to quantify the effects of >14,000 mutations on the aggregation of Aß. The resulting genetic landscape reveals mechanistic insights into fibril nucleation, including the importance of charge and gatekeeper residues in the disordered region outside of the amyloid core in preventing nucleation. Strikingly, unlike computational predictors and previous measurements, the empirical nucleation scores accurately identify all known dominant fAD mutations in Aß, genetically validating that the mechanism of nucleation in a cell-based assay is likely to be very similar to the mechanism that causes the human disease. These results provide the first comprehensive atlas of how mutations alter the formation of any amyloid fibril and a resource for the interpretation of genetic variation in Aß.

Computational and Systems Biology

Neuroscience

Brain signal decoding promises significant advances in the development of clinical brain computer interfaces (BCI). In Parkinson's disease (PD), first bidirectional BCI implants for adaptive deep brain stimulation (DBS) are now available. Brain signal decoding can extend the clinical utility of adaptive DBS but the impact of neural source, computational methods and PD pathophysiology on decoding performance are unknown. This represents an unmet need for the development of future neurotechnology. To address this, we developed an invasive brain-signal decoding approach based on intraoperative sensorimotor electrocorticography (ECoG) and subthalamic LFP to predict grip-force, a representative movement decoding application, in 11 PD patients undergoing DBS. We demonstrate that ECoG is superior to subthalamic LFP for accurate grip-force decoding. Gradient boosted decision trees (XGBOOST) outperformed other model architectures. ECoG based decoding performance negatively correlated with motor impairment, which could be attributed to subthalamic beta bursts in the motor preparation and movement period. This highlights the impact of PD pathophysiology on the neural capacity to encode movement vigor. Finally, we developed a connectomic analysis that could predict grip-force decoding performance of individual ECoG channels across patients by using their connectomic fingerprints. Our study provides a neurophysiological and computational framework for invasive brain signal decoding to aid the development of an individualized precision-medicine approach to intelligent adaptive DBS.

Cancer Biology

Computational and Systems Biology

Aneuploidy, a state of chromosome imbalance, is a hallmark of human tumors, but its role in cancer still remains to be fully elucidated. To understand the consequences of whole-chromosome-level aneuploidies on the proteome, we integrated aneuploidy, transcriptomic, and proteomic data from hundreds of The Cancer Genome Atlas/Clinical Proteomic Tumor Analysis Consortium tumor samples. We found a surprisingly large number of expression changes happened on other, non-aneuploid chromosomes. Moreover, we identified an association between those changes and co-complex members of proteins from aneuploid chromosomes. This co-abundance association is tightly regulated for aggregation-prone aneuploid proteins and those involved in a smaller number of complexes. On the other hand, we observed that complexes of the cellular core machinery are under functional selection to maintain their stoichiometric balance in aneuploid tumors. Ultimately, we provide evidence that those compensatory and functional maintenance mechanisms are established through post-translational control, and that the degree of success of a tumor to deal with aneuploidy-induced stoichiometric imbalance impacts the activation of cellular protein degradation programs and patient survival.