Machine Learning: Lighting up protein design
Using a neural network to predict how green fluorescent proteins respond to genetic mutations illuminates properties that could help design new proteins.
Protein engineering is a growing area of research in which scientists use a variety of methods to design new proteins that can perform certain functions. For instance, enzymes that can biodegrade plastics, materials inspired by spider silk, or antibodies to neutralize viruses (Lu et al., 2022; Shan et al., 2022).
In the past, protein engineering has commonly relied on directed evolution, a laboratory procedure that mimics natural selection. This involves randomly mutating the genetic sequence of a naturally occurring protein to create multiple variants with slightly different amino acids. Various selection pressures are then applied to identify the 'fittest' variants that best carry out the desired role (Chen et al., 2018). Alternatively, researchers can use a rational design approach, in which new proteins are built using principles learned from the study of known protein structures (Anishchenko et al., 2021).
Now, in eLife, Fyodor A Kondrashov (from the Institute of Science and Technology Austria and the Okinawa Institute of Science and Technology Graduate University) and colleagues – including Louisa Gonzalez Somermeyer as first author – have combined elements of both approaches to engineer new variants of naturally occurring green fluorescent proteins (GFP; Gonzalez Somermeyer et al., 2022). First, the team (who are based at various institutes in Austria, Japan, the United States, the United Kingdom, Germany and Russia) generated tens of thousands of GFP variants that differed from each other by three to four mutations on average, and measured their fluorescence. This was used to create a 'fitness landscape' showing how the genetic sequence of each mutant relates to its performance (Figure 1). The data was then fed in to a neural network that can expand the landscape by predicting the performance of variants that were not observed experimentally.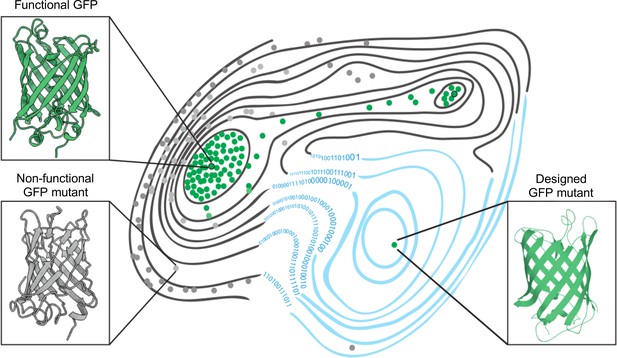 Using this machine learning approach, Gonzalez Somermeyer et al. were able to design fluorescent proteins that differed from their closest natural relative by as many as 48 mutations. This is remarkable because in most protein mutagenesis experiments it only takes a few mutations before the function of the protein deteriorates. Evolution, on the other hand, can generate functional variants that differ by hundreds of mutations through a process of trial and error, which is akin to walking along a narrow ridge of high fitness one mutational step at a time. The neural network, however, appears to have jumped straight to a distant peak of high fitness (Figure 1). So, how did the network know where to take a leap?
To answer this, Gonzalez Somermeyer et al. experimented with three GFP proteins that originated from evolutionarily distant species. They found that machine learning was better at generating functional variants of cgreGFP than its two homologues, amacGFP and ppluGFP2 (a fourth homologue, avGFP, was also studied, but not in the machine learning experiment). This allowed the team to look for properties within each protein's genetic sequence and fitness landscape which correlated with its machine learning performance.
Analysis of the fitness landscape revealed that the homologues differed in the number of mutations they could tolerate: it took on average three to four mutations until the fluorescence of cgreGFP and avGFP deteriorated, but seven to eight mutations were needed to compromise the function of amacGFP and ppluGFP2. The proteins also differed in their general sturdiness: ppluGFP2 was stable when exposed to high temperatures, whereas the structure of cgreGFP was more sensitive to changes in temperature.
Finally, Gonzalez Somermeyer et al. found that the increased mutational sensitivity of avGFP and cgreGFP (and to a lesser degree ppluGFP2) was due to negative epistasis – that is, when an individual mutation is well tolerated, but has a negative effect on the protein's function when combined with other mutations (Bershtein et al., 2006; Domingo et al., 2019). The reduced fluorescence of amacGFP, however, could be ascribed almost entirely to additive effects, with each mutation incrementally making the protein less functional.
In order to generate functional variants, the network needs an opportunity to learn which properties of the fitness landscape are relevant from the data provided. The findings of Gonzalez Somermeyer et al. suggest that to predict a protein's function, the algorithm only requires data on the effects of single-site mutations and low-order epistasis (interactions between small sets of mutations). This is good news for the protein engineering field as it suggests that prior knowledge of high-order interactions between large sets of mutations is not needed for protein design. Furthermore, it explains why the neural network is better at generating new variants of cgreGFP, which has a sharp fitness peak and high prevalence of epistasis.
In sum, these experiments provide a successful case study in protein engineering. An interesting extension would be to analyse the three-dimensional structures of the variants using AlphaFold, an algorithm which can predict a protein's structure based on its amino acid sequence (Jumper et al., 2021). This would reveal if data from AlphaFold improves the prediction of functional variants, and help to identify structural features that rendered some of the variants non-fluorescent despite them being predicted to work. In the near future, assessing a new variant's structure before it is synthesized could become a standard validation step in the design of new proteins. Furthermore, studying the fitness landscapes of multiple related variants, as done by Gonzalez Somermeyer et al., could reveal how a protein's genetic sequence and structure changed over the course of evolution (Hochberg and Thornton, 2017; Mascotti, 2022). A better understanding of the evolution of proteins will help scientists to engineer synthetic molecules that carry out specific roles.
Article and author information
Author details
© 2022, Kudla and Plech
This article is distributed under the terms of the Creative Commons Attribution License, which permits unrestricted use and redistribution provided that the original author and source are credited.
1,970

Page views

267

Downloads

1

Citations
Article citation count generated by polling the highest count across the following sources: Crossref, PubMed Central, Scopus.
A two-part list of links to download the article, or parts of the article, in various formats.
Downloads
(link to download the article as PDF)
Open citations
(links to open the citations from this article in various online reference manager services)
Cite this article
(links to download the citations from this article in formats compatible with various reference manager tools)
Grzegorz Kudla
Marcin Plech
Machine Learning: Lighting up protein design
eLife 11:e79310.
https://doi.org/10.7554/eLife.79310
Further reading
Computational and Systems Biology
Evolutionary Biology

Studies of protein fitness landscapes reveal biophysical constraints guiding protein evolution and empower prediction of functional proteins. However, generalisation of these findings is limited due to scarceness of systematic data on fitness landscapes of proteins with a defined evolutionary relationship. We characterized the fitness peaks of four orthologous fluorescent proteins with a broad range of sequence divergence. While two of the four studied fitness peaks were sharp, the other two were considerably flatter, being almost entirely free of epistatic interactions. Mutationally robust proteins, characterized by a flat fitness peak, were not optimal templates for machine-learning-driven protein design – instead, predictions were more accurate for fragile proteins with epistatic landscapes. Our work paves insights for practical application of fitness landscape heterogeneity in protein engineering.

Computational and Systems Biology

Cycling of co-substrates, whereby a metabolite is converted among alternate forms via different reactions, is ubiquitous in metabolism. Several cycled co-substrates are well known as energy and electron carriers (e.g. ATP and NAD(P)H), but there are also other metabolites that act as cycled co-substrates in different parts of central metabolism. Here, we develop a mathematical framework to analyse the effect of co-substrate cycling on metabolic flux. In the cases of a single reaction and linear pathways, we find that co-substrate cycling imposes an additional flux limit on a reaction, distinct to the limit imposed by the kinetics of the primary enzyme catalysing that reaction. Using analytical methods, we show that this additional limit is a function of the total pool size and turnover rate of the cycled co-substrate. Expanding from this insight and using simulations, we show that regulation of these two parameters can allow regulation of flux dynamics in branched and coupled pathways. To support these theoretical insights, we analysed existing flux measurements and enzyme levels from the central carbon metabolism and identified several reactions that could be limited by the dynamics of co-substrate cycling. We discuss how the limitations imposed by co-substrate cycling provide experimentally testable hypotheses on specific metabolic phenotypes. We conclude that measuring and controlling co-substrate dynamics is crucial for understanding and engineering metabolic fluxes in cells.

Computational and Systems Biology
Neuroscience

Seizure generation, propagation, and termination occur through spatiotemporal brain networks. In this paper, we demonstrate the significance of large-scale brain interactions in high-frequency (80-200 Hz) for identification of the epileptogenic zone (EZ) and seizure evolution. To incorporate the continuity of neural dynamics, here we have modeled brain connectivity constructed from stereoelectroencephalography (SEEG) data during seizures using multilayer networks. After introducing a new measure of brain connectivity for temporal networks, named multilayer eigenvector centrality (mlEVC), we applied a consensus hierarchical clustering on the developed model to identify the epileptogenic zone (EZ) as a cluster of nodes with distinctive brain connectivity in the ictal period. Our algorithm could successfully predict electrodes inside the resected volume as EZ for 88% of participants, who all were seizure-free for at least 12 months after surgery. Our findings illustrated significant and unique desynchronization between EZ and the rest of the brain in early to mid-seizure. We showed that aging and duration of epilepsy intensify this desynchronization, which can be the outcome of abnormal neuroplasticity. Additionally, we illustrated that seizures evolve with various network topologies, confirming the existence of different epileptogenic networks in each patient. Our findings suggest not only the importance of early intervention in epilepsy but the possible factor which correlates with disease severity. Moreover, by analyzing the propagation patterns of different seizures, we asserted the necessity of collecting sufficient data for identifying the epileptogenic networks.