Developmental Language Disorder: What happens in the brain?
A new imaging method reveals previously undetected structural differences that may contribute to developmental language disorder.
Approximately 10% of children have problems understanding or using spoken language. Given the critical role that language has in engaging with society and learning at school, these problems have profound consequences for the individuals affected. Language difficulties can be associated with hearing loss, a general learning disability, or social disadvantages. However, children can still develop a language disorder in the absence of these factors, suggesting that differences in brain structure or function may play a role.
A variety of changes to the brain may cause a developmental language disorder (DLD). For example, it has been suggested that individuals with DLD have a general problem with processing complex sounds that change rapidly over time, including speech (Tallal et al., 1996). In this instance, we might expect a cause of DLD to reside in the auditory part of the brain. DLD may also specifically impact how speech sounds are processed or the brain's ability to remember these sounds over a short period of time. If this is the case, the language centres on the left side of the brain or the communications between them would be expected to be abnormal. The severe grammatical difficulties experienced by children with DLD suggests that the language centre Broca's area, which is involved in forming complex sentences, is likely to play a role in the disorder.
Deep structures in the centre of the brain known as the basal ganglia have also been implicated in DLD. The basal ganglia help us to acquire the motor skills needed to perform certain tasks, such as riding a bike or typing on a computer. This type of procedural learning is also required to learn sequences of heard or spoken speech sounds. Defects in this basal ganglia system have been the basis for theories that seek to explain the cause of DLD (Krishnan et al., 2016; Ullman et al., 2020).
Previous studies have used magnetic resonance imaging (MRI) to study the brain anatomy of children with DLD. While standard MRI scanning in hospitals can pick up the abnormal folding of the cerebral cortex seen in some cases of DLD (Guerreiro et al., 2002), it has not detected structural abnormalities predicted to occur in the language centres and basal ganglia of children with DLD. Now, in eLife, Saloni Krishnan from the University of Oxford and Royal Holloway, University of London and colleagues report how they used a new MRI technique to define neural differences in DLD (Krishnan et al., 2022).
A previous study based on structural scans of the brain revealed that children with DLD had less white matter (which transfers information between neural areas) on the left side of the brain between the motor and language areas (Jäncke et al., 2007). Later studies used an approach called diffusion tension imaging (DTI) to examine nerve fibre tracts in the left side of the brain. This revealed abnormal connections between the areas of the brain responsible for language (Lee et al., 2020a), as well as connections between these areas and the basal ganglia (Lee et al., 2020b).
Krishnan and colleagues (who are based in the United Kingdom, United States and Canada) measured a signal called the magnetization transfer saturation (MTsat), which quantifies the amount of myelin covering nerves. Myelin is an insulating material that increases the speed at which electrical impulses travel down nerve fibres. Rather than examining the amount of myelin in the long fibre tracts in white matter between brain areas, MTsat examines local concentrations of myelin in grey matter areas that process speech information. In effect, it examines a feature of local brain circuits rather than the long-range connections between them.
Krishnan et al. applied this approach to brain images from 89 children, 33 of whom had DLD. This revealed that children with DLD had local decreases in myelin in the left striatum within the basal ganglia and Broca's area (Figure 1). These structural differences provide further evidence that the basal ganglia and language centre have a key role in DLD.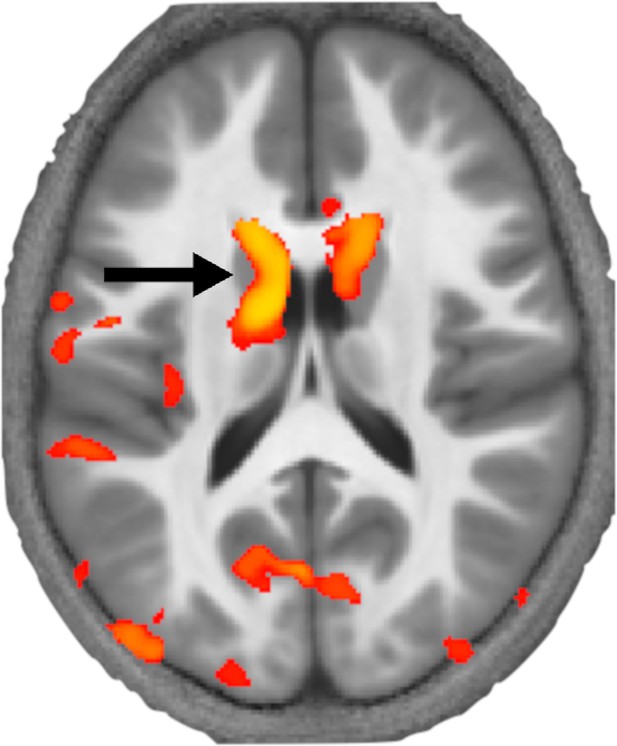 Further work is needed to see whether the anatomical differences discovered by Krishnan et al. and others cause DLD: in an association study like this, it is equally possible that DLD is responsible for the observed brain changes. In addition, it remains to be seen whether the molecules responsible for the reduced levels of myelin found in the basal ganglia and Broca's area are coded by genes that have already been implicated in DLD (Plug et al., 2021).
In the future, brain imaging could be used to inform the diagnosis and characterisation of DLD. However, we are a long way off from this being a routine procedure for individuals, as there was overlap between the brain myelin measurements in children with and without DLD. Nevertheless, the work by Krishnan et al. sheds new light on possible explanations for DLD that may help clinicians diagnose the condition earlier and identify new treatment strategies.
Article and author information
Author details
© 2022, Smith and Griffiths
This article is distributed under the terms of the Creative Commons Attribution License, which permits unrestricted use and redistribution provided that the original author and source are credited.
2,249

Page views

190

Downloads

0

Citations
Article citation count generated by polling the highest count across the following sources: Crossref, PubMed Central, Scopus.
A two-part list of links to download the article, or parts of the article, in various formats.
Downloads
(link to download the article as PDF)
Open citations
(links to open the citations from this article in various online reference manager services)
Cite this article
(links to download the citations from this article in formats compatible with various reference manager tools)
Faye Smith
Timothy D Griffiths
Developmental Language Disorder: What happens in the brain?
eLife 11:e82258.
https://doi.org/10.7554/eLife.82258
Further reading
Developmental language disorder (DLD) is a common neurodevelopmental disorder characterised by receptive or expressive language difficulties or both. While theoretical frameworks and empirical studies support the idea that there may be neural correlates of DLD in frontostriatal loops, findings are inconsistent across studies. Here, we use a novel semiquantitative imaging protocol – multi-parameter mapping (MPM) – to investigate microstructural neural differences in children with DLD. The MPM protocol allows us to reproducibly map specific indices of tissue microstructure. In 56 typically developing children and 33 children with DLD, we derived maps of (1) longitudinal relaxation rate R1 (1/T1), (2) transverse relaxation rate R2* (1/T2*), and (3) Magnetization Transfer saturation (MTsat). R1 and MTsat predominantly index myelin, while R2* is sensitive to iron content. Children with DLD showed reductions in MTsat values in the caudate nucleus bilaterally, as well as in the left ventral sensorimotor cortex and Heschl's gyrus. They also had globally lower R1 values. No group differences were noted in R2* maps. Differences in MTsat and R1 were coincident in the caudate nucleus bilaterally. These findings support our hypothesis of corticostriatal abnormalities in DLD and indicate abnormal levels of myelin in the dorsal striatum in children with DLD.

Reduced levels of myelin in specific areas of the brain may impair language development in children


Medial frontal cortical areas are thought to play a critical role in the brain's ability to flexibly deploy strategies that are effective in complex settings, yet the underlying circuit computations remain unclear. Here, by examining neural ensemble activity in male rats that sample different strategies in a self-guided search for latent task structure, we observe robust tracking during strategy execution of a summary statistic for that strategy in recent behavioral history by the anterior cingulate cortex (ACC), especially by an area homologous to primate area 32D. Using the simplest summary statistic – strategy prevalence in the last 20 choices – we find that its encoding in the ACC during strategy execution is wide-scale, independent of reward delivery, and persists through a substantial ensemble reorganization that accompanies changes in global context. We further demonstrate that the tracking of reward by the ACC ensemble is also strategy-specific, but that reward prevalence is insufficient to explain the observed activity modulation during strategy execution. Our findings argue that ACC ensemble dynamics is structured by a summary statistic of recent behavioral choices, raising the possibility that ACC plays a role in estimating – through statistical learning – which actions promote the occurrence of events in the environment.