Parkinson's Disease: Linking mitochondria to the immune response
A gene associated with Parkinson's disease regulates mitochondrial homeostasis, thus affecting innate immunity.
Parkinson's disease is a motor disorder caused by the loss of a specific sub-set of neurons located in the midbrain and the accumulation of a protein called α-synuclein. The underlying mechanisms that lead to the death of the midbrain neurons are still not well understood. However, many individuals with Parkinson's disease have increased levels of inflammation in the brain and in peripheral organs, such as the gut. This inflammation is now viewed as a potential contributor to Parkinson's disease, and not just a result of it.
Mutations in the gene coding for the kinase LRRK2 are the most common genetic cause of inherited Parkinson's disease (Singleton et al., 2013). Single nucleotide polymorphisms in this gene are also associated with increased susceptibility to inflammatory diseases such as leprosy – which, like tuberculosis, is caused by a mycobacterium – and irritable bowel disease (Fava et al., 2016; Witoelar et al., 2017; Villumsen et al., 2019). Mounting evidence suggests that mutations in LRRK2 contribute to immune alterations in both peripheral organs and the brain (Wallings and Tansey, 2019), but the mechanisms through which LRRK2 regulates these immune responses are poorly understood.
Aside from its link to inflammation, LRRK2 has also been implicated in the activity of mitochondria, which are key subcellular organelles linked to Parkinson's disease (Singh et al., 2019; Park et al., 2018). For example, neural stem cells derived from the skin of individuals carrying a mutation associated with Parkinson's disease in the gene for LRRK2 exhibit increased mitochondrial DNA damage as well as increased oxidative damage (Howlett et al., 2017; Sanders et al., 2014). Despite this, the contribution of LRRK2 to mitochondrial health in cells of the peripheral immune system has been understudied. Now, in eLife, Robert Watson and colleagues from Texas A&M University – including Chi Weindel and Samantha Bell as joint first authors – report that LRRK2's ability to influence inflammatory responses in peripheral immune cells is directly linked to its role in maintaining mitochondrial homeostasis (Weindel et al., 2020).
To investigate the role of LRRK2 in peripheral immune responses, Weindel et al. isolated macrophages from the bone marrow of mice lacking the gene that codes for the mouse homolog of LRRK2 (Lrrk2 knockout macrophages). Compared to macrophages with a single copy of this gene (Lrrk2 HETs), the knockout macrophages upregulated genes normally stimulated by interferons (signaling proteins that recruit immune cells to trigger an immune response). Weindel et al. also found that these macrophages were unable to upregulate interferon response genes when they were infected with mycobacteria, likely because these genes were already chronically activated.
Moreover, when mice lacking Lrrk2 were infected with Mycobacterium tuberculosis, which causes tuberculosis, their lungs exhibited exacerbated local inflammation caused by the infection. However, no differences in the outcome of the infection were observed in these mice relative to the Lrrk2 HETs. This contradicts previous reports suggesting that mice lacking Lrrk2 can stop M. tuberculosis replication more effectively than wild-type mice, correlating with increased inflammation in the lungs (Härtlova et al., 2018). One possible reason for this inconsistency is that Weindel et al. used Lrrk2 heterozygous controls as opposed to wild-type controls. Furthermore, different M. tuberculosis strains were used in the two studies, and there were also differences in the number of bacteria that mice were exposed to during infection.
Since LRRK2 is also involved in mitochondrial activity, Weindel et al. next looked at the mitochondria in Lrrk2 knockout macrophages. Mitochondria are dynamic organelles that can divide (fragment) or fuse depending on the state of the cell. When a cell is stressed, mitochondria fuse together to exchange damaged DNA and keep aerobic respiration going. Weindel et al. observed that in macrophages lacking Lrrk2, mitochondria did not fuse, making the macrophages more susceptible to stress, and leading to mitochondrial DNA leaking into the cytosol. This was due, in part, to increased activation of DRP1, a protein that helps mitochondria fragment. Inhibiting DRP1 successfully rescued these abnormal mitochondria in Lrrk2 knockout macrophages. Weindel et al. also reported reduced antioxidant levels, a concomitant accumulation of reactive oxygen species, and increased mitochondrial stress in macrophages lacking Lrrk2. Treating these macrophages with antioxidants alleviated mitochondrial stress (Figure 1).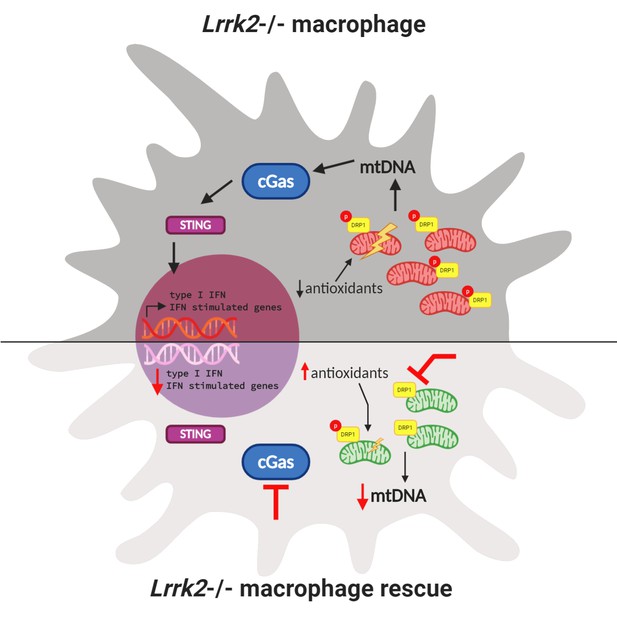 The increased mitochondrial DNA in the cytosol of Lrrk2 knockout macrophages led Weindel et al. to hypothesize that the inability to regulate mitochondrial homeostasis could be contributing to chronic activation of interferon response genes. The cGAS–STING pathway is a part of the innate immune system that triggers the expression of inflammatory genes when DNA is detected in the cytosol. Weindel et al. showed that loss of the cGas gene decreased basal levels of type I interferon in Lrrk2 knockout macrophages and corrected the response to immune stimuli (Figure 1).
These findings link the role of LRRK2 in innate immune dysregulation with its critical function in maintaining mitochondrial homeostasis for the first time and have wider implications for the field of Parkinson's disease. Future research will likely investigate how mutations in the gene for LRRK2 affect the relationship between mitochondria and inflammation in immune cells. The most common of these mutations causes a toxic increase in kinase activity, so kinase inhibitors have been considered for their potential therapeutic effects in Parkinson's disease. However, given that loss of LRRK2 may lead to higher risks of infection and inflammation in peripheral blood cells, therapeutic windows will have to be carefully monitored to avoid unwanted effects on the immune system.
Article and author information
Author details
© 2020, Wallings et al.
This article is distributed under the terms of the Creative Commons Attribution License, which permits unrestricted use and redistribution provided that the original author and source are credited.
2,403

Page views

321

Downloads

5

Citations
Article citation count generated by polling the highest count across the following sources: Crossref, PubMed Central, Scopus.
A two-part list of links to download the article, or parts of the article, in various formats.
Downloads
(link to download the article as PDF)
Open citations
(links to open the citations from this article in various online reference manager services)
Cite this article
(links to download the citations from this article in formats compatible with various reference manager tools)
Rebecca L Wallings
Mary K Herrick
Malú Gámez Tansey
Parkinson's Disease: Linking mitochondria to the immune response
eLife 9:e56214.
https://doi.org/10.7554/eLife.56214
Further reading
Immunology and Inflammation
Microbiology and Infectious Disease

The Parkinson's disease (PD)-associated gene leucine-rich repeat kinase 2 (LRRK2) has been studied extensively in the brain. However, several studies have established that mutations in LRRK2 confer susceptibility to mycobacterial infection, suggesting LRRK2 also controls immunity. We demonstrate that loss of LRRK2 in macrophages induces elevated basal levels of type I interferon (IFN) and interferon stimulated genes (ISGs) and causes blunted interferon responses to mycobacterial pathogens and cytosolic nucleic acid agonists. Altered innate immune gene expression in Lrrk2 knockout (KO) macrophages is driven by a combination of mitochondrial stresses, including oxidative stress from low levels of purine metabolites and DRP1-dependent mitochondrial fragmentation. Together, these defects promote mtDNA leakage into the cytosol and chronic cGAS engagement. While Lrrk2 KO mice can control Mycobacterium tuberculosis (Mtb) replication, they have exacerbated inflammation and lower ISG expression in the lungs. These results demonstrate previously unappreciated consequences of LRRK2-dependent mitochondrial defects in controlling innate immune outcomes.

Cell Biology
Immunology and Inflammation

The interplay among different cells in a tissue is essential for maintaining homeostasis. Although disease states have been traditionally attributed to individual cell types, increasing evidence and new therapeutic options have demonstrated the primary role of multicellular functions to understand health and disease, opening new avenues to understand pathogenesis and develop new treatment strategies. We recently described the cellular composition and dynamics of the human oral mucosa; however, the spatial arrangement of cells is needed to better understand a morphologically complex tissue. Here, we link single-cell RNA sequencing, spatial transcriptomics, and high-resolution multiplex fluorescence in situ hybridisation to characterise human oral mucosa in health and oral chronic inflammatory disease. We deconvolved expression for resolution enhancement of spatial transcriptomic data and defined highly specialised epithelial and stromal compartments describing location-specific immune programs. Furthermore, we spatially mapped a rare pathogenic fibroblast population localised in a highly immunogenic region, responsible for lymphocyte recruitment through CXCL8 and CXCL10 and with a possible role in pathological angiogenesis through ALOX5AP. Collectively, our study provides a comprehensive reference for the study of oral chronic disease pathogenesis.

Immunology and Inflammation

Newborns are unable to reach the adult-level humoral immune response partly due to the potent immunoregulatory role of IL-10. Increased IL-10 production by neonatal B cells has been attributed to the larger population of IL-10-producting CD43+ B-1 cells in neonates. Here, we show that neonatal mouse CD43- non-B-1 cells also produce substantial amounts of IL-10 following B cell antigen receptor (BCR) activation. In neonatal mouse CD43- non-B-1 cells, BCR engagement activated STAT5 under the control of phosphorylated forms of signaling molecules Syk, Btk, PKC, FAK and Rac1. Neonatal STAT5 activation led to IL-6 production, which in turn was responsible for IL-10 production in an autocrine/paracrine fashion through the activation of STAT3. In addition to the increased IL-6 production in response to BCR stimulation, elevated expression of IL-6Rα expression in neonatal B cells rendered them highly susceptible to IL-6 mediated STAT3 phosphorylation and IL-10 production. Finally, IL-10 secreted from neonatal mouse CD43- non-B-1 cells was sufficient to inhibit TNF-α secretion by macrophages. Our results unveil a distinct mechanism of IL-6-dependent IL-10 production in BCR-stimulated neonatal CD19+CD43- B cells.