Extracellular Matrix: Sculpting new structures
The origins of the posterior lobe, a recently evolved structure in some species of Drosophila, have become clearer.
A key question in modern evolutionary developmental biology (evo-devo) is how new forms and structures evolve during organism development, especially those not derived from pre-existing ones. New structures can arise through various mechanisms, including gene co-option (using a pre-existing gene for a new purpose), or the acquisition of new genes (Carroll, 2008). However, to date evo-devo studies have tended to focus on the genetic regulation of these processes, and have paid relatively less attention to the cellular and extracellular processes that physically shape these new forms and structures during development.
The posterior lobe of some species of Drosophila fruit flies – a wedge-shaped outgrowth of the male genitalia that has a role in mating – is an example of a new structure that has evolved recently (Figure 1; Frazee and Masly, 2015). The lobe originates from a tissue called the lateral plate and is next to the claspers (a structure that helps males attach to females during mating). The lobe, which comes in various shapes and sizes, is only found in some species of the melanogaster subgroup of flies, including D. melanogaster and D. sechellia (Yassin and Orgogozo, 2013). The evolution of the lobe was made possible by co-opting the gene network that controls the development of a respiratory opening called the larval spiracle into genital development (Glassford et al., 2015). However, several questions remain unanswered: how does the posterior lobe take shape during development? And how does the development of genitalia in species with a lobe differ from that in species that do not have a lobe? Now, in eLife, Sarah Jacquelyn Smith, Lance Davidson and Mark Rebeiz from the University of Pittsburgh report the results of experiments on four different species of flies – two with lobes and two without – that shed light on these questions (Smith et al., 2020).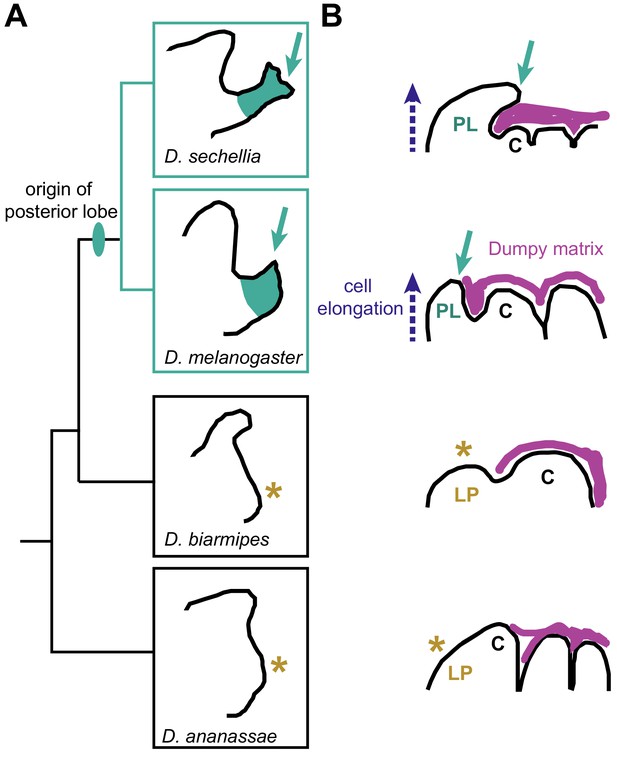 Smith et al. started by asking which cellular processes underlie the formation of the posterior lobe (Heisenberg and Bellaïche, 2013). The processes they looked at included cell proliferation, polarized cell intercalation (in which cells from several layers of a tissue 'morph' into a single layer to make the tissue longer and thinner), and apical cell constriction (which involves a cell becoming thinner at one end to give it a wedge-like shape). Surprisingly, none of these processes appear to be major drivers of lobe formation. Instead, the posterior lobe in D. melanogaster extends from the lateral plate through a dramatic increase in cell height. Since the extracellular matrix has been known to shape organs and body parts (Brown, 2011; Tajiri, 2017), Smith et al. decided to explore if it could also drive extension in the posterior lobe.
The extracellular matrix is a mesh-like web that consists of glycoproteins, proteoglycans, and other proteins. A gigantic extracellular matrix protein called Dumpy determines the shape of tissues in D. melanogaster by anchoring them to the cuticle of the larva or pupa (Etournay et al., 2015; Ray et al., 2015; Wilkin et al., 2000). Smith et al. found that, in lobed species, extracellular matrix containing Dumpy covers the majority of the apical side of male genitalia including the posterior lobe as it forms (Figure 1B). In non-lobed species, however, this extracellular matrix does not cover the lateral plate. These results are consistent with the finding that lobed species express a broader pattern of Dumpy mRNA in the lateral plate and future posterior lobe. Furthermore, when Smith et al. used RNA interference to disrupt the deposition of Dumpy in the future lobe, the height of the lobe decreased in a dose-dependent manner. Thus, the amount of Dumpy in the extracellular matrix determines the shape and height of the lobe. Moreover, the extracellular matrix that associates with the lobe does not appear to directly interact with the cuticle, suggesting a new role for Dumpy during lobe formation that is independent from anchoring to the cuticle.
Several questions remain about the development and evolution of the posterior lobe. First, if Dumpy is not anchoring the lobe to the cuticle, how does the extracellular matrix containing Dumpy promote the formation of the posterior lobe? Smith et al. provide three likely scenarios: (i) Dumpy provides a structural support that helps the lobe cells elongate; (ii) the extracellular matrix mechanically pulls the lobe cells; or (iii) the extracellular matrix alters cell signaling activity during lobe development. Secondly, it is unknown whether Dumpy deposition determines the widely different posterior lobe shapes found in closely related species of the melanogaster group (Figure 1A). It is also unknown whether the apical extracellular matrix, via Dumpy or other matrix proteins, helps form the rudimentary lobe-like structures found in sister species such as D. yakuba and others (Glassford et al., 2015; Yassin and Orgogozo, 2013).
The finding that changes in the extracellular matrix can influence the evolution of the shape of tissues and organs has wide implications in evolutionary biology. Since this role for the extracellular matrix is one of the last steps in organ formation, 'tweaking' this step likely has an immediate effect on organ and tissue shapes without affecting the viability of organisms. Therefore, this step may be a hotspot for the evolution of cell and tissue shapes, including the evolution of new structures. The results of Smith et al. suggest new ways in which the extracellular matrix and other extracellular factors may have evolved to sculpt various new structures during development.
Article and author information
Author details
© 2020, McDonald and Tomoyasu
This article is distributed under the terms of the Creative Commons Attribution License, which permits unrestricted use and redistribution provided that the original author and source are credited.
773

Page views

65

Downloads

0

Citations
Article citation count generated by polling the highest count across the following sources: Crossref, PubMed Central, Scopus.
A two-part list of links to download the article, or parts of the article, in various formats.
Downloads
(link to download the article as PDF)
Open citations
(links to open the citations from this article in various online reference manager services)
Cite this article
(links to download the citations from this article in formats compatible with various reference manager tools)
Jocelyn A McDonald
Yoshinori Tomoyasu
Extracellular Matrix: Sculpting new structures
eLife 9:e57668.
https://doi.org/10.7554/eLife.57668
Further reading
Developmental Biology
Evolutionary Biology

One of the fundamental gaps in our knowledge of how novel anatomical structures evolve is understanding the origins of the morphogenetic processes that form these features. Here, we traced the cellular development of a recently evolved morphological novelty, the posterior lobe of D. melanogaster. We found that this genital outgrowth forms through extreme increases in epithelial cell height. By examining the apical extracellular matrix (aECM), we also uncovered a vast matrix associated with the developing genitalia of lobed and non-lobed species. Expression of the aECM protein Dumpy is spatially expanded in lobe-forming species, connecting the posterior lobe to the ancestrally derived aECM network. Further analysis demonstrated that Dumpy attachments are necessary for cell height increases during posterior lobe development. We propose that the aECM presents a rich reservoir for generating morphological novelty and highlights a yet unseen role for aECM in regulating extreme cell height.

Cell Biology
Developmental Biology

Environmental cues, such as physical forces and heterotypic cell interactions play a critical role in cell function, yet their collective contributions to transcriptional changes are unclear. Focusing on human endothelial cells, we performed broad individual sample analysis to identify transcriptional drifts associated with environmental changes that were independent of genetic background. Global gene expression profiling by RNAseq and protein expression by LC-MS directed proteomics distinguished endothelial cells in vivo from genetically matched culture (in vitro) samples. Over 43% of the transcriptome was significantly changed by the in vitro environment. Subjecting cultured cells to long-term shear stress significantly rescued the expression of approximately 17% of genes. Inclusion of heterotypic interactions by co-culture of endothelial cells with smooth muscle cells normalized approximately 9% of the original in vivo signature. We also identified novel flow dependent genes, as well as genes that necessitate heterotypic cell interactions to mimic the in vivo transcriptome. Our findings highlight specific genes and pathways that rely on contextual information for adequate expression from those that are agnostic of such environmental cues.

Histone acetylation is a pivotal epigenetic modification that controls chromatin structure and regulates gene expression. It plays an essential role in modulating zygotic transcription and cell lineage specification of developing embryos. While the outcomes of many inductive signals have been described to require enzymatic activities of histone acetyltransferases and deacetylases (HDACs), the mechanisms by which HDACs confine the utilization of the zygotic genome remain to be elucidated. Here, we show that histone deacetylase 1 (Hdac1) progressively binds to the zygotic genome from mid blastula and onward. The recruitment of Hdac1 to the genome at blastula is instructed maternally. Cis-regulatory modules (CRMs) bound by Hdac1 possess epigenetic signatures underlying distinct functions. We highlight a dual function model of Hdac1 where Hdac1 not only represses gene expression by sustaining a histone hypoacetylation state on inactive chromatin, but also maintains gene expression through participating in dynamic histone acetylation-deacetylation cycles on active chromatin. As a result, Hdac1 maintains differential histone acetylation states of bound CRMs between different germ layers and reinforces the transcriptional program underlying cell lineage identities, both in time and space. Taken together, our study reveals a comprehensive role for Hdac1 during early vertebrate embryogenesis.