Cell Cycle: Deciding when to exit
A new imaging approach can distinguish between cells destined to stop proliferating and those committed to re-entering the cell cycle in live animals.
The development and survival of a multicellular organism relies on cells proliferating by passing through a series of events known as the cell cycle. During the first stage of the cycle (G1), each cell makes an important decision: does it progress to the second stage (S-phase) and replicate its genome in preparation for cell division, or does it exit the cycle and become quiescent (Pardee, 1974; Johnson and Skotheim, 2013)?
Cells usually exit the cell cycle in order to differentiate into the distinct cell types of an organism, such as neurons, muscle or fat (Sun and Buttitta, 2017). If the decision to stop proliferating is somehow disrupted, this can affect the normal development or function of tissues and organs and lead to diseases, such as cancer. However, understanding the signals that control this decision can be challenging because a G1 cell preparing to enter S-phase is essentially indistinguishable from a G1 cell that will become quiescent.
One way to overcome this challenge is to visually monitor proteins that are only active in certain phases of the cell cycle (Sakaue-Sawano et al., 2008; Zielke et al., 2014; Grant et al., 2018). For example, a group of proteins called cyclin-dependent kinases (or CDKs for short), which drive cells into S-phase, are active in G1 but are permanently turned off when cells enter a state of quiescence.
In 2013, a group of researchers used this property of CDKs to distinguish cultured mammalian cells in G1 that were preparing to proliferate from those entering quiescence (Spencer et al., 2013). To do this they engineered a fluorescent reporter protein which sits in the nucleus when CDKs are inactive and moves into the cytoplasm when modified by active CDKs (Figure 1A). The nucleus and cytoplasm are easily distinguishable via time-lapse microscopy, making it possible to determine when CDKs are active in individual cells during G1.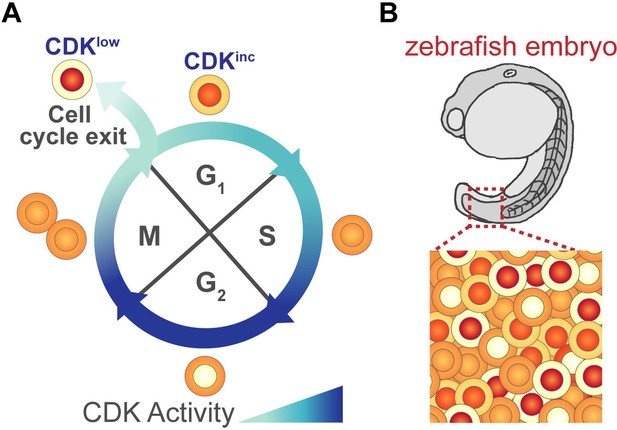 Now, in eLife, David Matus from Stony Brook University and co-workers – including Rebecca Adikes, Abraham Kohrman, and Michael Martinez as joint first authors – report how they used this technique to visualize when individual cells decide to stop dividing in living animals (Adikes et al., 2020). To adapt the CDK reporter to animals, the team (who are based at Stony Brook, the University of Colorado, Stanford University, Imperial College and University of Virginia) turned to two well studied experimental organisms: the nematode worm C. elegans and the zebrafish D. rerio.
Previous work using the CDK reporter in cultured mammalian cells showed that not all G1 cells behave the same after cell division: some never activate CDKs and enter quiescence (CDKlow cells), while others begin increasing CDK activity during G1 (CDKinc cells) and ultimately commit to another cell cycle (Figure 1A; Spencer et al., 2013). Adikes et al. found that this bifurcation in G1 cells could also be detected in the tissues of living C. elegans and D. rerio (Figure 1B). They found that the CDKlow and CDKinc phenotypes of G1 cells could be used to predict whether a cell would enter quiescence or would re-commit to another cycle. Further experiments revealed that if a cell had high levels of a protein called p21, which inhibits the activity of CDKs, its daughter cells were more likely to become quiescent following division. This suggests that the decision to proliferate or exit the cell cycle may depend on how p21 levels are regulated in proliferating cells (Overton et al., 2014; Hsu et al., 2019).
The CDK reporter has a number of applications. It could make it easier to study how quiescence is regulated in tissues that are typically difficult to image for long periods of time. It might reveal early steps in tissue regeneration when cells are ramping up to re-enter the cell cycle. It could also be used to sort and recover populations of CDKlow and CDKinc cells for further experiments to identify the pathways regulating entry into quiescence.
The CDK reporter will allow us to tackle many interesting questions in developmental biology. For instance, how might the organization of a tissue influence the decision to stop dividing and enter quiescence? Is it possible to identify cells very early in the differentiation process before genes that demark differentiation turn on? Whatever the application or research question, Adikes et al. demonstrate once again that important new insights into the complexities of biology arise when new tools are developed to visualize living organisms.
Article and author information
Author details
© 2021, Meserve and Duronio
This article is distributed under the terms of the Creative Commons Attribution License, which permits unrestricted use and redistribution provided that the original author and source are credited.
2,813

Page views

180

Downloads

1

Citations
Article citation count generated by polling the highest count across the following sources: Crossref, PubMed Central, Scopus.
A two-part list of links to download the article, or parts of the article, in various formats.
Downloads
(link to download the article as PDF)
Open citations
(links to open the citations from this article in various online reference manager services)
Cite this article
(links to download the citations from this article in formats compatible with various reference manager tools)
Joy H Meserve
Robert J Duronio
Cell Cycle: Deciding when to exit
eLife 10:e66591.
https://doi.org/10.7554/eLife.66591
Further reading
Cell Biology
Developmental Biology

Cell proliferation and quiescence are intimately coordinated during metazoan development. Here, we adapt a cyclin-dependent kinase (CDK) sensor to uncouple these key events of the cell cycle in Caenorhabditis elegans and zebrafish through live-cell imaging. The CDK sensor consists of a fluorescently tagged CDK substrate that steadily translocates from the nucleus to the cytoplasm in response to increasing CDK activity and consequent sensor phosphorylation. We show that the CDK sensor can distinguish cycling cells in G1 from quiescent cells in G0, revealing a possible commitment point and a cryptic stochasticity in an otherwise invariant C. elegans cell lineage. Finally, we derive a predictive model of future proliferation behavior in C. elegans based on a snapshot of CDK activity in newly born cells. Thus, we introduce a live-cell imaging tool to facilitate in vivo studies of cell-cycle control in a wide-range of developmental contexts.

Epidemiological studies have demonstrated that fine particulate matter (PM2.5) is associated with adverse obstetric and postnatal metabolic health outcomes, but the mechanism remains unclear. This study aimed to investigate the toxicological pathways by which PM2.5 damaged placental trophoblasts in vivo and in vitro. We confirmed that PM2.5 induced adverse gestational outcomes such as increased fetal mortality rates, decreased fetal number and weight, damaged placental structure, and increased apoptosis of trophoblasts. Additionally, PM2.5 induced dysfunction of the trophoblast cell line HTR8/SVneo, including in its proliferation, apoptosis, invasion, migration and angiogenesis. Moreover, we comprehensively analyzed the transcriptional landscape of HTR8/SVneo cells exposed to PM2.5 through RNA-Seq and observed that PM2.5 triggered overexpression of pathways involved in oxidative stress and mitochondrial apoptosis to damage HTR8/SVneo cell biological functions through CYP1A1. Mechanistically, PM2.5 stimulated KLF9, a transcription factor identified as binding to CYP1A1 promoter region, which further modulated the CYP1A1-driven downstream phenotypes. Together, this study demonstrated that the KLF9/CYP1A1 axis played a crucial role in the toxic progression of PM2.5 induced adverse pregnancy outcomes, suggesting adverse effects of environmental pollution on pregnant females and putative targeted therapeutic strategies.

Cell Biology
Microbiology and Infectious Disease

Reverse genetics is key to understanding protein function, but the mechanistic connection between a gene of interest and the observed phenotype is not always clear. Here we describe the use of proximity labeling using TurboID and site-specific quantification of biotinylated peptides to measure changes to the local protein environment of selected targets upon perturbation. We apply this technique, which we call PerTurboID, to understand how the P. falciparum exported kinase, FIKK4.1, regulates the function of the major virulence factor of the malaria causing parasite, PfEMP1. We generated independent TurboID fusions of 2 proteins that are predicted substrates of FIKK4.1 in a FIKK4.1 conditional KO parasite line. Comparing the abundance of site-specific biotinylated peptides between wildtype and kinase deletion lines reveals the differential accessibility of proteins to biotinylation, indicating changes to localization, protein-protein interactions, or protein structure which are mediated by FIKK4.1 activity. We further show that FIKK4.1 is likely the only FIKK kinase that controls surface levels of PfEMP1, but not other surface antigens, on the infected red blood cell under standard culture conditions. We believe PerTurboID is broadly applicable to study the impact of genetic or environmental perturbation on a selected cellular niche.