Microbiome: Taming the beasts inside
Changes in diet associated with domestication may have shaped the composition of microbes found in the guts of animals.
What do cats, dogs and cows have in common? They have all been domesticated. In other words, humans have selectively bred their wild ancestors for traits suited to our needs, whether for companionship, agriculture or science.
Domestication leads to both genetic and ecological changes. Desirable, genetically encoded traits, such as tameness or greater muscle mass, are selected for over generations of breeding. The ecological changes associated with domestication include increased population density, different habitats and changes to diet. While the impact of these factors on various animal traits has been studied extensively, relatively little is known about their effect on the microbiome (that is, the microbes that live inside and on these animals). Does domestication influence the microbiome? If so, are genetic or ecological factors driving these changes?
Now, in eLife, Aspen Reese, Rachel Carmody and colleagues at Harvard University, the Wildlife Science Center in Minnesota, and the University of New Mexico report that domestication does indeed influence the microbiome (Reese et al., 2021). The researchers compared the gut microbiomes across pairs of domesticated animals and their wild counterparts, including cattle and bison, dogs and wolves, and laboratory and wild-caught mice. They found consistent shifts in the composition of the gut microbiomes within the pairs, suggesting that domestication has an influence on the microbiome.
But what underlying factors are driving this shift? Is it due to the genetic changes that resulted from domestication, the ecological changes, or both? To address this, Reese et al. performed clever diet-swap experiments in two systems: laboratory vs. wild mice, and dog vs. wolf. Specifically, wild animals were fed the diets of their domesticated counterparts, and vice versa. The researchers found that this change in diet led to significant changes in the gut microbiome. For example, the microbiomes of wolves fed commercial dog food shifted towards a dog-like state. Dogs fed raw carcasses – aside from having the best week ever – saw their microbiomes shift even more dramatically towards a wolf-like state (Figure 1). These experiments demonstrate that ecological shifts – specifically changes in diet – can have a major impact on the microbiome.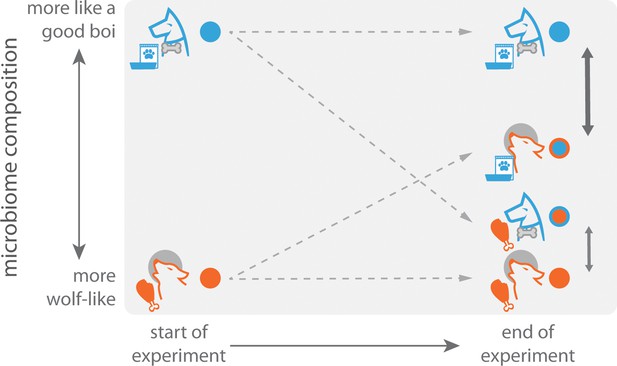 These results, and many others not covered here, open a slew of questions to explore. For example, while there are clear compositional shifts in the microbiome with domestication, are there individual microbes that are particularly important to this process? Would the purpose of domestication – such as agriculture, companionship or laboratory model – change which microbes were important? In addition to taxonomic composition, is there a signature of domestication in the microbial functions encoded by the microbiome?
While Reese et al. demonstrated the potential role of ecological factors in shaping the microbiome during domestication, it remains unclear whether genetic factors also play a role. Domestication impacts numerous, genetically encoded morphological and behavioral traits. Interestingly, the genes selected for during domestication often influence multiple, seemingly unrelated, traits through a process called pleiotropy. For example, when selecting for tameness in domesticated foxes, other unexpected physical changes such as coat depigmentation and floppy ears were observed (Trut, 1999). This is due to deficits of neural crest cells (embryonic cells that serve as precursors for tissues all around the body [Wilkins et al., 2014]). Could these genetic variants also affect the gut microbiome, either directly or indirectly? This is certainly a possibility. A portion of the gut microbiome is determined by host genetics (Goodrich et al., 2014). Given that genetic variants associated with the microbiome can have pleiotropic effects, genes undergoing selection through domestication may also impact the microbiome (Benson et al., 2010).
One final open question is whether the changes in the composition of the microbiome that accompany domestication also have an impact on physiology. For example, domesticated dogs are more capable of digesting starch than their wild counterparts. This is due to an increased number of variants of the gene for amylase, an enzyme that is responsible for breaking down starches (Freedman et al., 2014). Amylase copy number is also associated with microbiome composition and functional capacity in humans. Transfer of the microbiome from an individual with high amylase numbers to a gnotobiotic mouse (a germ-free mouse) results in high body-fat composition, demonstrating the direct physiological impact the microbiome can have on the host (Poole et al., 2019). Knowing that microbes contribute to metabolism and nutrient absorption across numerous animals, it is possible that domestication-related shifts of specific microbes may alter the physiology of the host (Ramezani et al., 2018; Warnecke et al., 2007).
The work of Reese et al. is an impressive and comprehensive examination of the impact of domestication on the microbiome. It has the potential to spur numerous lines of research in specific microbes and genes involved in this association, and how microbial communities shift in response to environmental factors. So, the next time you go to pet your tamed wolf (aka: your dog), give some love to their tamed microbes as well.
Early canid domestication: The Farm-Fox experiment

American Scientist 87:160–169.
Article and author information
Author details
© 2021, Ryu and Davenport
This article is distributed under the terms of the Creative Commons Attribution License, which permits unrestricted use and redistribution provided that the original author and source are credited.
1,120

Page views

87

Downloads

0

Citations
Article citation count generated by polling the highest count across the following sources: Crossref, PubMed Central, Scopus.
A two-part list of links to download the article, or parts of the article, in various formats.
Downloads
(link to download the article as PDF)
Open citations
(links to open the citations from this article in various online reference manager services)
Cite this article
(links to download the citations from this article in formats compatible with various reference manager tools)
Erica P Ryu
Emily R Davenport
Microbiome: Taming the beasts inside
eLife 10:e67634.
https://doi.org/10.7554/eLife.67634
Further reading
Ecology
Evolutionary Biology

Domesticated animals experienced profound changes in diet, environment, and social interactions that likely shaped their gut microbiota and were potentially analogous to ecological changes experienced by humans during industrialization. Comparing the gut microbiota of wild and domesticated mammals plus chimpanzees and humans, we found a strong signal of domestication in overall gut microbial community composition and similar changes in composition with domestication and industrialization. Reciprocal diet switches within mouse and canid dyads demonstrated the critical role of diet in shaping the domesticated gut microbiota. Notably, we succeeded in recovering wild-like microbiota in domesticated mice through experimental colonization. Although fundamentally different processes, we conclude that domestication and industrialization have impacted the gut microbiota in related ways, likely through shared ecological change. Our findings highlight the utility, and limitations, of domesticated animal models for human research and the importance of studying wild animals and non-industrialized humans for interrogating signals of host–microbial coevolution.

Ecology
Microbiology and Infectious Disease

While foraging for nectar and pollen, bees are exposed to a myriad of xenobiotics, including plant metabolites, which may exert a wide range of effects on their health. Although the bee genome encodes enzymes that help in the metabolism of xenobiotics, it has lower detoxification gene diversity than the genomes of other insects. Therefore, bees may rely on other components that shape their physiology, such as the microbiota, to degrade potentially toxic molecules. In this study, we show that amygdalin, a cyanogenic glycoside found in honey bee-pollinated almond trees, can be metabolized by both bees and members of the gut microbiota. In microbiota-deprived bees, amygdalin is degraded into prunasin, leading to prunasin accumulation in the midgut and hindgut. In microbiota-colonized bees, on the other hand, amygdalin is degraded even further, and prunasin does not accumulate in the gut, suggesting that the microbiota contribute to the full degradation of amygdalin into hydrogen cyanide. In vitro experiments demonstrated that amygdalin degradation by bee gut bacteria is strain-specific and not characteristic of a particular genus or species. We found strains of Bifidobacterium, Bombilactobacillus and Gilliamella that can degrade amygdalin. The degradation mechanism appears to vary since only some strains produce prunasin as an intermediate. Finally, we investigated the basis of degradation in Bifidobacterium wkB204, a strain that fully degrades amygdalin. We found overexpression and secretion of several carbohydrate-degrading enzymes, including one in glycoside hydrolase family 3 (GH3). We expressed this GH3 in Escherichia coli and detected prunasin as a byproduct when cell lysates were cultured with amygdalin, supporting its contribution to amygdalin degradation. These findings demonstrate that both host and microbiota can act together to metabolize dietary plant metabolites.

Ecology
Evolutionary Biology

Maintaining water balance is a universal challenge for organisms living in terrestrial environments, especially for insects, which have essential roles in our ecosystem. Although the high surface area to volume ratio in insects makes them vulnerable to water loss, insects have evolved different levels of desiccation resistance to adapt to diverse environments. To withstand desiccation, insects use a lipid layer called cuticular hydrocarbons (CHCs) to reduce water evaporation from the body surface. It has long been hypothesized that the waterproofing capability of this CHC layer, which can confer different levels of desiccation resistance, depends on its chemical composition. However, it is unknown which CHC components are important contributors to desiccation resistance and how these components can determine differences in desiccation resistance. In this study, we used machine learning algorithms, correlation analyses, and synthetic CHCs to investigate how different CHC components affect desiccation resistance in 50 Drosophila and related species. We showed that desiccation resistance differences across these species can be largely explained by variation in CHC composition. In particular, length variation in a subset of CHCs, the methyl-branched CHCs (mbCHCs), is a key determinant of desiccation resistance. There is also a significant correlation between the evolution of longer mbCHCs and higher desiccation resistance in these species. Given that CHCs are almost ubiquitous in insects, we suggest that evolutionary changes in insect CHC components can be a general mechanism for the evolution of desiccation resistance and adaptation to diverse and changing environments.